LootBear 2022 Review, Is it Legit? + Promo & Bonus Code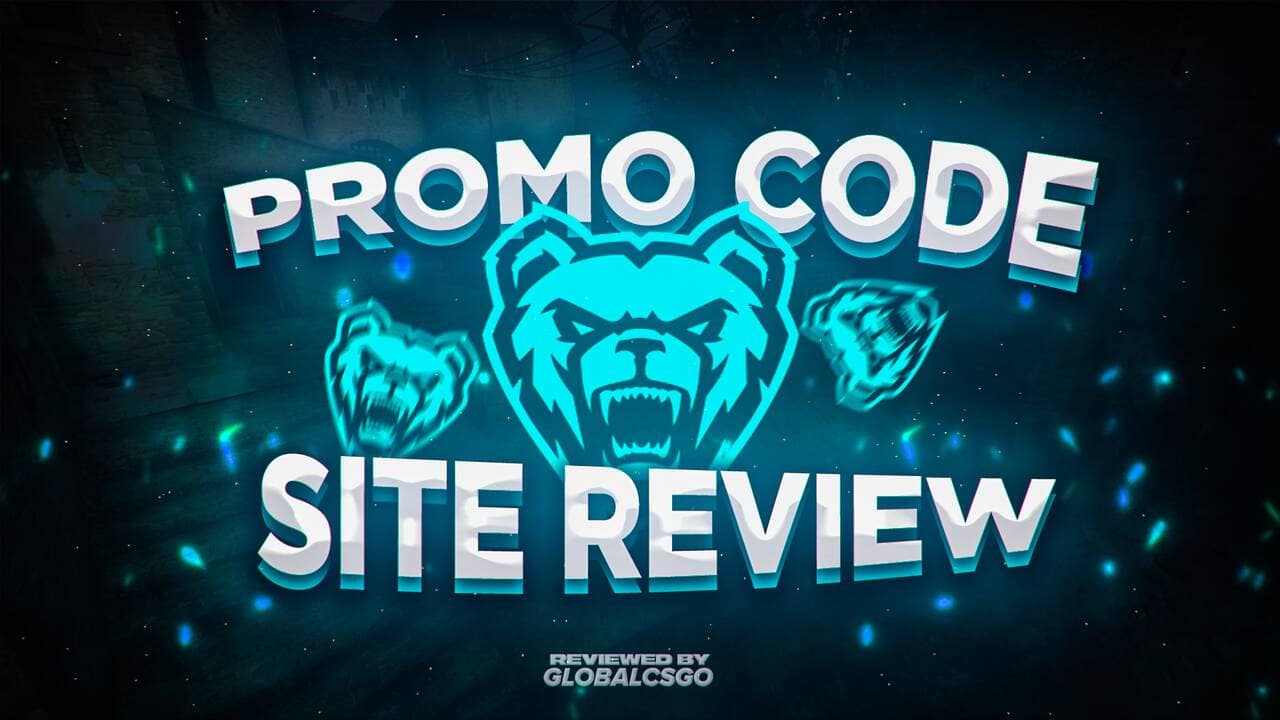 Lootbear is an innovative platform with a system to rent CSGO skins instead of only the traditional trade, sell, and buy process. It's also possible to buy skins and sell (instantly, and not for a market).
The website is available only in English, but the interface is user-friendly and has an eye-catching design, simple to use and understand.
If you don't know how this rent concept works, read the review and get everything explained.
Lootbear – Is it Legit?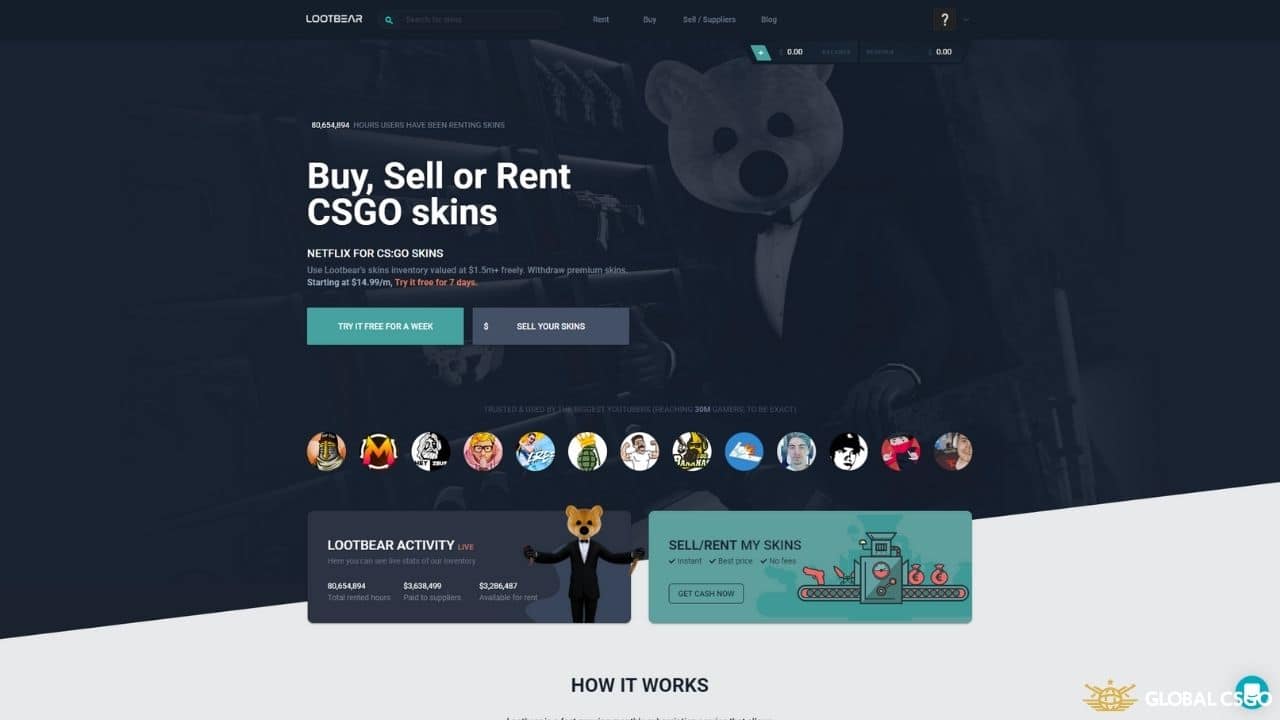 Yes, absolutely, the platform is legit and trustworthy.
Operating for several years on the scene and with a few updates to improve its features, the website has excellent feedback from the CS:GO community. With an average of 275k visitors per month, the site is showing that hard work pays off.
It also uses an AI security system based on three criteria:
Risk evaluation AI™: It uses hundreds of signals about each user & payment and taps into data across our network of 100,000+ businesses to predict whether a user or payment is likely to be fraudulent.
Credit Insurance: If any skin is stolen, your credit company or bank will charge you 110% of the stolen items' value.
Identity Verification: To withdraw premium skins, you must go through identity verification.
How to Rent CSGO Skins on Lootbear?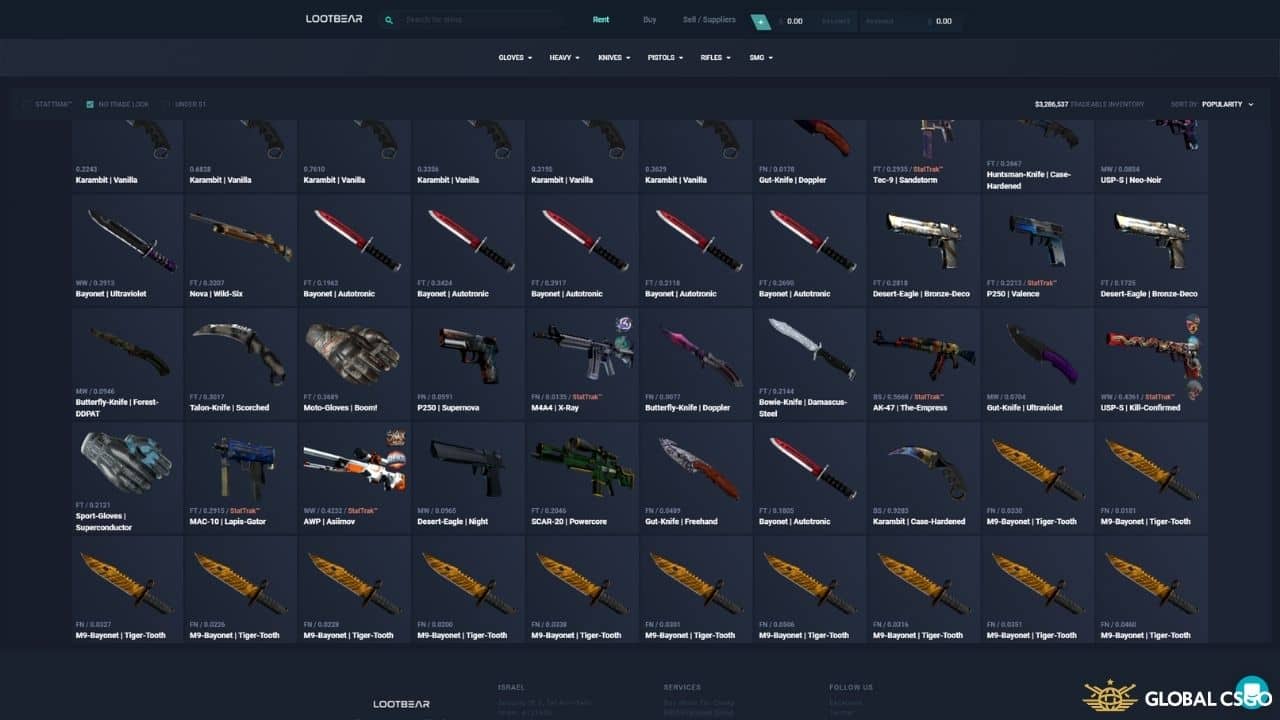 Rent is the main feature of Lootbear and what makes it a unique platform. This can be new to most people, but it's a great feature to have some profit and try out new items frequently. To rent CS:GO skins using LootBear you need to:
Sign up using your Steam account and set the inventory public
Add the correct email address and trade URL
Select a subscription package
Go to the "Rent" page, select the item and click on "Rent"
Click on "View Trade" and accept the trade offer on your Steam account
Enjoy the time with the item and give it back after the renting time expires
How to Buy CSGO Skins on Lootbear?
If your idea is to purchase some new skins for your collection, the process is super easy to do:
Sign up using your Steam account and set the inventory public
Add the correct email address and trade URL
Click on "Buy" to open the inventory, select the skin/skins you desire, and click on "Buy"
Choose your payment method
Accept the trade on your steam account
How to Instant Sell/Rent Out CSGO Skins on Lootbear?
Instant selling your skins is a feature that allows you to get money without having to wait for a buyer. On Lootbear, you'll receive 60% of your item's value. Here is how it works:
Sign up using your Steam account and set the inventory public
Add the correct email address and trade URL
Click on "Sell your skins" and then on "Deposit now"
Select the skin/skins you pretend to sell and click on "Instant sell"
Accept the trade on your Steam account and use the balance as you like
If you want to deposit your items for other people to rent them, the procedure is the same as selling but instead of clicking "Instant sell" on the 4th step, click on "Rent out," and your items are automatically on the system. All you have to do now is wait until another user rents it.

Lootbear Subscription Plans
To allow players to rent or skins (being the renter or buyer), Lootbear implemented a subscription system to enable access to an inventory full of skins.
You can rent a maximum of 4 items or up to the combined value of $400. Choose your subscription level:
1 month subscription = One charge every month for $24.99
6 month subscription = One charge every 6 months for $101.94 ($16.99/mo)
12 month subscription = On charge every 12 months for $179.88 ($14.99/mo)
Although if you are not sure if it's worth buying it, you have the option of a 7-day free trial, allowing players to try for free and after that time decide if it's a good buy.

Note that you can cancel at any time (no commitments), and you'll receive a message 1 day before the trial ends.
Lootbear Deposit and Withdraw Methods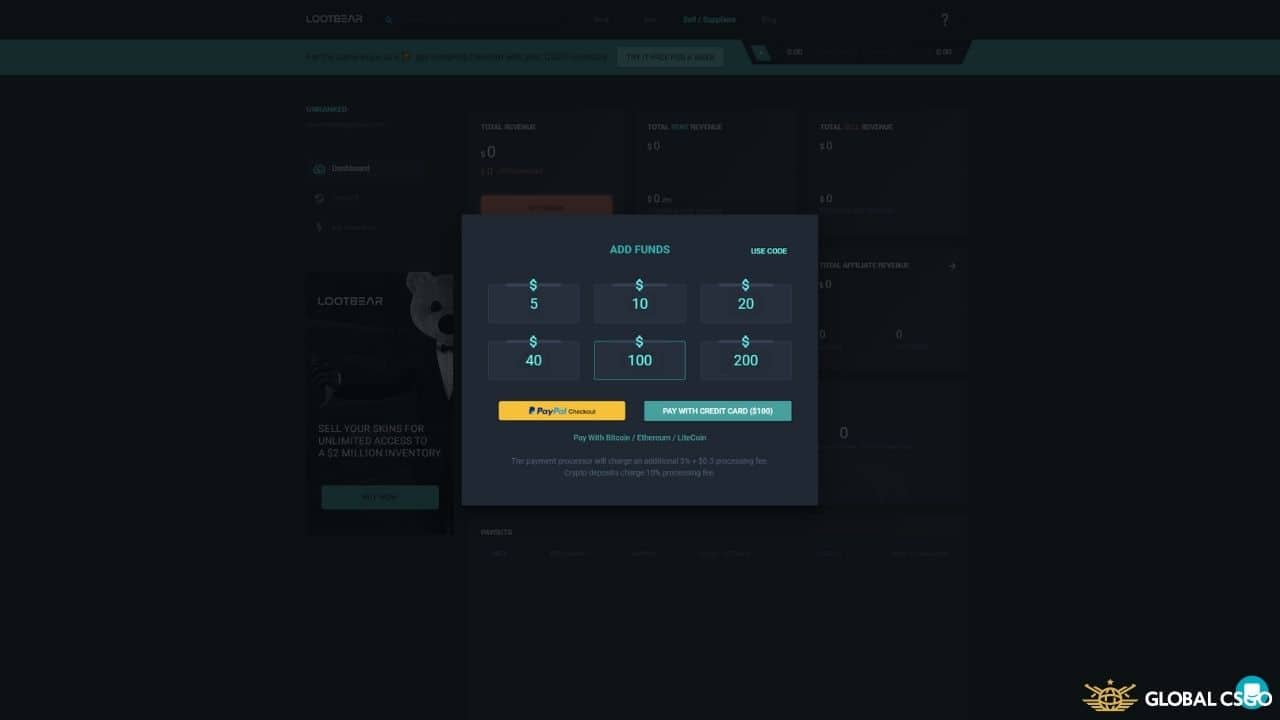 A little lack on the platform, it only has three different deposit methods. However, it's probably the most common ones;
PayPal: 3% + $0,3 processing fee
Credit Cards (like Visa/Mastercard): 3% + $0,3 processing fee
Cryptocurrencies (Bitcoin, Ethereum, and Litecoin): 10% processing fee
When it comes to withdrawal, the options are slightly different:
PayPal – with a minimum of $20
Lootbear balance – to rent and buy skins
Remember that depending on the amount, your financial institution, and country, the procedures, availability, methods, duration, and terms and conditions may vary.
Lootbear Customer Support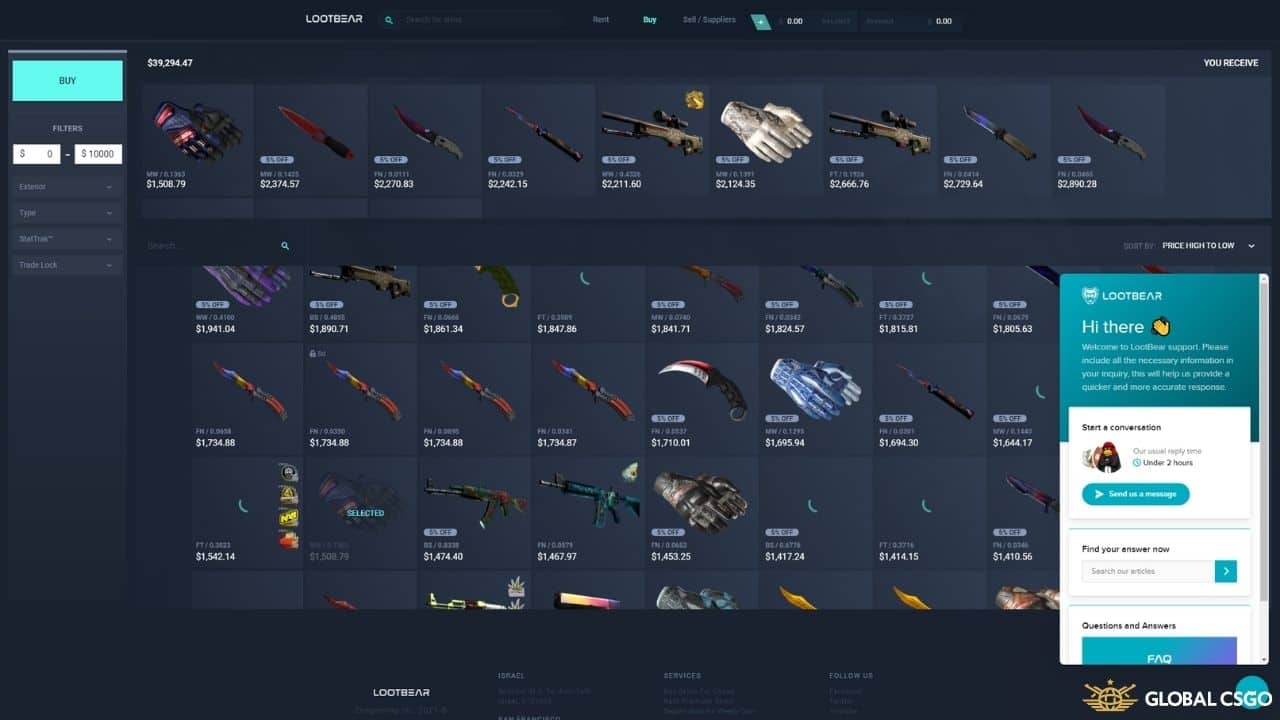 Customer support can be through a live chat, although it's no 24/7, sometimes you'll need to wait for a maximum of 24h for a reply. If you need help and more information, you can also reach the team by sending an email.
Nonetheless, the FAQ page has a lot of explanations and is complete. If you are a new user, make sure to read it first.
Although, you can also reach the support team on social media by sending a private message. It might even be a faster way to get an answer, depending on the time of the day.
Summary
Lootbear is a funny and new platform that brought something fresh and new to the CS:GO community. Everything it's well-organized and easy to understand, and it's the best way for you to try out the skin you always wanted to have.
Would you rent some new items? Share your thoughts and experience with us!
Lootbear FAQ
What Happen If I Lose the Skin I Rented?
Can I Trade a Rented Skin?
How Is the Items Value Determine?
Our Score
Additional Site Details
---

Website Link

---

Payment Methods

---
Similar sites to LootBear

Join SkinBaron Now and Buy Skins at Great Prices!
Available in 5 different languages
You can inspect skins using 3D Viewer
Huge selection of skins on the SkinBaron Marketplace

Use our link and sell or buy CS:GO Skins at the best prices!
One of the oldest and most trusted Marketplace sites
Multiple payment methods
Available games: CS:GO, TF2, Dota 2
Use Code:
GLOBALCSGOTrade
Get 3% More For Your Skins by Using Our Referral Code! 🔥🔥🔥
Site is available in 10 different languages
You can payout skins with PayPal
SkinCashier accepts skins from CSGO, Dota 2 and TF2
Fastest withdrawals - money in your account in seconds
Excellent rating on TrustPilot