SkinCashier 2022 Review, Is it Legit? + Promo & Bonus Code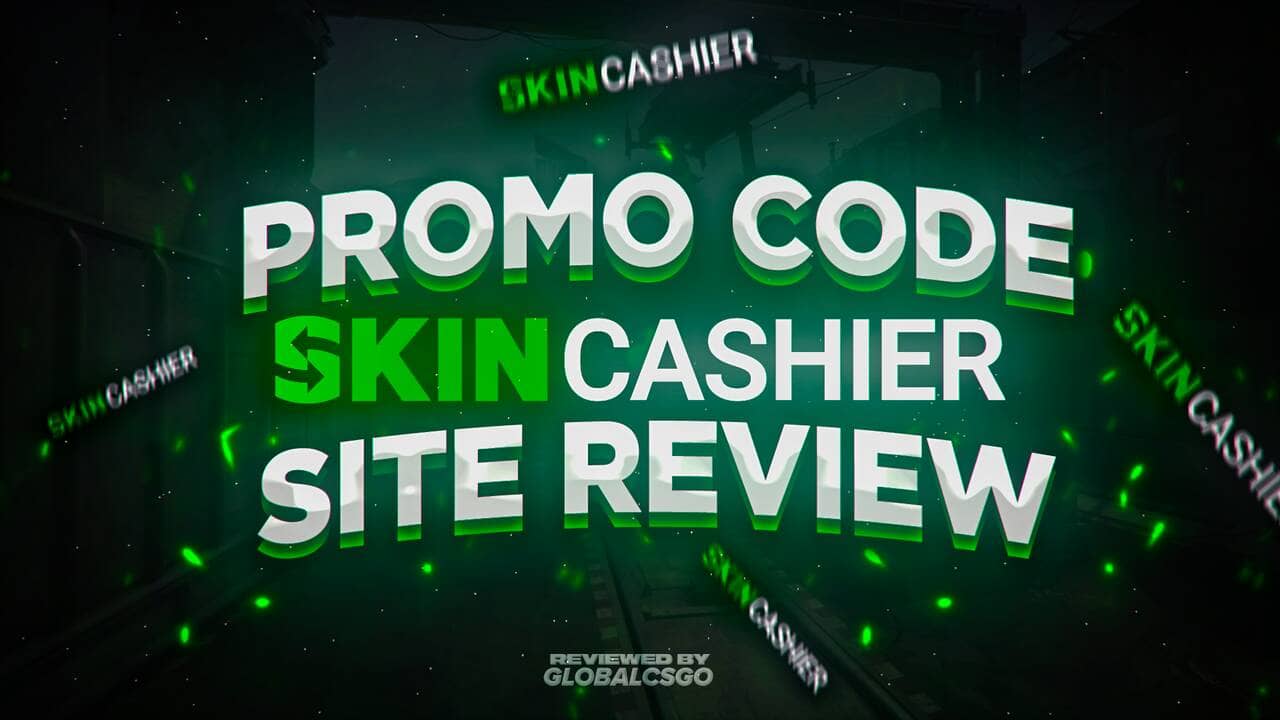 SkinCashier is currently one of the most popular cash-out sites that allows users to sell their CS:GO, Dota and TF2 skins to the site. In our SkinCashier review we described exactly how this site works, what prices it has, and some other useful information.
If you are looking for a site to buy your Steam items then you have come to the very right place and Skincashier is definitely the site for you.
What is Skincashier?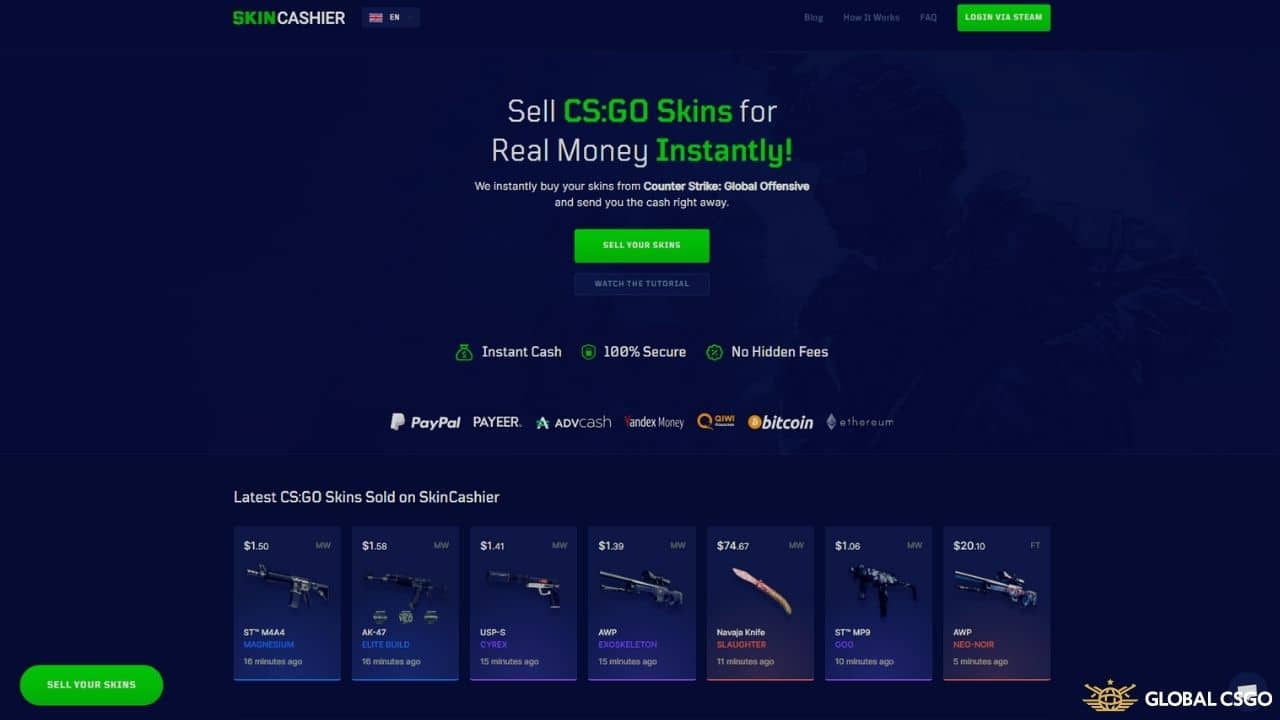 SkinCashier is a site that will buy your skins from CS:GO, Dota2 and Team Fortress 2 and instantly pay the money to your account using the most popular payment processors. It looks like this: after logging into the site you will see your inventory, and then next to each item you will see the price for which Skincashier will buy your skin. Price rates on the site are the best of all. They are not always high, because there are many factors affecting the price of the skin, but considering that we have the money in a minute, it is a very good deal.
On the site we can choose from 10 available languages, so no one should have problems with the interface. Support is available in English, but you can communicate with an agent using a translator.
Skincashier is the only site that will withdraw money instantly via PayPal. On other sites of this type you usually have to go through several verification procedures to withdraw money using this payment processor. Skincashier is a fairly new company, as it was founded in 2020, but on TrustPilot it has over 800 reviews and a really high rating.
Is Skincashier Legit?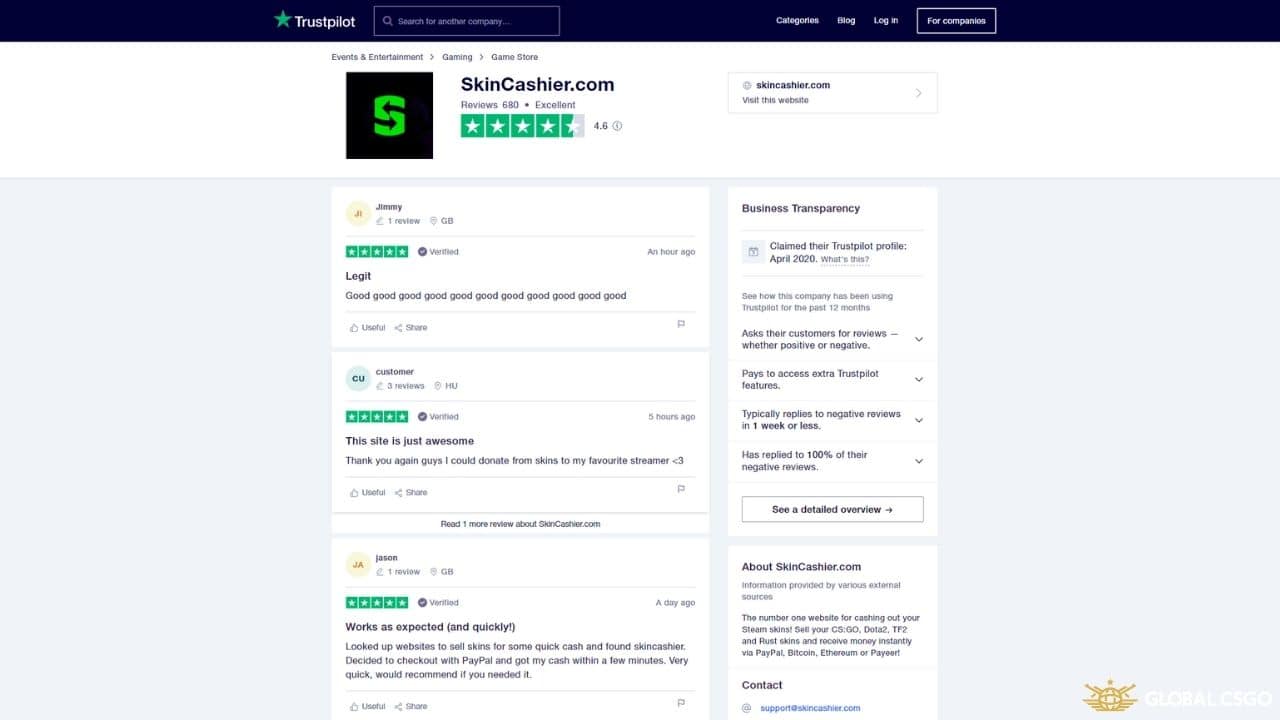 Yes, SkinCashier is legit, and it's one of the most popular CSGO marketplaces with over 240.000 skins bought and over 150.000 registered accounts.
The platform has been operating continuously since 2020 and has about 150,000 visitors per month.
Players' feedback and rating about SkinCashier are excellent, and they are satisfied with the CSGO company. Currently there are over 800 reviews on TrustPilot giving an average rating of 4.5 which is a very high rating indeed. If there are negative comments, the administration immediately writes back any complaints.
Without any hidden fees and with instant cash, the site is creating a consolidated fanbase. When you sell items on the site, you see the full price after deduction of, for example, PayPal fee, so you get exactly the transfer that you see in the sell items panel.
Skincashier Promo Code
Promo code for SkinCashier is GLOBALCSGO. With this promo code you will get an extra 3% more money for your sold skins! This bonus is available with any payment method, no matter if it is PayPal, Payeer or cryptocurrencies. You will be informed about the amount of this bonus when you choose the items to sell. Each promo code is the same value and each one gives you 3% more for your items. We remind you that Skincashier accepts items from CS:GO, Dota2 and Team Fortress 2.
How do I create my own affiliate code?
To create your own affiliate code on SkinCashier you must be logged in, then in the upper right corner click the arrow and select Affiliates. There you can create your code which you can then promote on your social media or to your friends. If you have a larger source of traffic such as a youtube channel or Discord server, you can contact the administration and agree on individual conditions.
Some payment processors may charge an additional fee for processing the transfer, but you will be informed of any commission at the time of the sale and your account will receive exactly the amount displayed in the panel.
SkinCashier Fees
Commissions on Skincashier are highly variable and you will be informed of the current price for the item when you sell. There are many factors that determine the current inventory purchase price. These factors include the amount of the item in your inventory, the price on the Steam market and price spikes. If the item you want to sell is very unpopular, the site may not be willing to accept it.
How to Sell CS:GO Skins on SkinCashier?
This is what SkinCashier is all about, sell your favorite skin or skins and get cash instantly. Here is explained the whole process that won't take you more than 1 minute on the website to sell your CS:GO skins.

Sign up with your Steam account and put the inventory public
Add your email address and correct trade URL
Go on the inventory and select the skins you would like to sell
Select the best payment method according to your preferences and fill it with the details
Accept the bot's trade offer
Get your cash instantly
It's straightforward to use the CSGO website. SkinCashier also has a lot of information about how to do it, if you have any doubts.
One important thing to bear in mind is that sometimes you won't sell your skins if the price is too low, or SkinCashier has many of those in stock. If you wonder about the value, don't forget that the skins price is unstable, which may vary every day or week. If you think that your skin is worth more and SkinCashier offers you too little, you can contact support who will propose you a different, individual price.
SkinCashier Payout Methods
SkinCashier.com offers a wide variety of methods to payout once you are selling your skins:
Paypal
Payeer
Yandex Money
QIWI
AdvCash
Cryptocurrencies: Ethereum, Bitcoin
Remember that depending on the amount, your financial institution, and country, the procedures, availability, methods, duration, and terms and conditions may vary.
SkinCashier Customer Support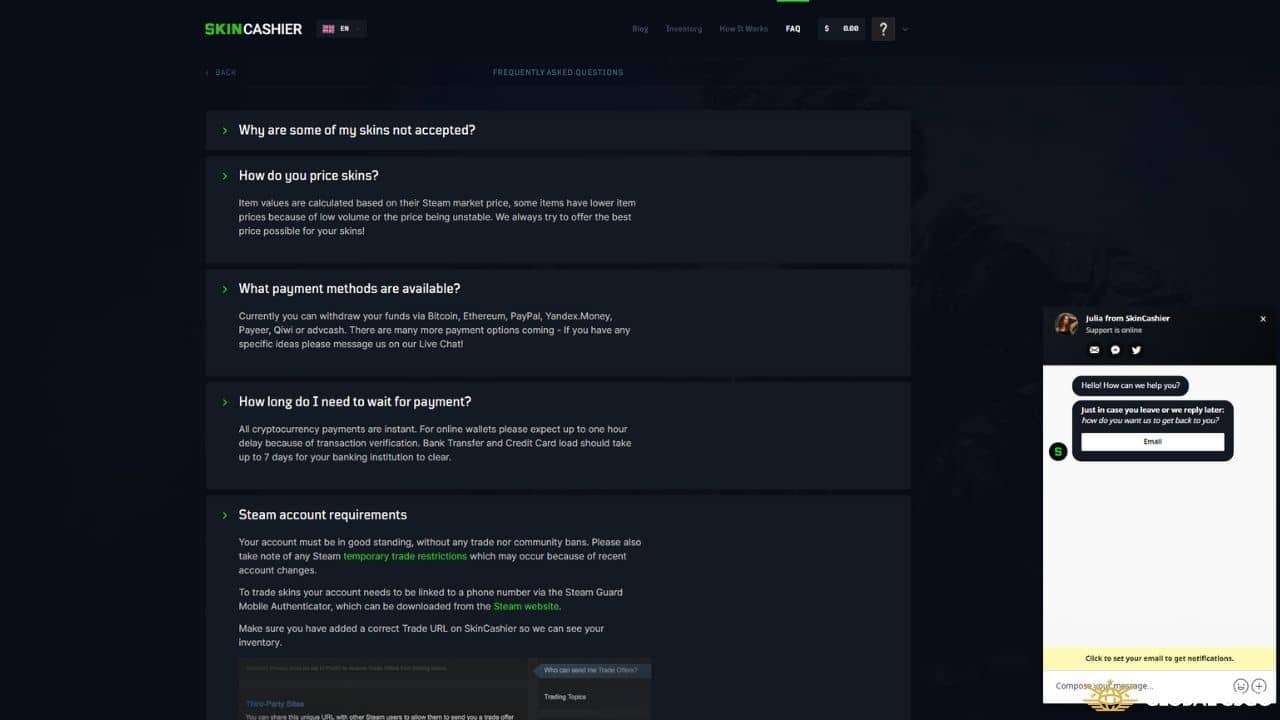 When the topic is money, it's always sensitive, and we want to make sure that we get help and answers for what we need at any time of the day. One of the best features on SkinCashier is the 24/7 live chat support.
Depending on the time of the day, you might have to wait just a few minutes to have an answer, but 'ts usually fast, and the SkinCashier support is attentive and easy to talk with. The support agent mainly speaks English, but if you want to use another language, you can easily get along with the translator.
Another well-done part is the FAQ page, complete with all information, allowing you to have instant answers and help.
Is SkinCashier a scam?
SkinCashier is not a scam and is one of the best sites to sell your Steam items! The site has already bought 250,000 skins from its users and has almost 200,000 registered customers in its database! The average payout time on SkinCashier is about 55 seconds. We personally tested the site and chose to withdraw via PayPal. The money appeared in our account in less than a minute, making it the fastest site that buys CS:GO skins. We found no information online that the brand has ever scammed any customer. The only negative reviews are from people who expected more money for their skins. We don't quite understand this because when items are sold, we are told how much money we will receive.
Summary
The world of skin selling is continuously changing, with many prices variation and new skins coming up. If you have a big inventory full of CS:GO skins you won't use, or you don't even like, this is an excellent opportunity to have some profit with them.
Overall the website is great and easy to use. Use all the info detailed on their pages. If you have some leftover skins you'd like to get rid of, have your chance to sell them and have a profit. We hope our SkinCashier review has helped you choose the best site to sell your Steam Items!
Skincashier FAQ
How are Skin Prices Calculated?
Can I Buy Skins on SkinCashier?
All the Payouts are Instant?
Can I sell wholesale on SkinCashier?
Our Score
Additional Site Details
---

Website Link

---

Payment Methods

---
Similar sites to SkinCashier

Join SkinBaron Now and Buy Skins at Great Prices!
Available in 5 different languages
You can inspect skins using 3D Viewer
Huge selection of skins on the SkinBaron Marketplace

Use our link and sell or buy CS:GO Skins at the best prices!
One of the oldest and most trusted Marketplace sites
Multiple payment methods
Available games: CS:GO, TF2, Dota 2
Use Code:
GLOBALCSGOTrade

Trade Your Skins With One Of The Lowest Fees Of All Sites!
Site is available in 8 languages
Daily skin giveaways
Low 2% commission
Rated 4.9 on TrustPilot
Use Code:
GLOBALCSGOTrade