CS.Deals 2022 Review, Is it Legit? + Promo & Bonus Code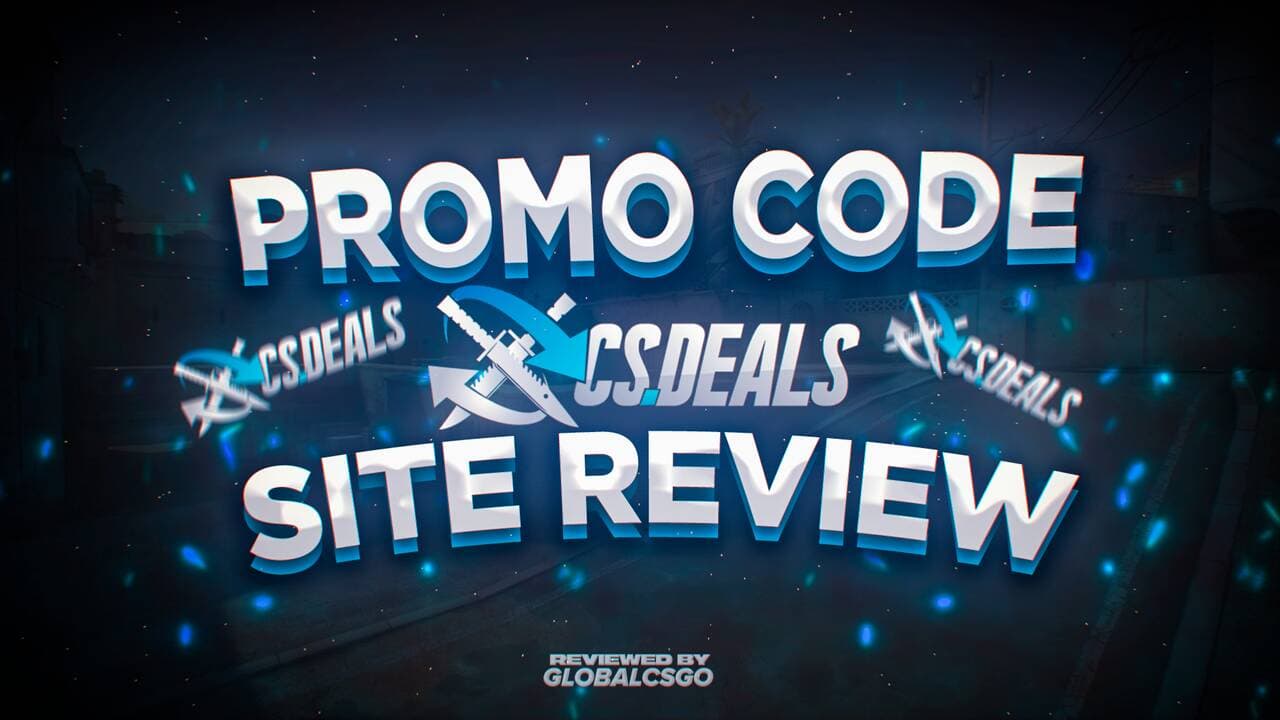 CS.Deals is a marketplace and trading platform for CSGO skins. CSGO is undoubtedly the primary game on the website, but you can also trade items from Dota 2, Team Fortress 2, Rust, and Z1 Battle Royale.
The marketplace has a wide variety of skins to choose from (from a sticker to a knife, gloves, and your favorite desert eagle), and it's in a constant upgrade.
CS.Deals is available in 8 different languages. The interface itself doesn't have the best design. It's not eye-catching at all, but it is easy to understand.
If you are new to trading, we are breaking down how everything works on CS.Deals to make it easier for you.
CS.Deals – Is it Legit?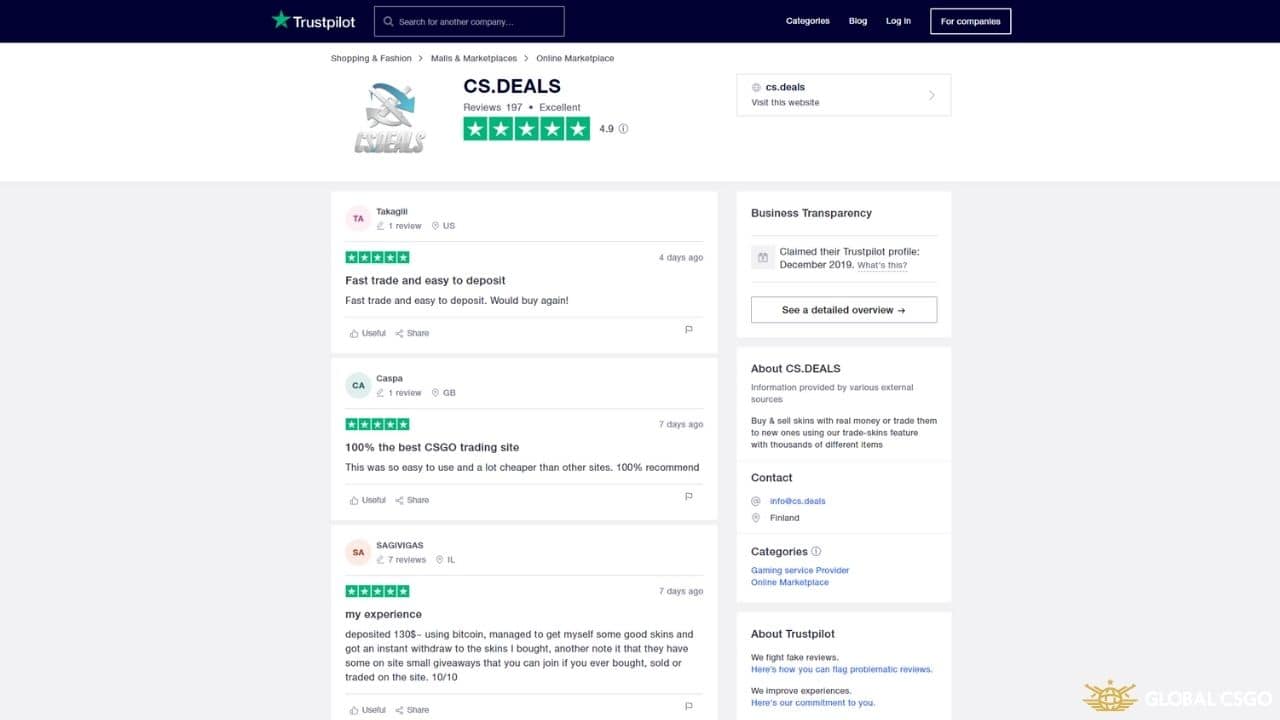 Yes, it's safe and secure to invest your time and money/skins in the site.
Operating since 2016, they are getting a lot of credit from the community. Users share their experiences with overall positive comments and useful feedback.
With consistent visitors over the last months, it now counts with an average of 450k visitors per month.
How to Trade Skins on CS.Deals?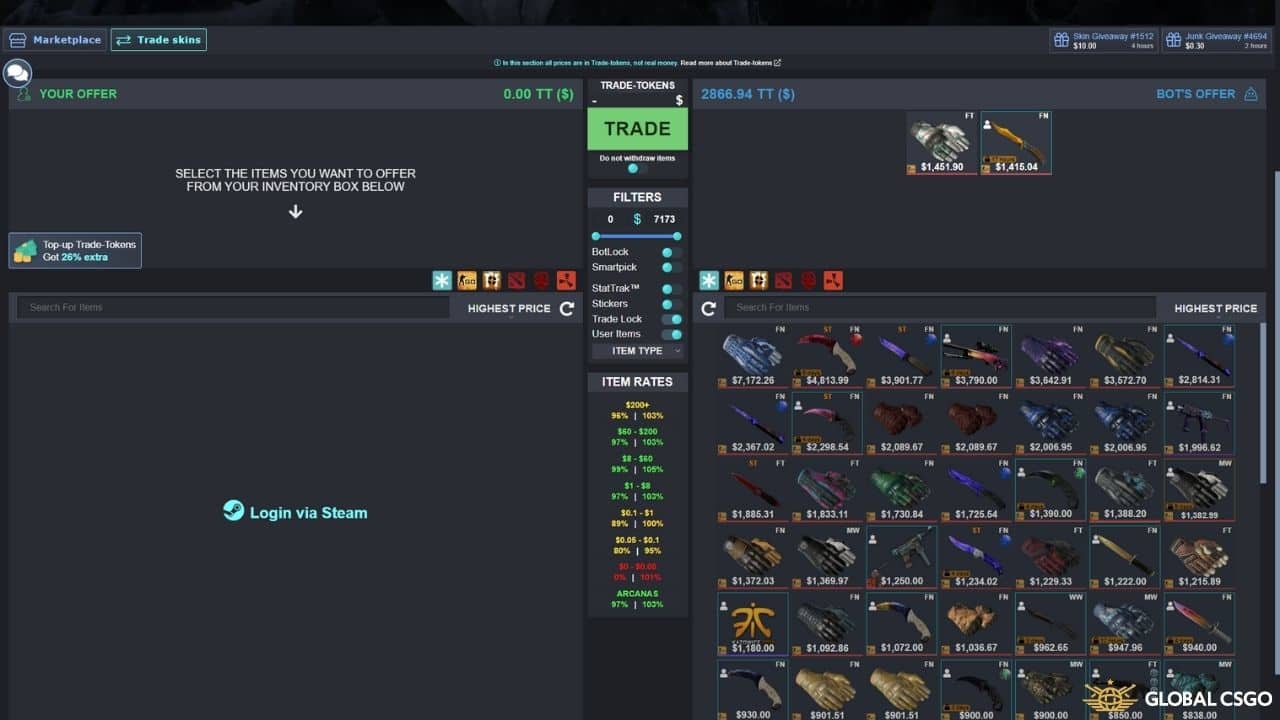 Trading is becoming more and more popular over time. If you have some items you don't like anymore, this is the best opportunity to make them worth it. Follow these steps to trade your old skins for new ones and give your inventory a rejuvenated look.
Sign up using your Steam account and set the inventory public
Add the correct email address and trade URL
Click on "Trade Skins," select the items you want to trade and the items you want to get
Click on "Trade"
A trade bot will send you an offer on your Steam account, and you must accept
Note that sometimes the items you selected are on more than one trade bot, and they will be sent after you get the first trade offer because they can't all be included in the same trade offer.
How to Sell CSGO Skins on CS.Deals Marketplace?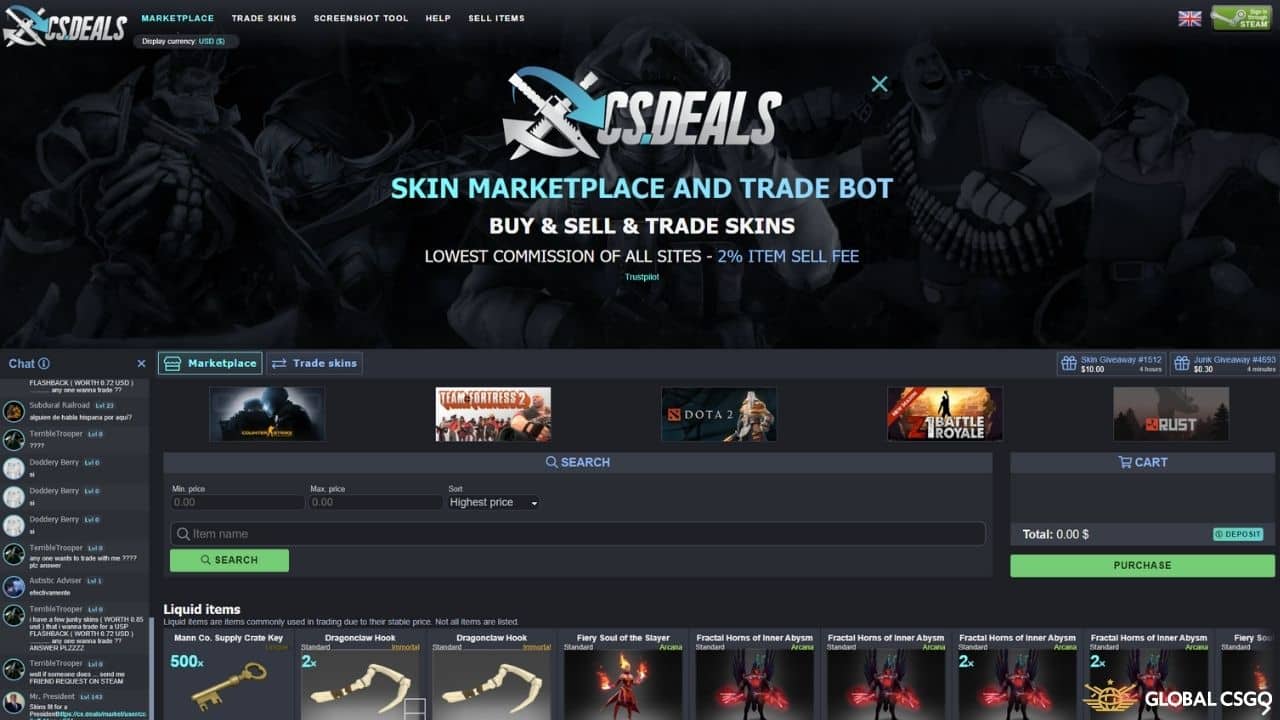 To sell your CSGO skins on the market place, it might take a bit longer than doing it instantly because you need to wait for a buyer and put your skins at an ambitious price to overcome the competition. This is all you must do:
Sign up using your Steam account and set the inventory public
Add the correct email address and trade URL
Select the skins you want to sell from your Steam account and establish the prices
Click on "List Items for Sale" and wait for a buyer to come and purchase your skin
Note that Steam Guard Mobile Authenticator must be valid for at least 15 days to sell Steam items.
The sales fee is 2%, but you can lower this percentage to 1% by adding CS.Deals to your Steam nickname.
How to Buy CSGO Skins on CS.Deals Marketplace?
If you only pretend to buy CSGO skins from the marketplace, the process is also simple. To better understand, follow these steps:
Sign up using your Steam account or log in if you already are registered
Open the market and search for your favorite skin
Once you got it, add it to the cart and click "Purchase"
Make sure you have enough funds (add funds if you don't have) and complete the transaction
Go to your websites' inventory and withdraw the skins
CS.Deals Giveaways
CS.Deals offers three different giveaways regularly:

Junk Giveaway: $0,05-$0,30 trade tokens
Skins Giveaway: $1,00-$10,00 trade tokens
Big Giveaway: $70,00-$120,00 trade tokens
To participate, make sure to follow all the requirements:
Add CS.Deals to your nickname
Join the websites' Steam group
Don't remove CS.Deals from the nickname neither leave the group, or you won't have a chance to win
CS.Deals Deposit and Withdraw Methods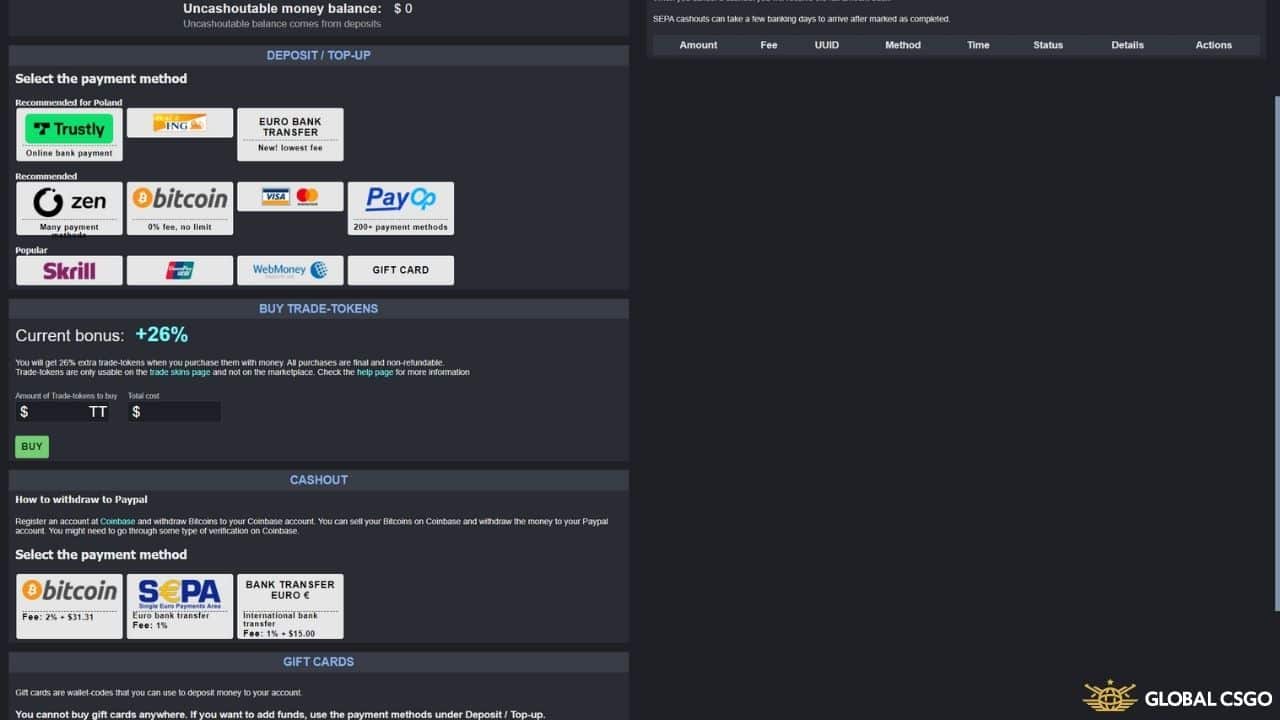 You have several deposit methods to choose from on CS.Deals:
Trustly
Bank Transfer
Zen
Bitcoin (no fees and no limits)
Visa/Mastercard
PayOp
Skrill
UnionPay
WebMoney
Gift-Cards
Remember that depending on the amount, your financial institution, and country, the procedures, availability, methods, duration, and terms and conditions may vary.
If you pretend to withdraw the money made from your sales, you have these methods:
Bitcoin – 2% fee + $12,23
S€PA – Euro Bank Transfer, 1% fee
International Bank Transfer – 1% fee + $15,00
CS.Deals Customer Support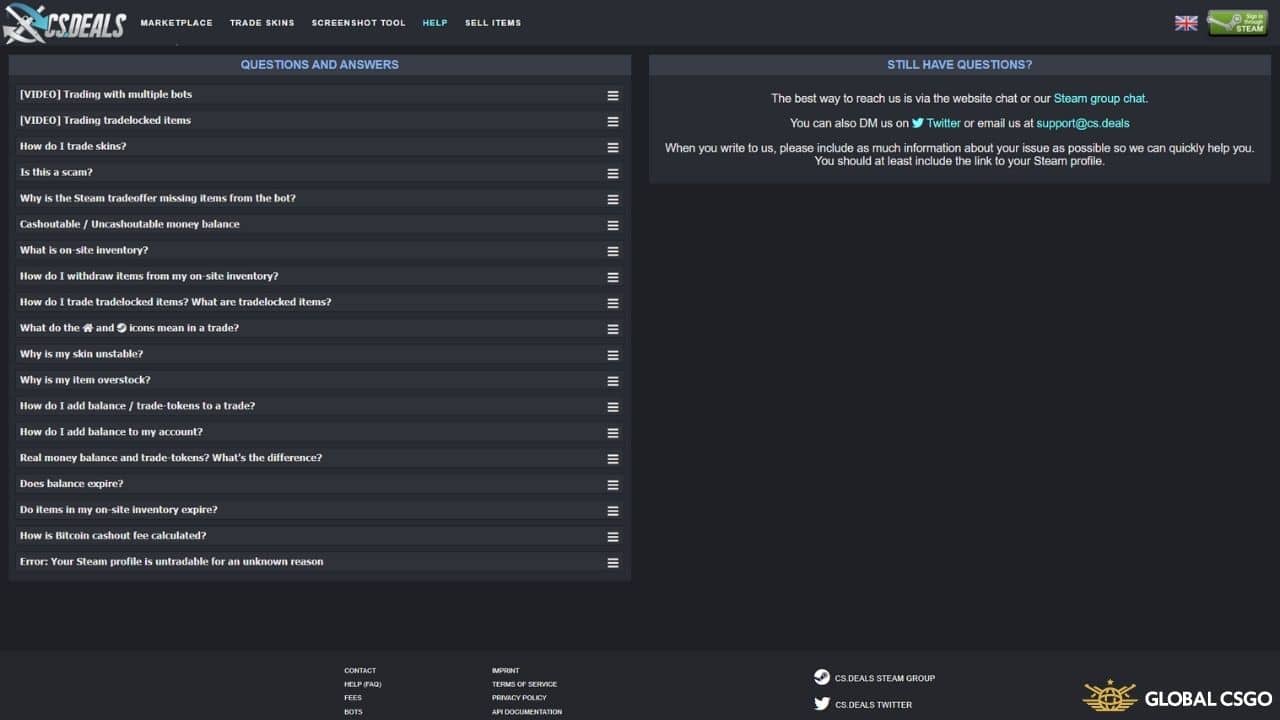 Customer support isn't through a live chat. If you need help and more information, you can reach the CS.Deals team by sending an email.
The FAQ page has some information, but it's not the best, though. Anyway, if you are a new user, make sure to read it first.
Nonetheless, you can also reach the support team on social media by sending a private message or write on the live chat. It might even be a faster way to get an answer, depending on the time of the day.
Summary
CS.Deals is a great and complete website, well-organized, but the design can be confusing initially. We would appreciate seeing a more modern look.
Both the marketplace and trading are easy to use, and the market is ready to find your favorite skin fast by filtering it by details (from a karambit knife, m4a4, AWP, everything you need)
Suppose you are a new user in this business (especially CSGO), CS.Deals is ready to embrace you nicely into the community.
Give it a try and share your thoughts.
CS.Deals FAQ
Can I Sell Skins for Instant Cash on CS.Deals?
What Is a Trade Bot CS.Deals?
Can I Trade Items From Different Games?
Our Score
Similar sites to CS.Deals

Sell & Buy CS:GO/Dota 2/TF2 items instantly!
Marketplace & Cash-out available
Very good reviews on TrustPilot
Site available in 9 languages
Sell Your Skins Using Skins.Cash And Receive Money Instantly!
The website is available in eleven different languages
The interface is simple and easy to use
Secure and safe payouts

Get a Free Case worth up to
Available in 19 different languages
The platform is operating since 2016
Use Code:
GLOBALCSGOTrade