SkinWallet 2021 Review, Is it Legit? + Promo & Bonus Code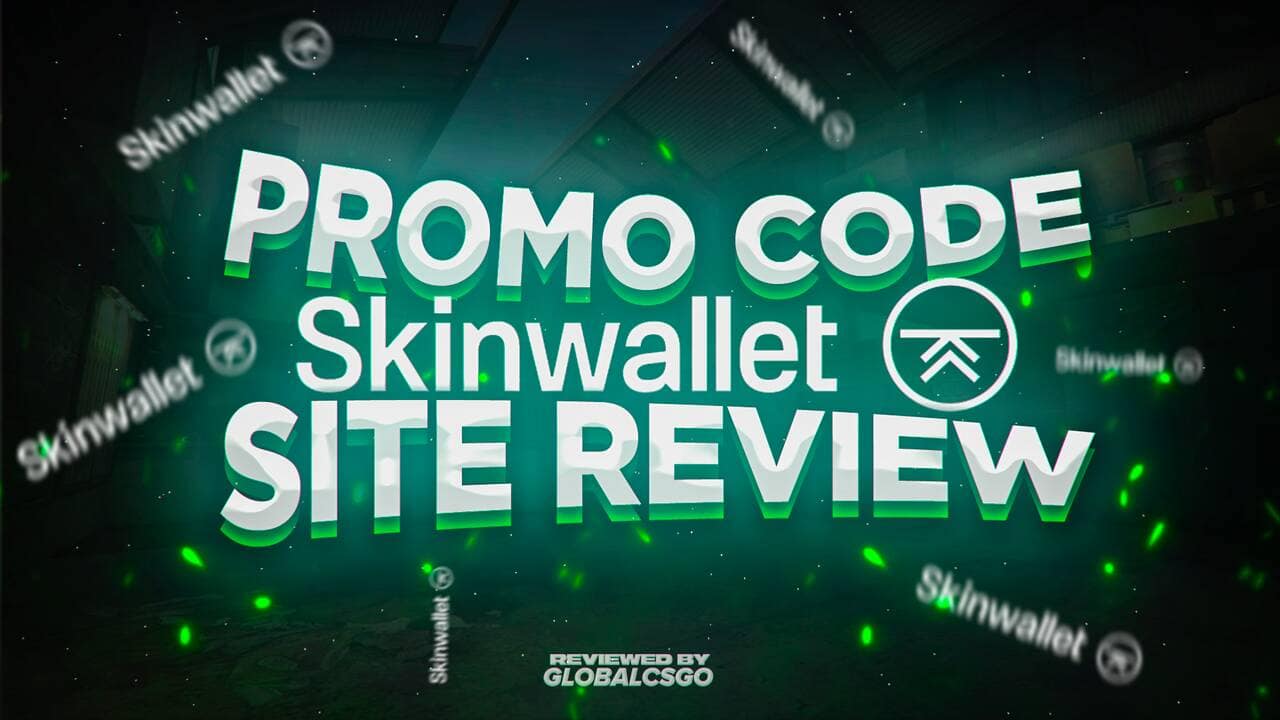 Skinwallet is one of the best online platforms to sell and buy CSGO skins. The website is divided into two parts.
First, Skinwallet Instant, where you can sell your CSGO skins for instant money and cash out.
Secondly, Skinwallet Market, which is a marketplace, so instead of selling your skins instantly, you put them on an open market, and other users will buy them; the same works for buying, you buy skins from other players.
The primary and bigger market is for CSGO skins, although the website also works with Dota 2 and Team Fortress 2 items.
There are nine different languages available and a user-friendly interface, simple to use and understand.
If you want to understand how everything works, don't miss the full review.
What is Skinwallet?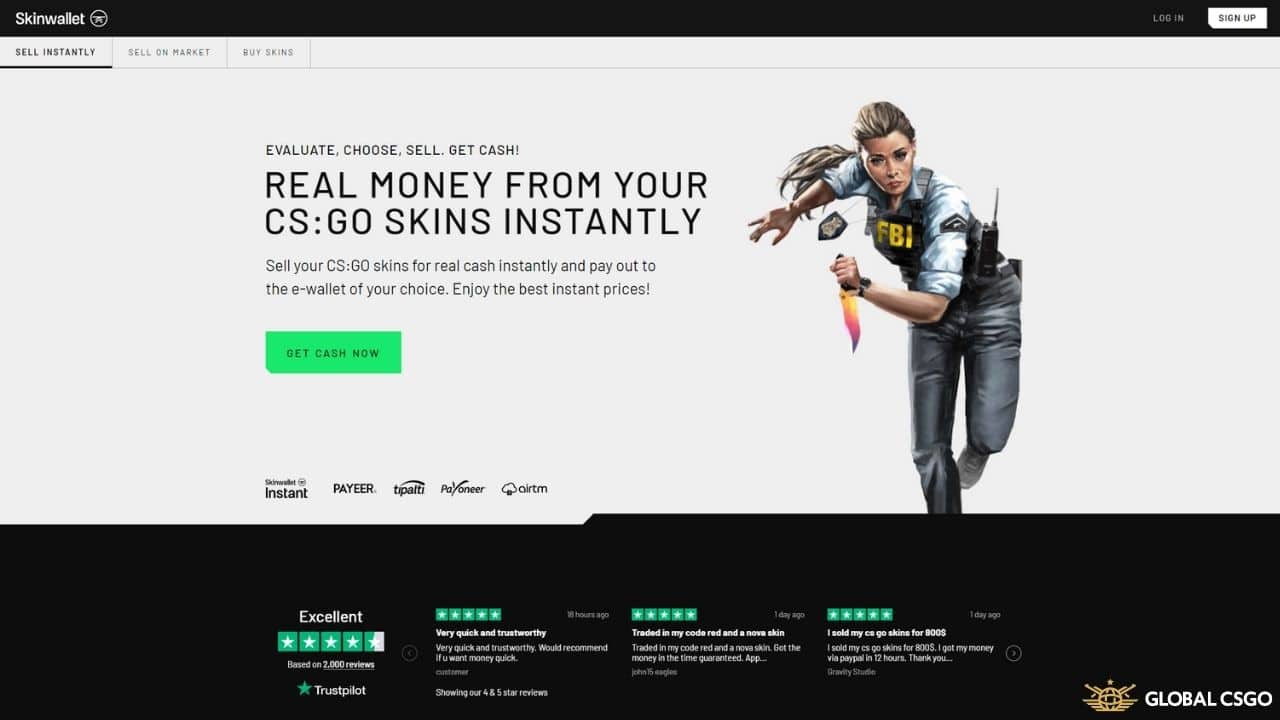 Skinwallet – Is it Legit?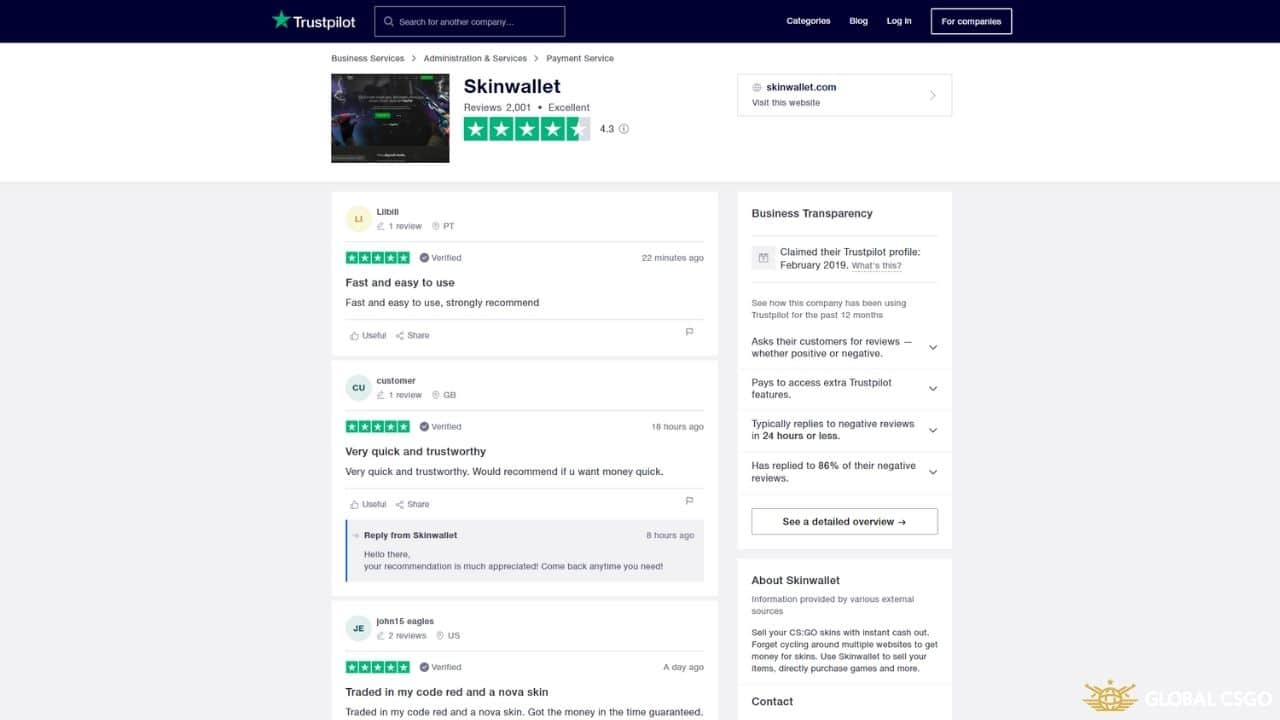 Yes, it's safe and secure to invest your money in the website.
Working around for several years, they are getting a lot of credit from the community. Users share their experiences with overall positive notes and good feedback.
With a progressive growth over the last months, it now counts with an average of 350k visitors per month but has a growing tendency.
How to Sell CSGO Skins on Skinwallet Instant?
This is a speedy and straightforward process to do. It won't take you more than one or two minutes to get everything done and your cash in the pocket. Make sure to follow these steps:
Sign up through your Steam account and put your inventory public
Add the correct email address and trade URL (always double-check!)
Go on "Sell your skins" and select the skin/skins you want to sell from your inventory, and click on "Get $X"
Accept the bot's trade offer on your Steam account
Click on "Payout" and select the most appropriate payout method
Get your money and share your experience
Sounds easy, right? And it's even possible to get better prices with the bonus program. You can earn up to 5% extra on top of the regular prices by merely being a loyal customer. The first level (+1%) starts once you deposit skins worth at least $50,00.
How to Sell CSGO Skins on Skinwallet Market?
To sell your CSGO Skins on the market place, it might take a bit longer than doing it instantly because you need to wait for a buyer and put your skins at an ambitious price to overcome the competition. This is all you must do:
Sign up using your Steam account and set the inventory public
Add the correct email address and trade URL (don't forget to verify twice)
Select the skins you want to sell from your Steam account and establish the prices
Check the receipt on the summary page and the listings regularly (you can change the price at any time)
Wait for a buyer to come and purchase your skin
Note that Steam Guard Mobile Authenticator must be valid for at least 15 days to sell Steam items.
How to Buy CSGO Skins on Skinwallet Market?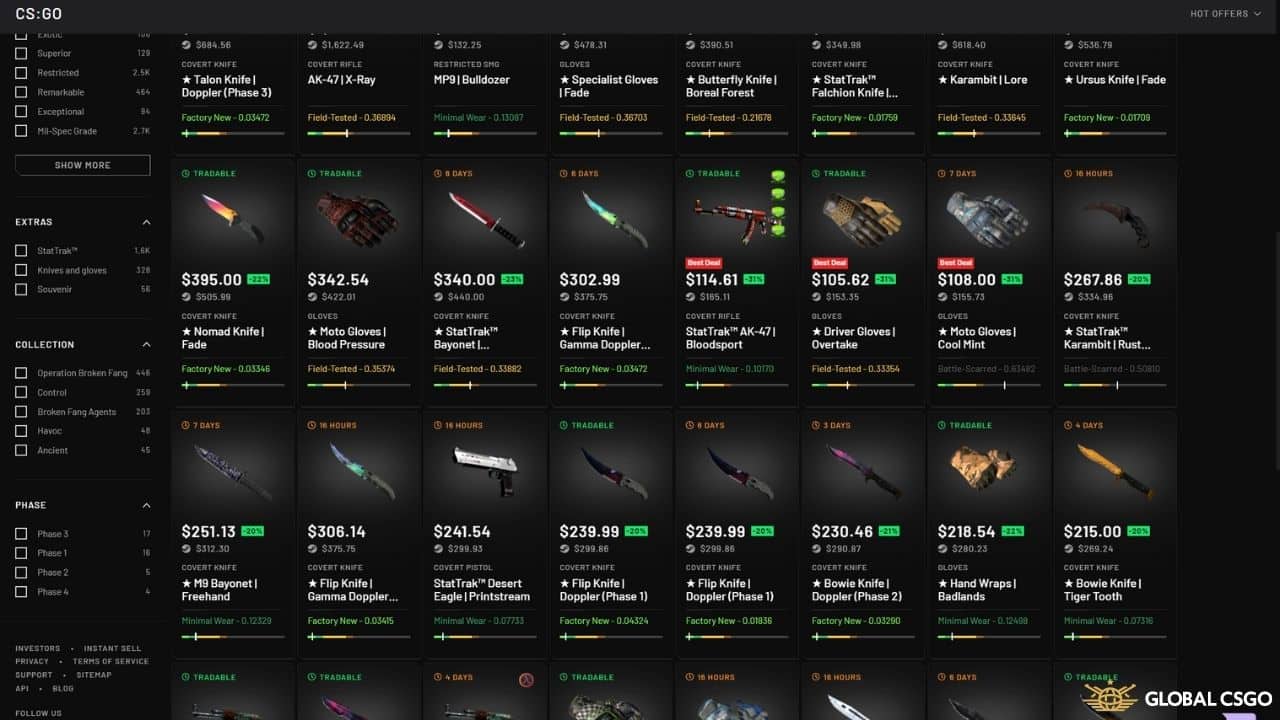 If you only pretend to buy CS:GO skins from the marketplace, the process is also simple. Please follow these steps:
Sign up using your Steam account or log in if you already are registered
Open the market and search for your favorite skin
Once you got it, add it to the cart and checkout
Complete the payment
Make sure to have enough funds to finish the procedure.
Payout/Deposit Methods and Fees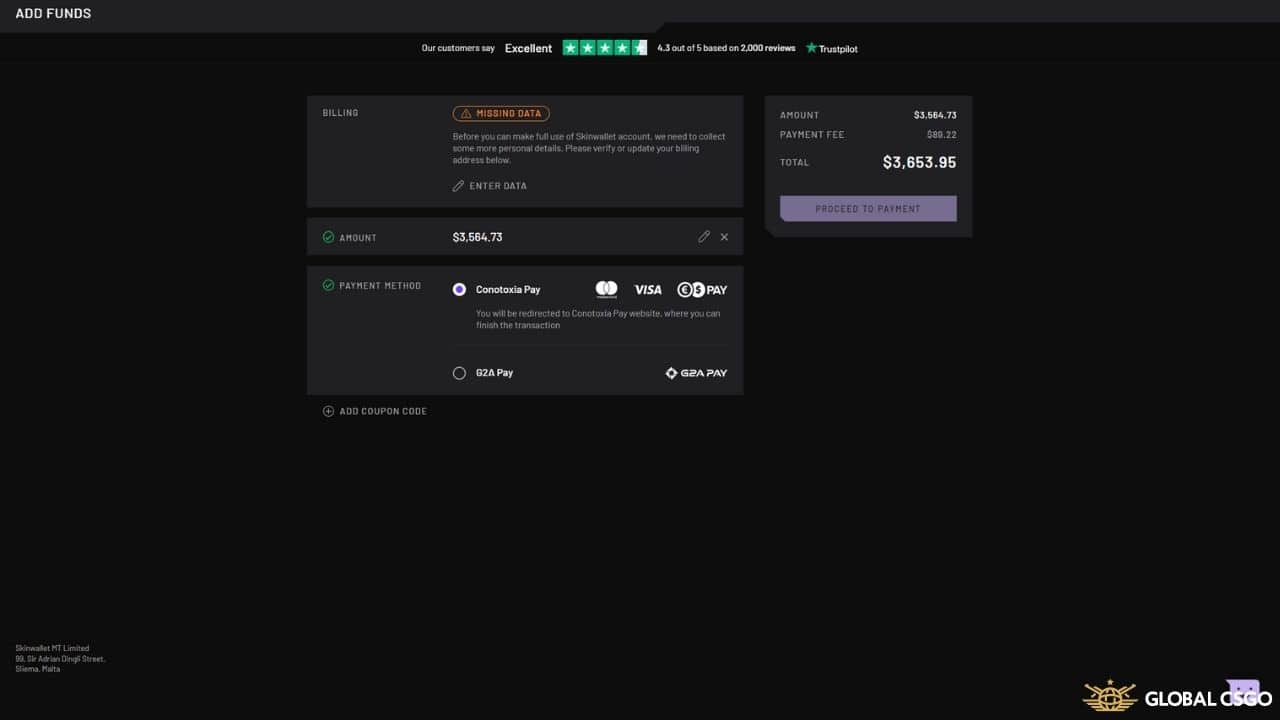 If you want to do payout of your sales money, make sure to choose the best option for your needs:
Payeer – Minimum payout is $1 and has a 3% fee.
Tipalti – Minimum payout is $5, and Skinwallet imposes no fee on Tipalti. However, each of the options provided by Tipalti may have different prices inside the system: eCheck/bank transfer/SEPA transfer ($5 flat fee, plus 3% FX fee); wire transfer (for payouts in USD to USD bank accounts the flat fee depends on the bank. For all other currencies, it is flat $20. All Wire Transfers have a 3% FX fee); PayPal ($1 plus 2% up to $21 for non-US residents; $1 plus 2% up to $2 for US residents. There's also a 3% FX fee).
Payoneer – Minimum payout is $21, and each payout with Payoneer costs 3% plus a flat $3 off your transaction.
Airtm – Minimum payout is $1, and the fee is 3% plus a flat $0.40 off any transaction.
If you pretend only to add cash to buy skins, you have:
Conotoxia Pay – the fee is $0,10 + 2,5% of the deposit amount.
G2a Pay – the fee is $0,40 + 5% of the deposit amount.
Note that all the sales on the Marketplace will charge you a 10% fee of the price.
Remember that depending on the amount, your financial institution, and country, the procedures, availability, methods, duration, and terms and conditions may vary.
Skinwallet Customer Support
Customer support isn't through a live chat. If you need help and more information, you can reach the team by opening a ticket, both on Skinwallet Instant and Market.
Although, the FAQ page on both platforms got a lot of explanations and is complete. If you are a new user, make sure to read it first.
Nonetheless, you can also reach the support team on social media by sending a private message. It might even be a fast way to get an answer, depending on the time of the day.
Summary
Skinwallet is a good and complete website, well-organized and divided into two sections: instant cashout and marketplace.
Both are easy to use, and the market is ready to find your favorite skin fast by filtering it by details.
If you are a new user in this business (especially CSGO), Skinwallet is ready to welcome you nicely into the community.
Give it a try and share your thoughts!
Our Score
Additional Site Details
---

Website Link

---

Payment Methods

---
Similar sites to SkinWallet
Get 3% More For Your Skins by Using Our Referral Code! 🔥🔥🔥
Site is available in 10 different languages
You can payout skins with PayPal
SkinCashier accepts skins from CSGO, Dota 2 and TF2
Fastest withdrawals - money in your account in seconds
Excellent rating on TrustPilot

Trade Your Skins With One Of The Lowest Fees Of All Sites!
Site is available in 8 languages
Daily skin giveaways
Low 2% commission
Rated 4.9 on TrustPilot
Use Code:
GLOBALCSGOTrade

Use our link and sell or buy CS:GO Skins at the best prices!
One of the oldest and most trusted Marketplace sites
Multiple payment methods
Available games: CS:GO, TF2, Dota 2
Use Code:
GLOBALCSGOTrade
Skinwallet FAQ
Can I Sell Any Skins With Any Value?
Skinwallet Instant buy only items with a market value of at least $0,50.
I Deposited My Skin For Mistake. How Can I Get It Back?
Unfortunately, you can't. Once you agree with the transition and process in Skinwallet Instant, there is no way back.
Can I Not Pay the Market Fee on Skinwallet Market?
No, you can't. You always pay a 10% fee for Skinwallet.
How to Cancel a Listing on Skinwallet Market?
Enter the listing on the user menu and go to the offer you want to edit > click on "edit offer" > click on "delete offer" and confirm the operation.