Skins.Cash 2021 Review, Is it Legit? + Promo & Bonus Code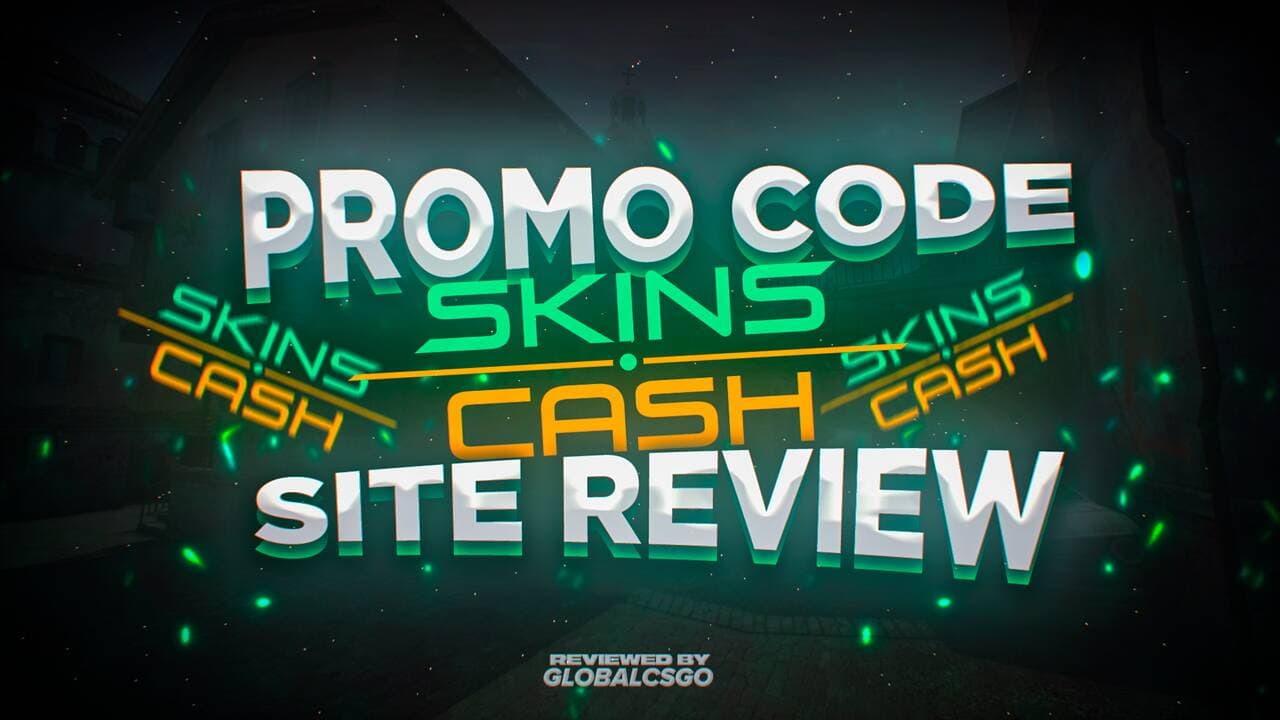 Skins Cash is an online global market to sell CS:GO skins instantly, providing secure and safe payouts and different payment methods. The market also allows you to sell skins from Dota 2, Team Fortress 2, and Rust.
The website is available in eleven different languages, and the interface is simple and easy to use.
If you want to sell CSGO skins, this is the right place to do it for real money. We are breaking down all the features and the way to do it.
Skins.Cash has all rights reserved.
Skins.Cash – Is it Legit?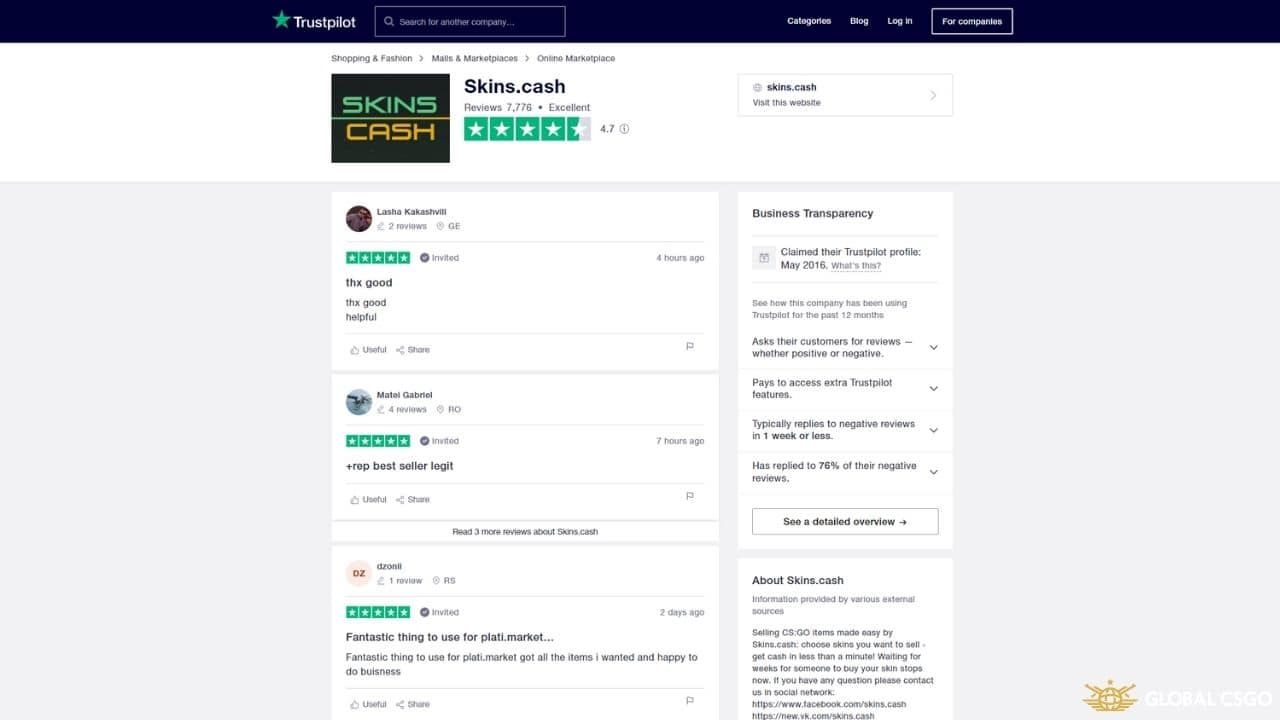 Yes, the platform is legit and trustworthy. You'll get cash for your skins instead of scamming.
Operating for several years in favor of the community, the website is recommended for many users, and the feedback is usually excellent.
With stable growth, maintaining its loyal customers, the platform has an average of almost 400k visitors per month and pretends to improve for this number to go higher.
How to Sell CS:GO Skins on Skins.Cash?
Here is the part everyone wants to know, how to sell CS:GO skins in a fast and secure way. All the process is smooth, and you should not have any problems during the operation. It won't take you more than one or two minutes, but to facilitate your life, we will guide your step by step:
Sign up through your Steam account and set your inventory public
Add the correct email address and trade URL (always double-check the link)
Click on "Go to Main" to open your Steam inventory
Select the skin/skins you want to sell
Choose the payment method according to your needs and click "Get Cash Now"
Accept the bot's trade offer on your Steam account
All done! Enjoy your instant cash
It's all simple as it looks to sell your skins. The items might change value depending on the demand. Always pay attention to that.
Note that Steam Guard Mobile Authenticator must be valid for at least 15 days to sell Steam items.
Payout Methods and Fees on Skins.Cash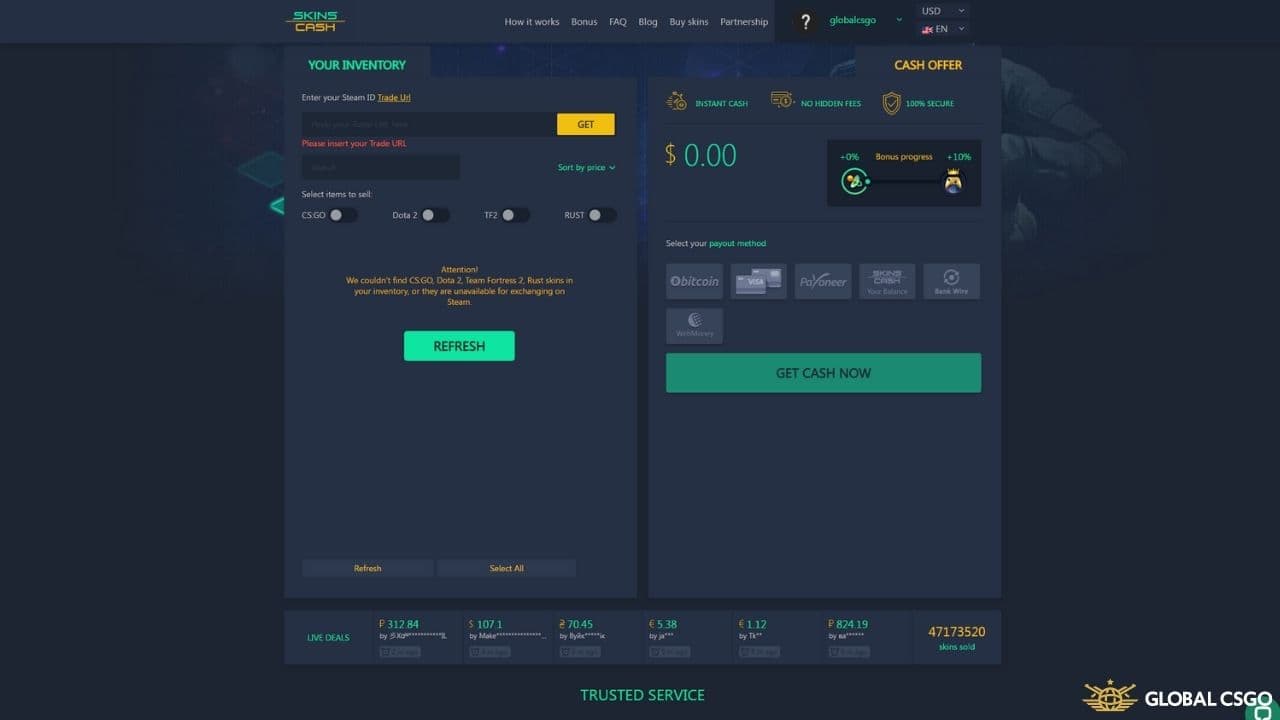 Before you start thinking about selling your CSGO skins, make sure the platform has your favorite method to get cash and if any fees are involved.
Luckily Skins.Cash doesn't apply any fees during the withdrawal process, but the method you choose might or might not apply. You have available:
Bitcoin – for withdraws above $80,00
Visa/Mastercard – for withdraws above $3,00
Payoneer – for withdraws above $15,00
Bank wire – for withdraw above $1,00
WebMoney – for withdraw above $1,00
Skins.Cash – no minimum required
Remember that depending on the amount, your financial institution, currency, and country, the procedures, availability, methods, duration, and terms and conditions may vary.
Skins.Cash Bonuses
Yes, it's true. If you want to sell CS:GO skins, Skins.cash offers you bonuses for that. What it will do is increase the real money you'll get for selling your skins.
The bonus works in by ranks. The higher you are, the higher the bonus. It's possible to go up to +10%, and you upgrade the levels by selling skins.
Level 1: Sell CSGO skins on a total of up to €5 = +1%
Level 2: Sell CSGO skins on a total of up to €50 = +2%
Level 3: Sell CS:GO skins on a total of up to €100 = +3%
Level 4: Sell CSGO skins on a total of up to €200 = +4%
Level 5: Sell CSGO skins on a total of up to €450 = +5%
Level 6: Sell CSGO skins on a total of up to €1400 = +6%
Level 7: Sell CSGO skins on a total of up to €2800 = +7%
Level 8: Sell CSGO skins on a total of up to €5500 = +8%
Level 9: Sell CSGO skins on a total of up to €9500 = +9%
Level 10: Sell CSGO skins on a total of up to €14000 = +10%
Once you reach the final one, you'll get your +10% on every sale.
Another way of indirectly win cash is by participating in Giveaways that Skins.cash do weekly, which you can enter by completing simple tasks like following on social media. You won't win money, but you have the chance to win free skins, and then you can sell your CSGO skins.
Skins.Cash Customer Support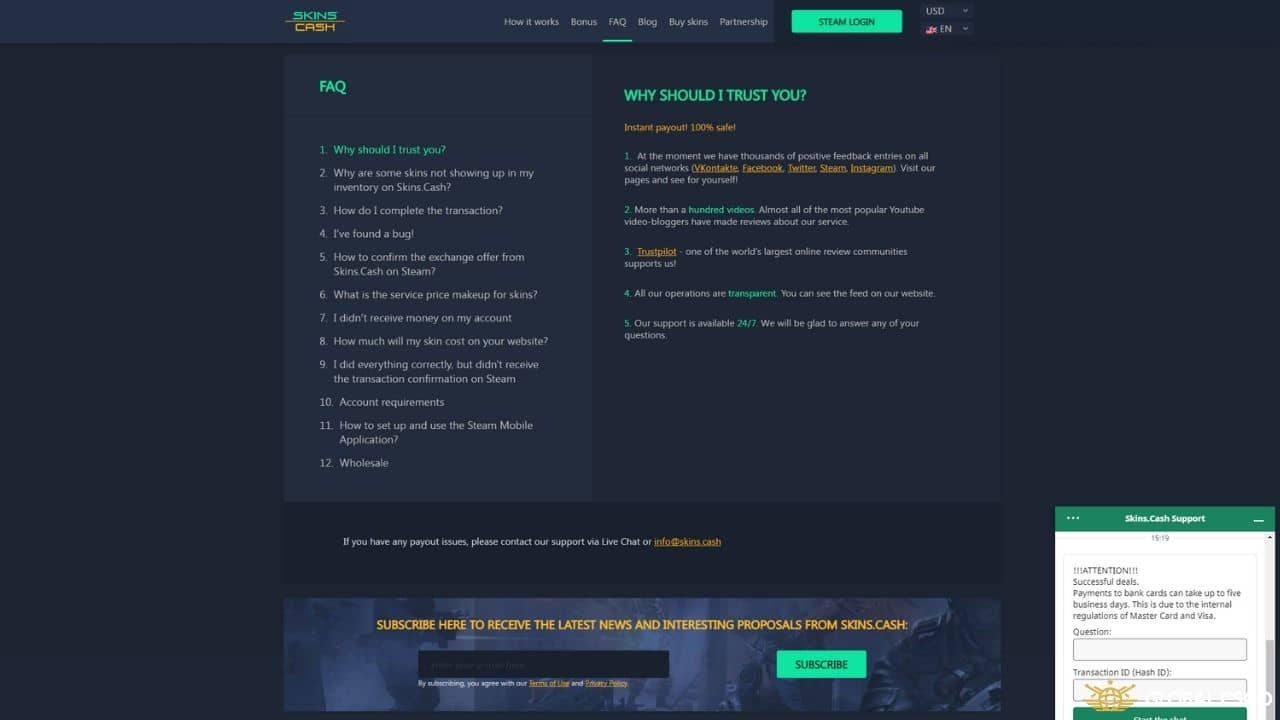 Customer support is a good advantage for Skins.cash since the platform has a 24/7 live chat. Any doubts that you have or any additional information needed, make sure to reach the team through the live chat, which is the easiest and fastest way.
Other methods are available. You can also send an email if you need more in-depth answers or simply reach Skins.cash on social media, as soon as possible, you'll have your questions replied to.
The FAQ page could have some improvements. However, it's not bad. You can have some doubts answered there. Make sure always to verify it first.
Summary
Counter Strike skins market is getting more and more popular over the years, and Skins.cash is a safe and trustable site to sell your skins and get cash instantly.
The platform is transparent and super easy to navigate. We recommend you give it a try and share your experience with the community for more feedback!
Our Score
Similar sites to Skins.Cash

Use our link and get a bonus from DMarket!
The website is available in eleven different languages
One of the largest CS:GO Marketplace sites, nearly 2 million users
Secure and safe payouts
Multiple deposit and withdrawal methods available
Use Code:
GLOBALCSGOTrade

Get reduced commissions for trading using the Skinport marketplace
Skinport accepts CS:GO, Dota 2, Rust & TF2 items
More than 2000 reviews on TrustPilot
Site is available in 11 different languages
Use Code:
GLOBALCSGOTrade
Get 3% More For Your Skins by Using Our Referral Code! 🔥🔥🔥
Site is available in 10 different languages
You can payout skins with PayPal
SkinCashier accepts skins from CSGO, Dota 2 and TF2
Fastest withdrawals - money in your account in seconds
Excellent rating on TrustPilot
Skins.Cash FAQ
Can I Sell CS:GO Skins in Large Scale on Skins.Cash?
Yes, you can. The platform can offer you better conditions and bonuses if you want to sell many skins. To discuss details about it, make sure to contact the team via email.
How Can I Trade Skins on Skins.Cash?
You can't do trading on Skins.Cash. This is a website to sell your skins for real money, and it doesn't have the trading feature.
How Much Time Does It Take To Get My Money?
Usually, only a few minutes. Although, depending on the method you choose might take just a bit longer, in a maximum of 24h your must have your cash. If you have any problem or delay, contact the support team, and they will clarify everything.
Can I Sell Any Skin on Skins.Cash?
Not precisely every skin, but almost. The website only buys skins over €0.03, and that are valuable for the gaming community. A dynamic algorithm does skin sorting. Some skins can either be available or unavailable for sale, depending on the time of day, market situation, and other reasons.