Bandit.Camp Review & Referral Codes (2022)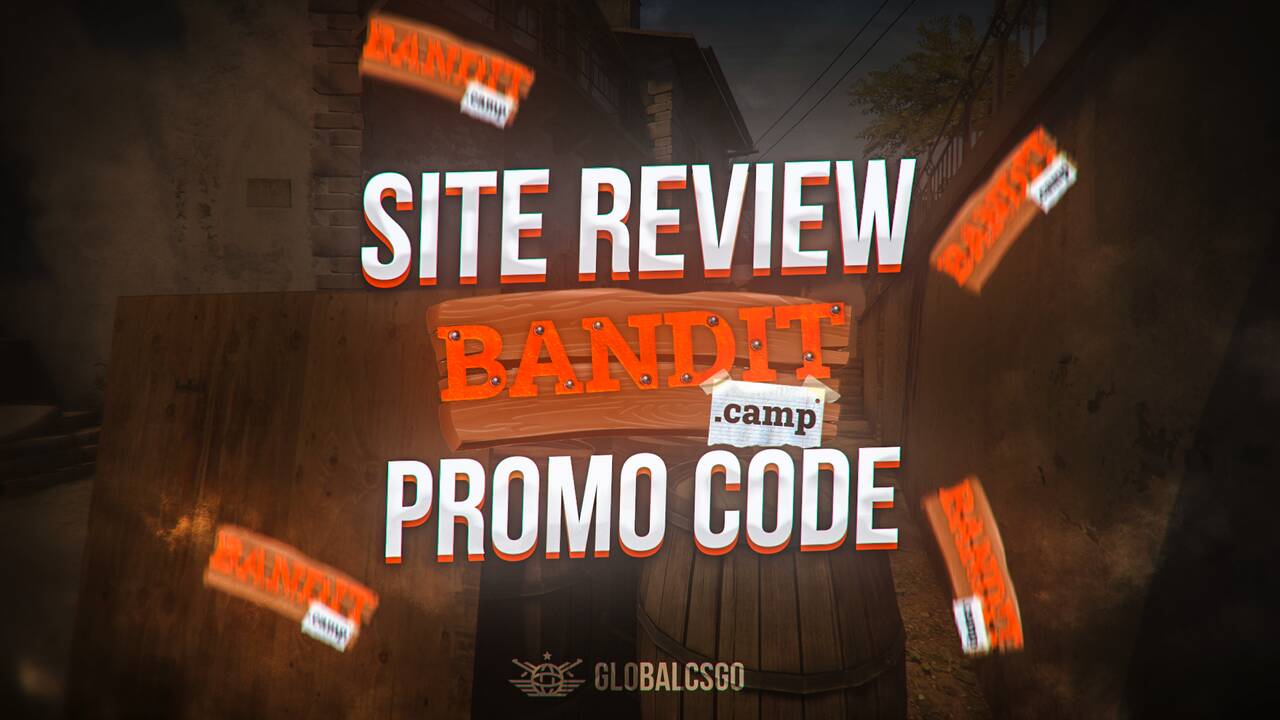 Bandit.Camp is a new casino site that has the theme of the ever popular game Rust but while it focuses on that game it also accepts skins from CS:GO and Dota 2 among others. Read our bandit.camp review and find out more about the site and whether it's legit. We have also described here all available referral, bonus and promo codes for Bandit.Camp as well as the available ways to get free money on this site.
Referral code for Bandit.Camp
Bandit.Camp offers its new users a referral code, which can be used by a player who has not used any other promo code before. To claim your bonus at Bandit.Camp, simply use the Claim your bonus button found next to the review or below. Once you use our link, the code will automatically be added to your account on the site.
Is Bandit.Camp legit?
Bandit.Camp is a legit site that is really fair. The gaming system is based on the EOS blockchain, and what this means for non-technical people is that all the details of every round held are available in a database running on the Blockchain. The administration has no way of influencing the results of rounds and everything is very easy to verify. If you want to read more about the fairness and provably fair of this site, just click the green button located in the footer of the Provably Fair (Blockchain-powered) page.
We also found no negative reviews of Bandit.Camp and the site itself is growing very quickly. If you are looking for a casino for Rust items then Bandit.Camp is definitely for you.
The site doesn't have a huge amount of users yet but the chat is really very active.
Free money on Bandit.Camp
Bandit.Camp allows several ways to receive free resources to explore the site. We have collected all the methods below, if any new ways appear, we will add them to this list.
Using our link
By using our referral link, a permanent deposit bonus of 7.5% will be activated on your account. Bandit.Camp deposit bonus is valid with any payment method, details can be found in the Deposit section.
Free scrap (Bandit.Camp currency) every 15 minutes
You can use the scrap faucet every 15 minutes and get 0.03 scrap completely free. This method has some requirements:
You must have a level 3+ Steam account
you must have less than 0.03 scrap in the balance
Your steam name must contain "banditcamp.com" without the quotes
you must have Rust in your game library
To use this option to earn free funds at Bandit.Camp, go to the homepage and click on the GET FREE SCRAP EVERY FEW MINUTES button
Social Media Giveaways
It's worth joining Bandit.Camp on Discord and give a follow on Twitter, because every now and then the administration there provides promo codes which will top up your account with free scraps. To use a promo code just go to the Bandit.Camp homepage and click the green button Got a promo code?
Leaderboard
In the latest Bandit.Camp update, a Leaderboard has been added to the site where those who have played the most scrap receive prizes. The leaderboard is divided into daily, weekly, and monthly rewards, and the rewards vary by time period.
Available games on Bandit.Camp

As of the date of writing this review, Bandit.Camp features three games known among other gambling sites:
Wheel of Fortune
This is a very interesting and elaborate version of roulette. When you go to the Wheel of Fortune subpage, you will see a wheel that has five different colors on it: yellow, green, blue, pink and orange. Each color represents a different multiplier of the winnings on roulette:
Yellow – pays X2
Green – pays X4
Blue – pays X6
Pink – pays X11
Orange – pays X21
The value of the multiplier depends on how many times a particular color appears on the wheel, orange, meaning bet times 21 is found only once, while most of the fields are yellow, meaning double the bet. A round on Wheel of Fortune at Bandit.Camp is played every 30 seconds.
Coinflip Duels
The principle of Coinflip Duels on Bandit.Camp is exactly the same as on other sites. When you enter the coinflip tab you will find several game rooms of other players, but you can also create your own. By adding items to a given duel you set the value of the game, the user who joins can give 10% less or 10% more of the round value, but this will proportionally decrease or increase his chances of winning. When there are two players in the room, the coin toss game begins. The winner receives the entire pool of inserted items.
Spinner Battles
This is probably the first site where we see such a game, we haven't encountered something like this from the competition yet. When you enter Spinners you have the option to create a game room or join an existing one. You then set your color and if it falls, you win the entire pot, which is written in the upper left corner of each game room. You can create a round for up to 4 people and choose from 4 colors: red, green, blue and yellow.
Deposit methods
On the site you will find the most popular deposit methods:
Cryptocurrencies: Bitcoin, Ethereum & Tether
Rust Items
CS:GO Items
Dota 2 Items
Withdrawal options
On Bandit.Camp you will find a huge selection of Rust items for payout, as on average there are over 70,000 items in the site's inventory. To withdraw items from the site just go to the Shop tab which you can find in the top menu and then choose the skins you want to receive. Remember to fill in the Steam Trade URL before making the withdrawal.
It is worth noting that there is a daily withdrawal limit. The basic limit is 400 scrap per day, but this can be changed. To do this, simply contact support.
Summary
Bandit.Camp is a really great site that has a design reminiscent of the graphics from the game Rust. Here you will find 3 popular games that are made in a cool atmosphere and a very large selection of Rust items to pay out.
The site is fairly new, but it is growing very fast and the administration is working hard on it to make it the best it can be for players.
Bandit.Camp FAQ
Bet requirement before withdrawal
Our Score
Additional Site Details
---

Website Link

---

Available Games

---

Payment Methods

---
Similar sites to Bandit.Camp

Get 500 Coins Absolutely FREE when you use code for RustReaper! 🔥🔥
Free welcome bonus for new players
Classic casino games: Crash, Roulette, Upgrader, Hilo
Instant deposits and withdrawals
Powered by Gamdom, a very recognizable company

Free +0.50 Top Up for Using Code on RustChance!🔥🔥
Free 0.50 credits for new players
A very interesting selection of games
Instant deposits and withdrawals
Classic jackpot available

A clear and user-friendly website that accepts skins from Rust
Casino focused on items from the game Rust
Currently only two games to choose from
Classic jackpot available
Daily Free Case