Howl.GG Review & Bonus Codes in 2022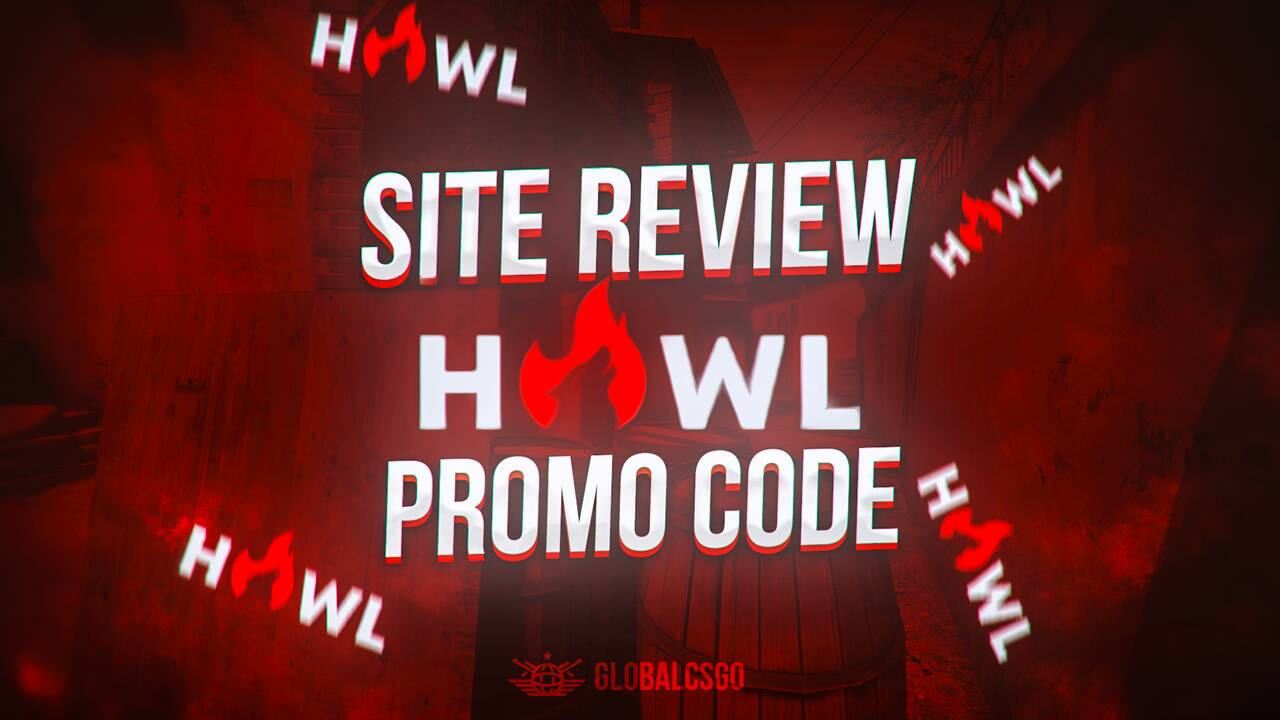 Howl.GG is a Rust gambling site that features a very nice logo, but that's not all that's nice about this site. The whole thing is very clear and easy to read for the user, and navigation on Howl is very simple. The site was created some time ago, unfortunately we don't know when exactly, but the Twitter brand was established in 2016, currently it is an increasingly popular Rust items gambling site, if not the most popular one. On Howl you'll find everything you need to play with items from the survival game Rust, but you'll learn about that later in this review.
What is Howl.GG?
Howl.GG is a gambling site that accepts items from the increasingly popular game Rust, which for some time now has made it possible to exchange Steam items between players, and thus more and more casinos have sprung up accepting items from this game. Howl features a great website design that is very clear and no one should have problems navigating through it. There are many active users on the site, 300+ online on average, and you can also see it from the very active chat where there are lots of messages per minute. Howl.gg offers two classic games known from other casinos, but according to our information, new games are expected to be added soon.

Is Howl.GG legit?
Howl.GG is a legit site that has been around for a while on the Rust gambling sites market. Here you will find a provably fair system that allows each user to independently verify each round that has taken place on the site. This means that the administration does not have the ability to influence the outcome of every draw on the site, as this would be visible in the Provably Fair/Fairness system. We also did not find any information that Howl may have scammed someone in the past.
To learn more about the fairness of this casino, go to the Provably Fair tab, the link can be found at the very top of the page. There you will find a round verifier prepared by the site owners in which you have to enter the Game ID and then you will get the result of the draw.
Available games
Unfortunately, for now there is not much choice of games on Howl.GG, since the classic Jackpot and Coinflip are available here.
Jackpot
Any player wishing to participate in the jackpot draw must add items to the pot (minimum value $1.00, maximum 20 items), the more items they add, the more chances they have to win. Then after one minute a draw is held, where one of the participants of the round is chosen and gets the whole pool of the deposited items.
Coinflip
A coin toss game where you can create your own round or join an existing one. If you join another game, you must deposit an amount of items that is specified in the details, most often it is 10% less or more than what your opponent has deposited. A draw is then held and the winner receives their own and their opponent's skins.
Free money on Howl.GG
On Howl, there are several ways to get free money to play. All the possibilities are described below.
Daily Free Case

Daily Free Case is nothing else but an opportunity to open a free case in which you will find several items. These are items of very high value for example Big Grin for over $700.00, but we can also hit nothing – yes, we are not lying, from the case we can get $0.00 with the signature Better luck. This is the first time we have seen this, on many other sites you will get at least a skin worth a few cents from a crate. To open the daily case we must meet two conditions:
Our Steam account must be level 5 or higher
You must join the official Discord server
If you meet these two requirements, click the Discord button under Press to verify and then the red Open Case button and try your luck!
Social Media Giveaways
The administration is very active on its official Twitter. There, you can find daily giveaways on items of various values, most often in the range of $35. To participate in such a giveaway, it is usually enough to leave a follow to Howl.GG's Twitter profile, make a retweet and tag a friend.
Contests
This is also a form of giveaway, but involves a contest. These are also announced on Twitter and have different rules. At the time of writing this review, the latest contest is: win 8 coinflips in a row valued at $100+ and get a bonus AK Glory worth $400. Very interesting option, we have not encountered such a thing on other sites.
📢NEW CONTEST📢

Win 8 Coinflips in a row valued at $100+ and get a bonus AK Glory ($400) 🥳

This one will be hard, Good luck! pic.twitter.com/B95btG1hpV

— Howl (@HowlGG) June 20, 2021
Deposit methods on Howl
Uniquely on Howl, there is no such thing as a wallet or account balance. All deposits are made directly to each round. You will find a red Deposit button next to Jackpot and Coinflip games, where you can instantly deposit funds and join the current round. To be able to join the round, remember that your items must not have a lock and you must provide your correct Steam Trade URL on the site, without this you will not be able to do the trade.
Similarly, the site does not have a wallet or balance, so the skin payout is automatic after each round.
Howl.GG withdrawal methods
Uniquely, on Howl you won't find any wallet or balance that you can top up or withdraw from. This is because the games here are played in the old-school mode, i.e. after each jackpot round, the items are immediately sent to the winner. Many players think this is the best solution because in the old days it worked like this at every site. After a win on Coinflip or Jackpot an exchange offer will be automatically created to you with the skins you won.
Our Score
Additional Site Details
---

Website Link

---

Available Games

---

Payment Methods

---
Similar sites to Howl.GG

Get 500 Coins Absolutely FREE when you use code for RustReaper! 🔥🔥
Free welcome bonus for new players
Classic casino games: Crash, Roulette, Upgrader, Hilo
Instant deposits and withdrawals
Powered by Gamdom, a very recognizable company

Free +0.50 Top Up for Using Code on RustChance!🔥🔥
Free 0.50 credits for new players
A very interesting selection of games
Instant deposits and withdrawals
Classic jackpot available

Great looking casino for Rust items, 3 games available 🔥
New gambling site for Rust items
Leaderboard rewards
Free funds every few minutes