RustChance Review & Bonus Codes in 2022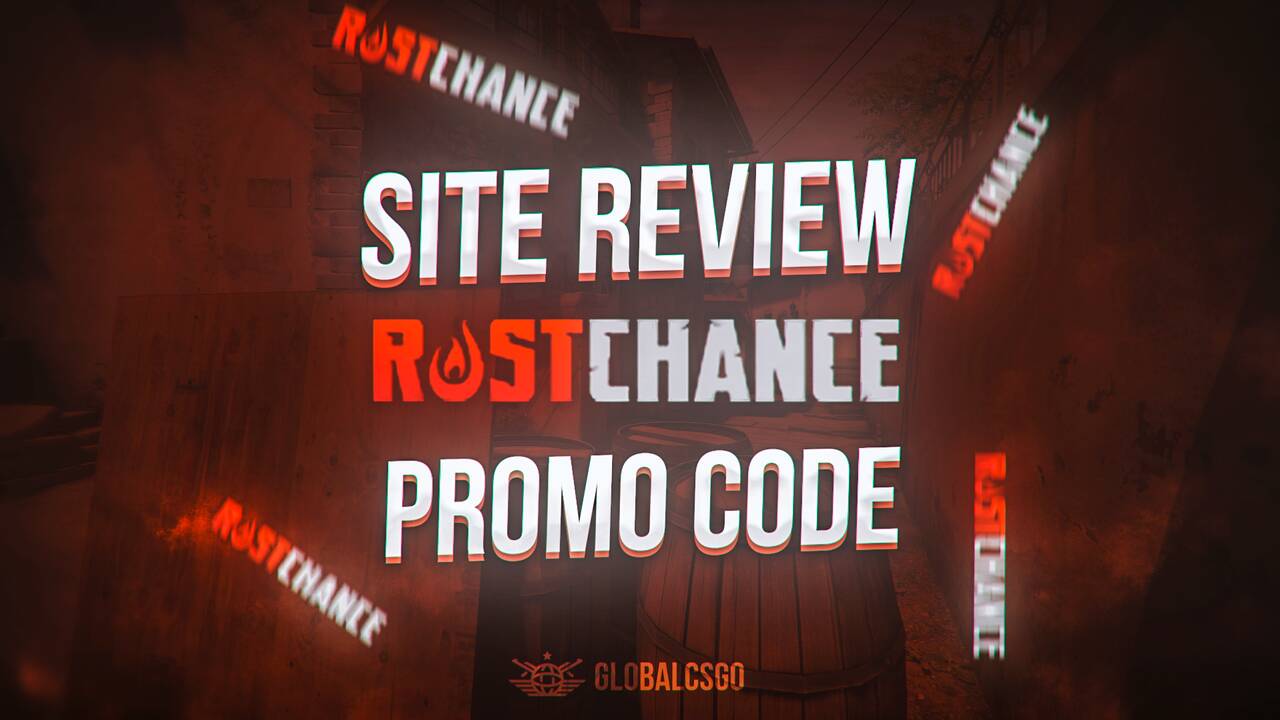 RustChance is one of the larger and more popular casinos for Rust items. The site was founded in 2020 and has been running continuously since then. At this casino you will find a large selection of interesting games, including what is often sought after – the classic jackpot. Read the full RustChance review below and by the way, grab bonus codes that will top up your account with free funds!
What is RustChance?
RustChance is an online casino that is centered around the popular survival game Rust. It is one of the few sites that accepts mainly these items and at the same time allows you to withdraw only with items from this game. The site already has a good reputation among players and a large number of active users, according to the counter on the site there are often more than 600 people online, the chat is also very active but you have to acquire a level 2 account to be able to post there. If you are an hardcore Rust player, you will definitely like RustChance!
Is RustChance legit?
We didn't find too many reviews of RustChance online or on Trustpilot, for example, so we tested the site ourselves. We made a deposit using CS:GO skins and played the Low Ballers jackpot, and we paid out the winning funds using Rust items. We didn't have any problems at any of these stages. The deposit and withdrawal process was immediate, and the Provably Fair system that RustChance uses makes it impossible to set up a round on any of the available games, so we know each one is legit. All in all, this is a legit casino that doesn't cheat its users and we can safely deposit our Steam items there.
What games are available on RustChance?
This is a definite advantage of this casino! There are up to 5 different games to choose from, including the classic jackpot, which is so beloved by many players. Below you will find the full list of available games at RustChance:
Jackpot – A classic of classics, the real jackpot is divided into two options: High Rollers and Low Ballers. In the High Rollers option the maximum jackpot is 100, and in the smaller version it is 50. The rules are simple, the more you add to the jackpot, the higher % chance you have to win. The winner takes the whole pot.
Coinflip – It works on the same principle as on other sites, we can create a room or join an existing one, we have a certain price range of items that we need to add to the pool, and then a draw takes place – the player is assigned a side of a coin, and if the player's side falls out after the coin toss, they get the whole pool of items. We can watch other players' games.
Roulette – Roulette, that is three options to choose from, two of them (blue and red) are multiplying the bet 2 times, and the yellow mesh is multiplying the bet 14 times.
Crash – We set the bet and then the crash starts, which ends at a random moment (it can be 1.01x or 1000x – nobody knows). At any time you can come out of the crash and make a profit.
Landmines – Playing mines with other users, games are played for different stakes that are listed next to the game room.
Promocode for RustChance
Would you like to test the site? Use promo code GLOBALCSGO and get 0.50 currency on the site absolutely free! Some requirements apply: your Steam account must be public and you must have the game Rust in your library. You must also not have an active VAC blocker. If you meet these requirements, go ahead and use the code GLOBALCSGO and get your free money on RustChance! Below is the complete table of available codes for RustChance:
How to use code on RustChance?
If you have a code on RustChance, no matter if it's a referral, affiliate, bonus or promo code, using it is trivial. Remember, you can also use the code GLOBALCSGO, which will load your account on the site with free money! To claim your bonus you must:
Log in to RustChance
Select the yellow Redeem Code button at the top of the page
Enter code GLOBALCSGO and click GET +0.50
Requirements to use promocode

Unfortunately, not every account can take advantage of promocode on Rustchance. To receive the 0.50 bonus you must:
Have your profile and Steam game library set to public
Have Rust in your game library
Do not have a VAC ban on your account
If you meet these three requirements, you can use the code.
Deposit Methods
The site doesn't have the largest selection of deposit methods, as the site offers to top up your account using:
Rust Skins
CS:GO Skins
Dota2 Skins
Please note that you cannot use RustChance as an exchange site, you will need to wager your money before you can cash out your skins.
Withdrawing from RustChance
To withdraw funds collected on RustChance you must:
Have the Steam Trade URL set (you can save the url in settings)
Click the Shop button at the top of the page
Select the items you wish to cash out
Other useful information
Level system on Rustchance – you get 1 experience on the site for every $0.01 deposited. Information about the experience required for the next level can be found in your profile. The more level you are, the better bonuses you will get from the site.
Support – to create a ticket to the administration, simply select the Support button located at the top of the page, then go to the Support Tickets tab and create a ticket using the green Create Ticket button. This is the fastest way to get help from RustChance support.
Site currency – the official currency on Rustchance is flames, all skins convert to Flames.
Daily withdrawal limit – each account starts with a daily withdrawal limit in the store of 50.00. Increasing this limit is possible by depositing skins on RustChance and it works according to the formula: all of your skins that you have converted into flames x 4.
Summary
RustChance is a great site for all Rust fans! Here you will find the most popular casino games, the possibility to pay with skins, good support and giveaways. It's a completely safe site where you can deposit items without fear of them being stolen. Remember to play with moderation, it's a casino after all!
Our Score
Additional Site Details
---

Website Link

---

Available Games

---

Payment Methods

---
Similar sites to RustChance

Get 500 Coins Absolutely FREE when you use code for RustReaper! 🔥🔥
Free welcome bonus for new players
Classic casino games: Crash, Roulette, Upgrader, Hilo
Instant deposits and withdrawals
Powered by Gamdom, a very recognizable company

Great looking casino for Rust items, 3 games available 🔥
New gambling site for Rust items
Leaderboard rewards
Free funds every few minutes

A clear and user-friendly website that accepts skins from Rust
Casino focused on items from the game Rust
Currently only two games to choose from
Classic jackpot available
Daily Free Case