FarmSkins Review & Bonus Codes in 2021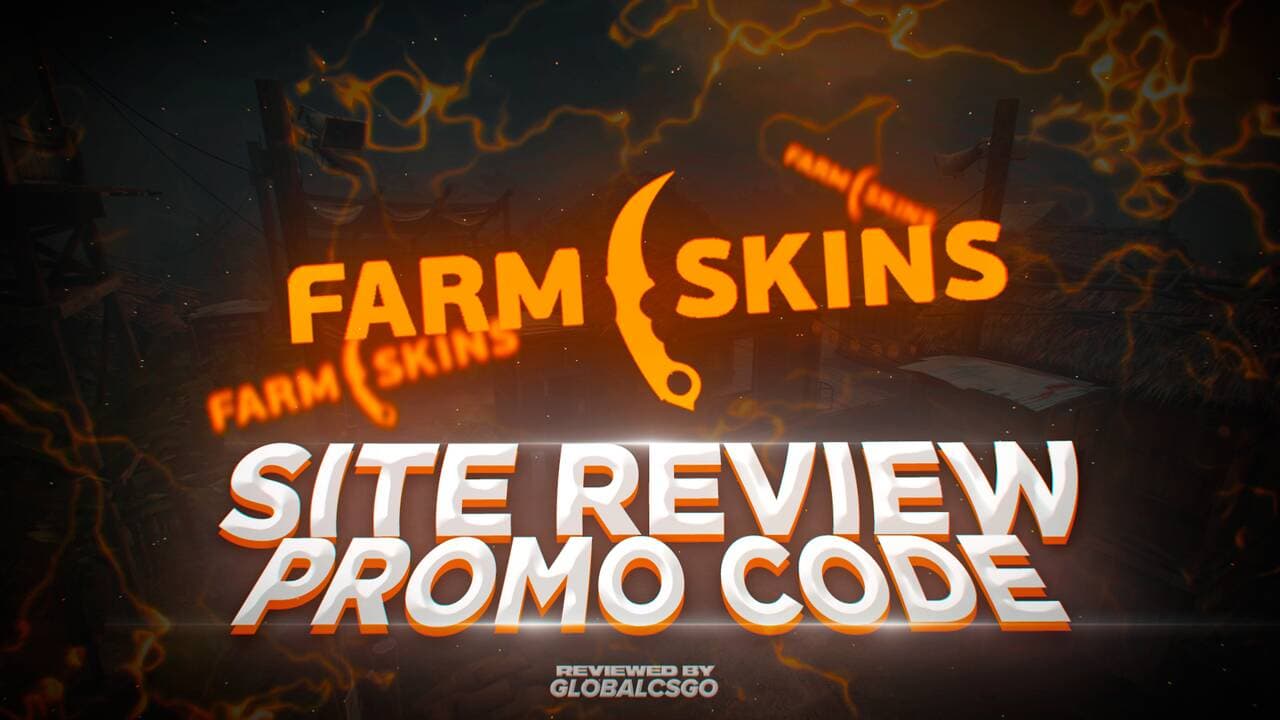 FarmSkins.com is a trendy CSGO case opening website. With many bonuses and different cases to open, this site is one of the player's favorite.
Operating since 2016 and involved in a bit of a controversy, FarmSkins is now stronger and with more features.
Read our full review on this site where we thoroughly described the games available, bonus codes and other key information.
Pros
Website available in 8 different languages
Live support chat
Smooth and interactive design
Daily bonus
Good FAQ page
Mobile-friendly
Sponsor CS:GO tournaments
Cons
No live chat
Limited amount of games
The website could add more cases
What is FarmSkins?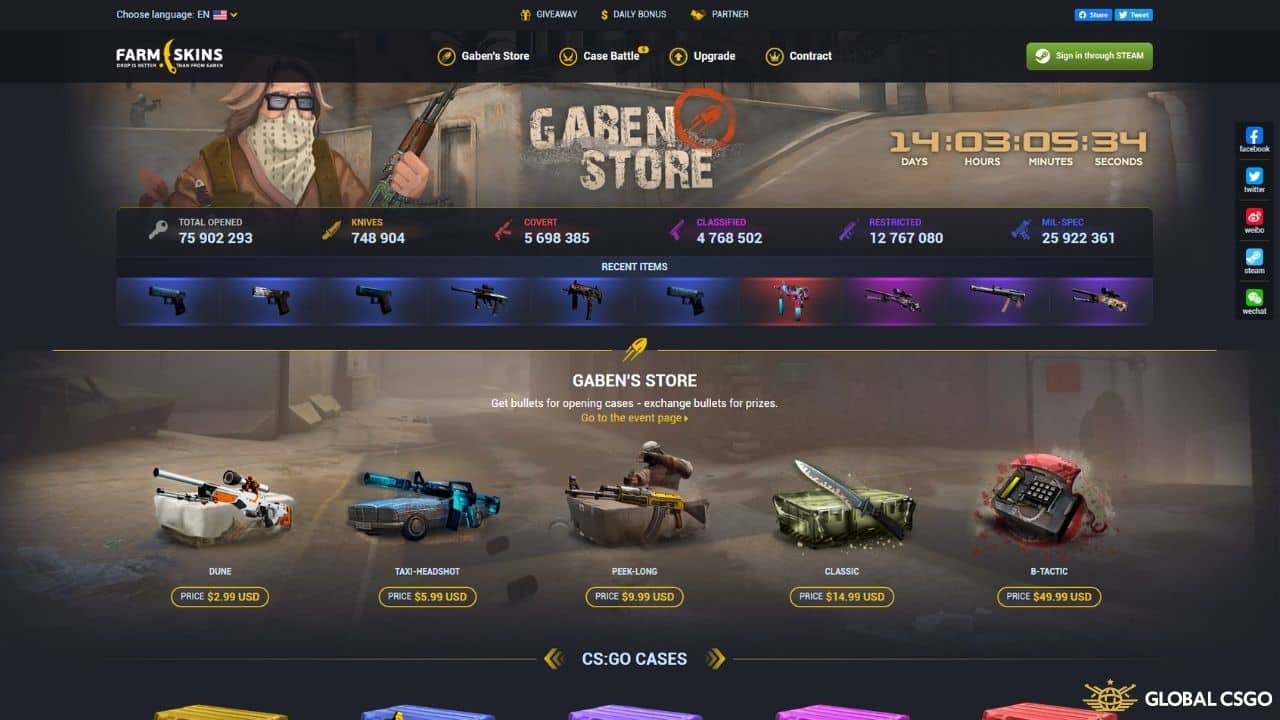 Farmskins.com is a CSGO case opening site. One of the pioneers of this type of site, it was launched in 2016 and has been running continuously since then. You can sign up with your steam account and start opening your favorite cases. There is a really nice amount of free bonus to get and start winning your favorite skins. On the site you will find about 40 different cases to open, as well as several types of mini games in which you can exchange or upgrade skins.
A fun fact is that FarmSkins organized a few CS:GO tournaments to get more involved inside the community. You can find a Leaderboard on the site with the biggest wins in some cases.
The website has all rights reserved and only allows users over 18 years old.
Is FarmSkins Legit?
FarmSkins.com was a target of some controversy and criticism about its legitimacy in the past. However, we have no complaints about the site. So we can say that FarmSkins is a legit and trustworthy CSGO case opening website. The site is operating for over 4 years and counts with over 69 million cases opened, with an average of 350-400k visitors per month.
The site has a less than perfect reputation on TrustPilot, but the administration is very proactive in replying and explaining every problem. Many of the problems reported by users on TrustPilot look like they were generated by them. Probably not everyone understands the risks involved in gambling.
The site has also been tested by us personally and we have not encountered any problems with disappearing items, crates or skin withdrawals.
If you have any additional doubts or want more information, write on the support live chat, send an email, or write on social media.
FarmSkins Daily Bonus and Promotions
FarmSkins has an extensive bonus offer for new and existing users. Below you will find a full list of available freebies:
FarmSkins Bonus Code
Use code GLOBALCSGO and receive as much as $0.90 in funds at FarmSkins. This will allow you to test the site for free and open a few cases completely free of charge!
Daily Bonus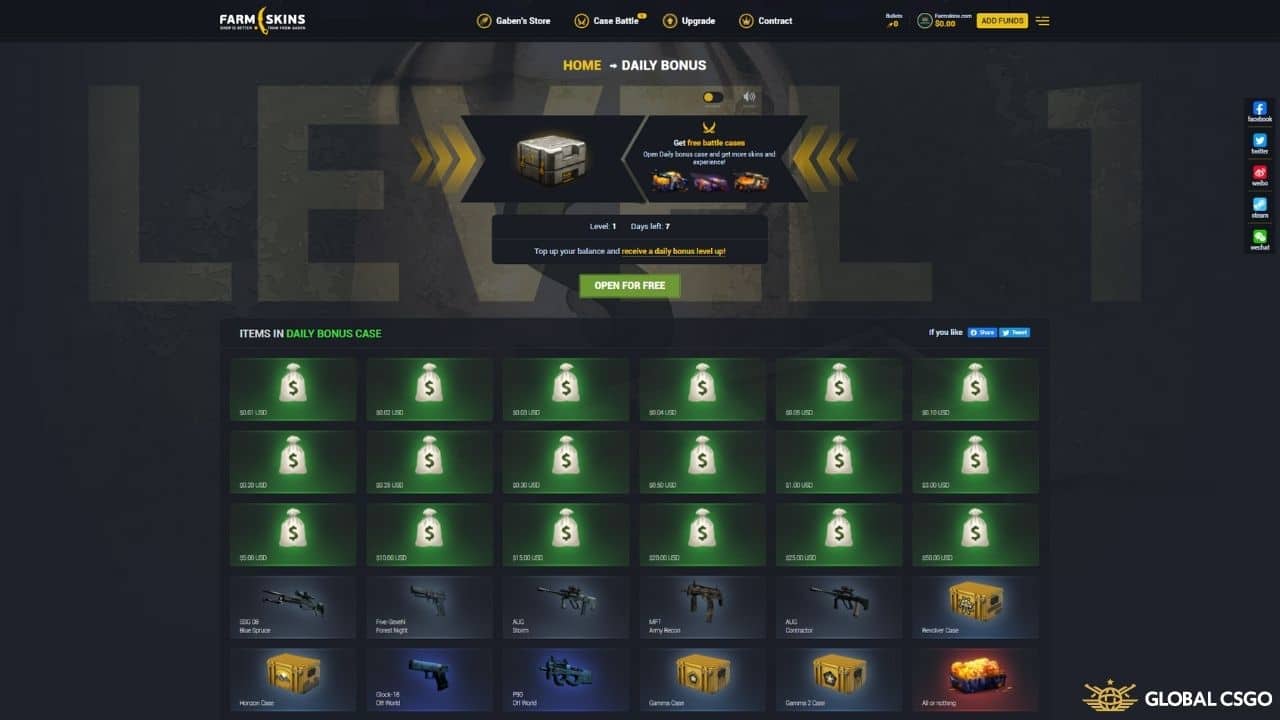 In the Daily Bonus tab you will find a free case that you can open once every 24 hours. You'll find prizes ranging from $0.01 all the way up to $50 that you can win absolutely free!
The FREE level case is only available to open for the first 7 days. If you deposit $4.00 on the site, you will receive 1 LVL for 30 days so you can open a better case for the next month. The more you deposit on the site, the better daily crates you can open. The levels on FarmSkins look as follows:
$4.00 Deposit – Level 1
$9.00 Deposit – Level 2
$30.00 Deposit – Level 3
$70.00 Deposit – Level 4
$150.00 Deposit – Level 5
$300.00 Deposit – Level 6
Giveaways
Buy cases or participate in case battle and get bullets to participate in the giveaway to get additional items every day. Collected Bullets display next to your username in the upper right corner. In Gaben's Store you can exchange Bullets for great and expensive skins!
Regular Events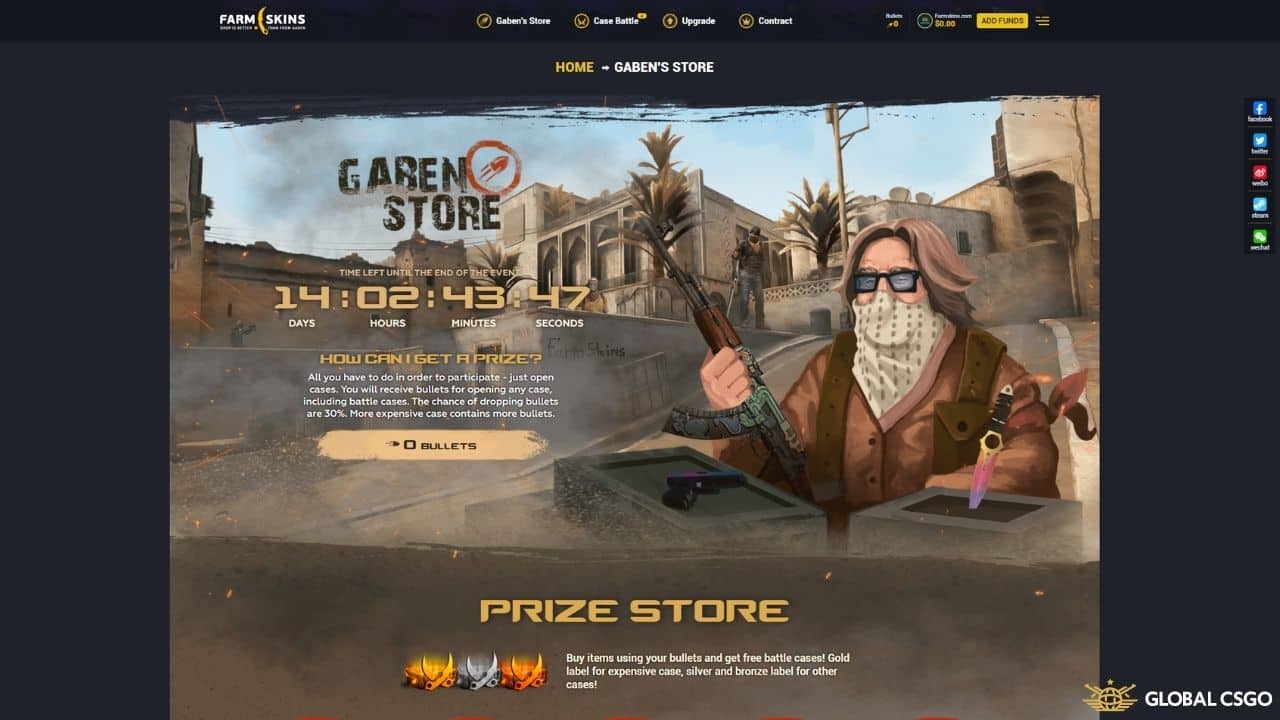 Many events are usually happening on the site, keep your eye open, and you have the chance to win high-value items. For example, the Gaben Store was a really successful event.
Social Bonus
On the sub-page of your profile, you will find a small section called "FREE CASE AND BALANCE!". There, after signing up for the newsletter and following FarmSkins on twitter, you have the opportunity to receive a free Battle Case.
What Games are Available on FarmSkins?
As a case opening and skin focused site, FarmSkins doesn't offer the typical casino or gambling games. However, you have some entertainment:
Case Opening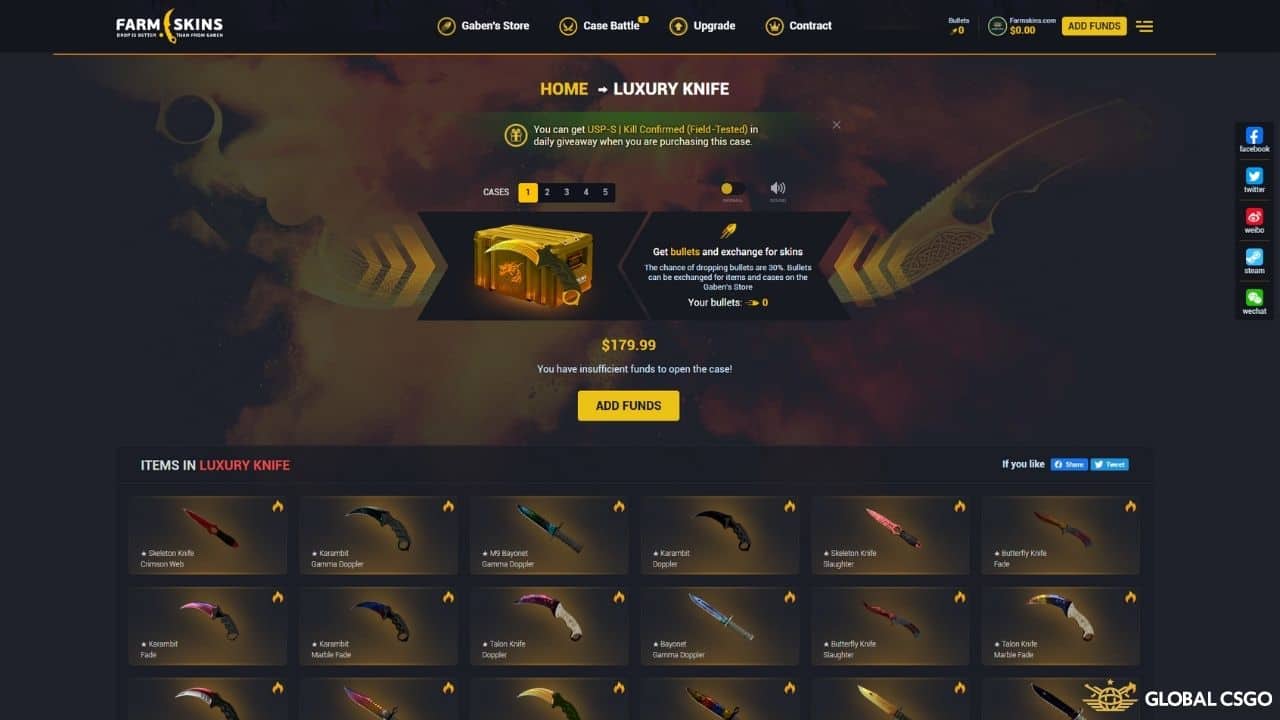 There's not much to explain here. You have a selection of cases on the site. All you have to do is select your favorite cases and open them with the hope of winning some high-value skins.
The cheapest case is available for $0.29, and the most expensive case is $179. Take a look at the main FarmSkins website from time to time, as the owners often do promotions.
Case Battle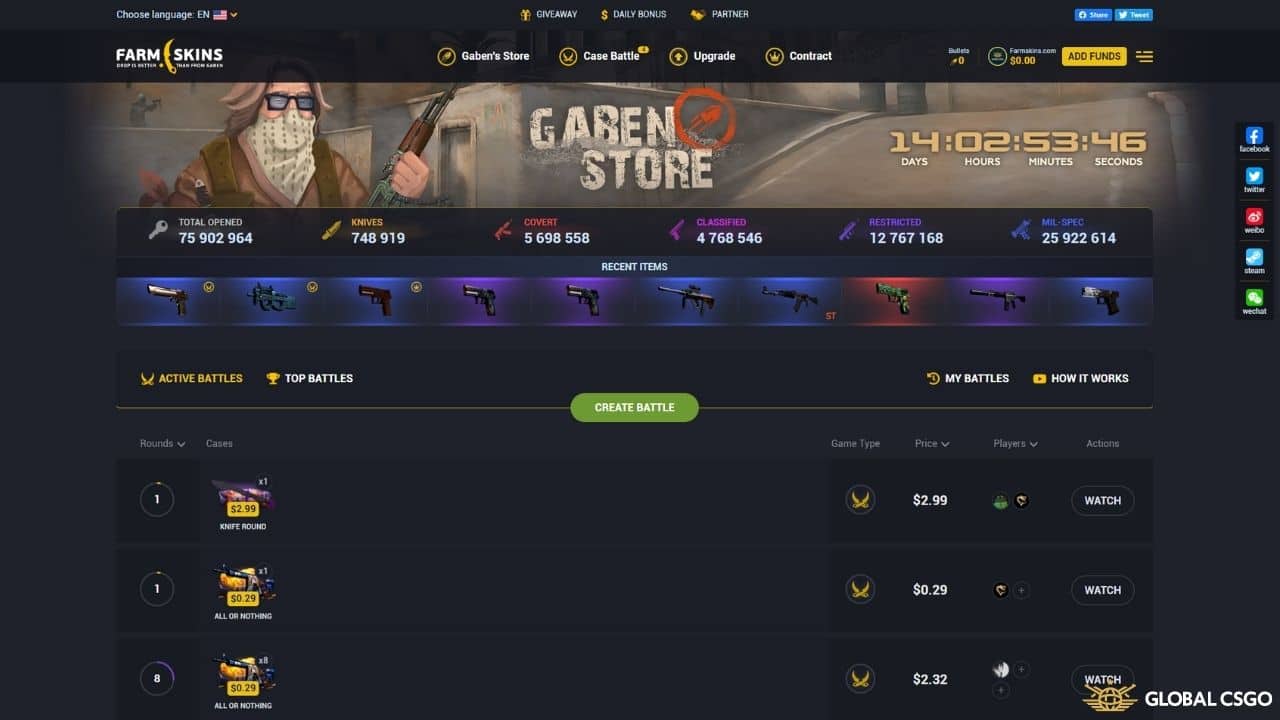 In case battle, players might create or join a battle. When creating, you put how many cases you want to gamble (maximum of 30) and how many players can join (up to 4).
The winner is whoever makes the most profit out of all cases when opened and gets all the skins.
Upgrade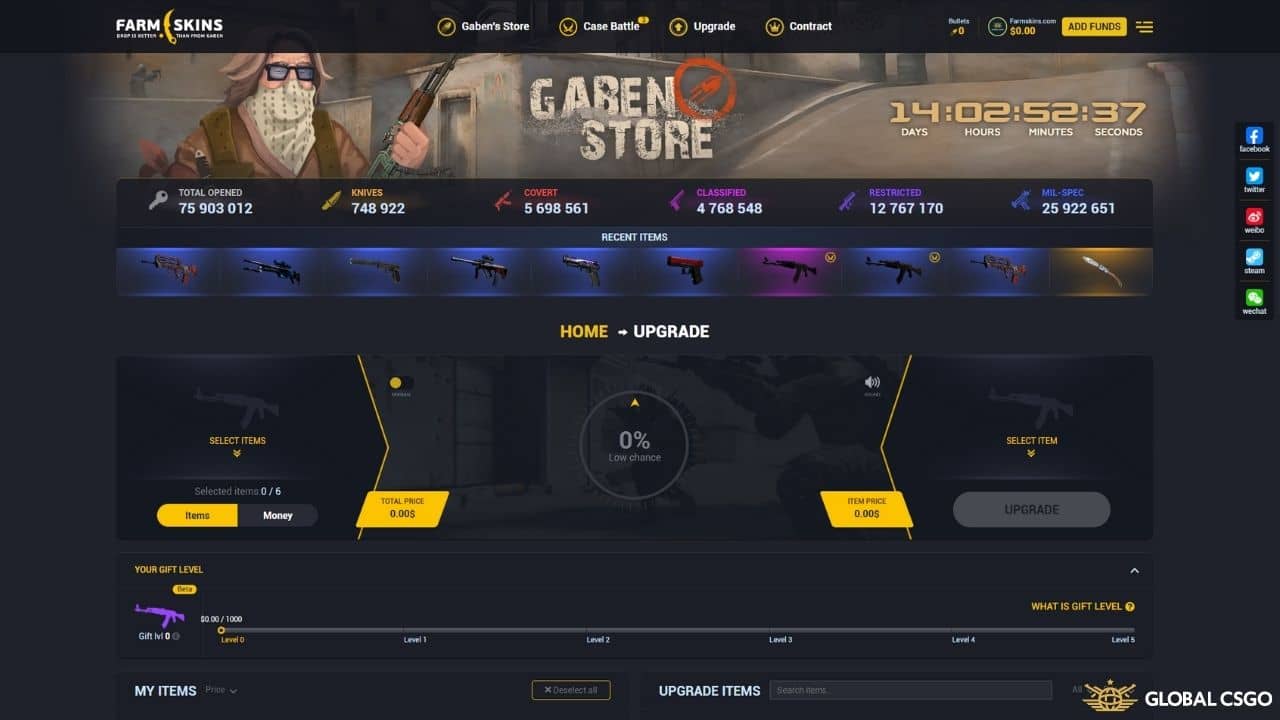 You can make an upgrade from low-value skins to high-value skins. You pick the one you want to collect if you win. The larger the difference in the cost of the two skins, the higher the chances.
You can also add a balance from your account to raise your probabilities of winning the skin and decrease the risk factor.
FarmSkins Deposit Methods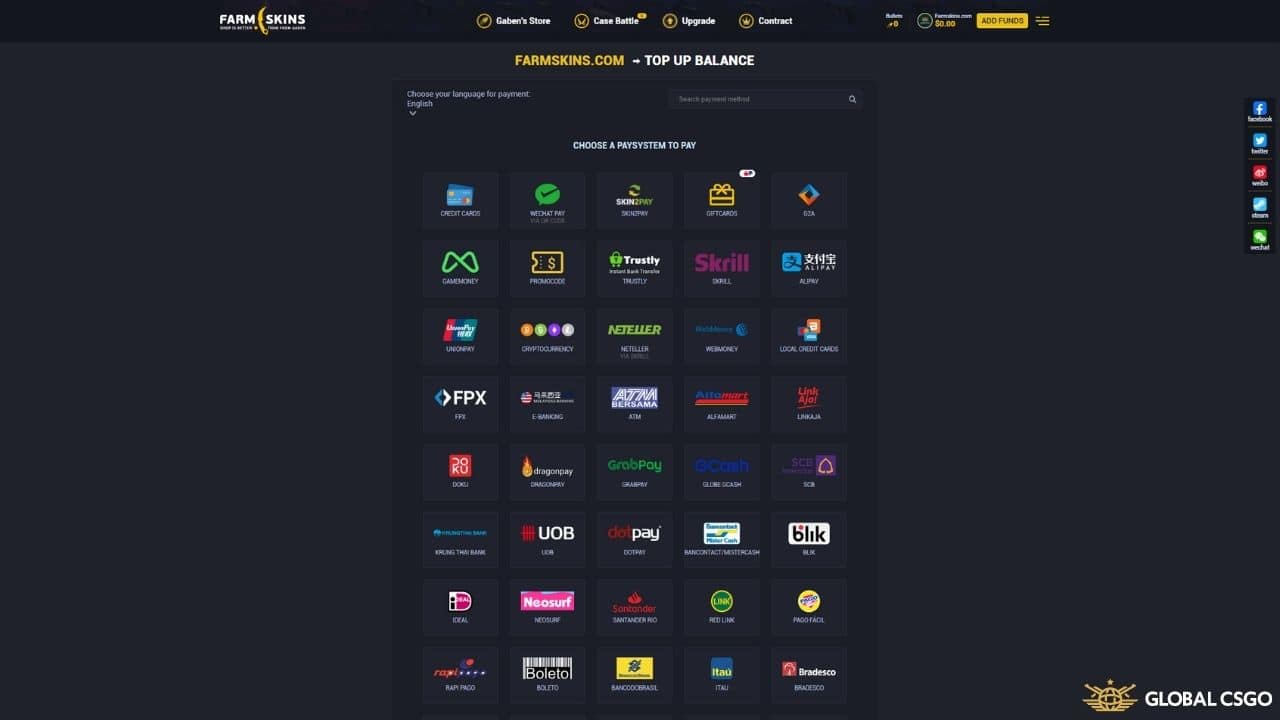 FarmSkins has a very wide range of deposit methods available. You can add funds using the yellow ADD FUNDS button in the upper right corner. There are currently over 30 different methods available to top up your wallet:
Visa/Mastercard
Cryptocurrencies: Bitcoin, Ethereum, Litecoin, Bitcoin Cash
WeChat Pay
Payssion
PayPal
PaySafeCard
Neteller
Skrill
G2A
WebMoney
Dotpay
Trustly
CS:GO Skins (using external SKIN2PAY)
Remember that depending on your financial institution and country, the procedures, availability, methods, duration, and terms and conditions may vary.
FarmSkins Withdrawal Methods
FarmSkins only offers CS:GO skins as a payout method. It is not possible to withdraw the accumulated funds via PayPal or cryptocurrencies for example. You can only get skins in inventory on the site by opening cases and participating in mini-games i.e. Case Battle, Upgrade or Contract. Remember that you don't have to accept the CS:GO skins that you've drawn! You can sell them using the SELL button found under Accept in MY ITEMS. You can use the money to open another case.
How to Withdraw Skins from FarmSkins?
To cash out skins from FarmSkins you must go to your profile (click on the name in the upper right corner), then under Current Trade Offers click ACCEPT next to the skin you wish to cash out. Remember to set your current Trade URL and change your inventory privacy settings to public before requesting an exchange offer. Remember that before ordering a skin withdrawal on FarmSkins, you must make a minimum deposit of $4 using any method. Without a four dollar deposit, you will not be able to request an exchange offer from the FarmSkins bot.
FarmSkins Hack
It doesn't exist! Don't fall for hacks and scripts for FarmSkins that are supposed to make you get better CS:GO skins from cases. By using such software, you are allowing a hacker to steal your Steam inventory or take over access to your computer!
The site admin or moderator will also not add you as a friend on Steam. If you have received such an invitation it is likely that someone is impersonating FarmSkins staff. Ignore them and block them on Steam, you can also report it to the administration. The site has this practice described in the FAQ, so it is likely that such impersonation is quite common.
Is FarmSkins a scam?
FarmSkins is definitely not a scam! It is a very well-known and recognizable brand among CS:GO players and has been in continuous operation since 2016. FarmSkins staff responds to every negative review on TrustPilot in a timely manner, which speaks very well of them, and you can see that they try to clarify every issue that users report. We have tested the site thoroughly, deposited funds there and opened several cases, as well as took advantage of the daily bonus. We have not found any problems with FarmSkins and we recommend it.
How to win on FarmSkins?
When a game is based on luck, it's impossible to say, "do this or that, and you'll always win," it doesn't work like that. If you want to be successful with cases, you need to be persistent and understand that the outcome is not the best. However, you can try some tips:
Establish a starting budget
Study all the cases to figure out which of them to buy and might give the best results regularly
Never put all your balance in one case. Try to go small and grow with patience
Keep your focus and understand when you should stop
Learn from your mistakes
You'll lose and win several times, make sure so above everything enjoy the experience and create a good mood for yourself. Don't lose the motivation, and if you lose in the beginning, your luck will still change.
Summary
To conclude, FarmSkins is a great site for you to open cases and have a good time.
With some developments still needed to do, this is a great start if you want to learn how opening cases work.
We wish you the best of luck and the best of skins.
Our Score
Similar sites to FarmSkins

Get a Free $0.30 to Spend on Case Opening at Hellcase 🔥
The most popular case-opening site with several million users
The site has been active for 5 years
Active Live Chat
HellCase offers several types of accounts that have additional bonuses
Available Mini-games in which we can exchange skins

5% Extra Deposit on DatDrop By Using Bonus Code! 🔥🔥🔥
A trusted platform with over a million users
Instant Deposits & Withdraws
Active Live Chat
Very large number of cases available to open
Deposit Bonus Available For Any Payment Method
Free Daily Cases for site users (multiple levels available)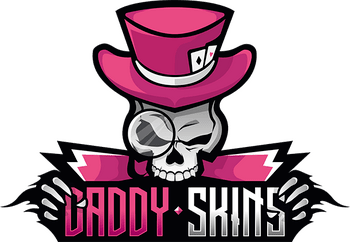 Extra 5% Bonus Deposit for FREE at DaddySkins! 🔥🔥🔥
Large selection of games: Cases, Arenas, Upgrade
You can deposit on DaddySkins using PayPal
Daily Giveaways with expensive skins
You can exchange skins with DaddySkins's bot
FarmSkins FAQ
How can I win bullets on FarmSkins?
That's pretty easy. All you have to do is open cases, and the chance of dropping bullets is 30%. The more expensive the case, the more bullets you win.
Why do I need bullets?
You need them to participate in some events and have the chance to open excellent cases using them. It's like a bonus for opening the regular cases.
Who owns Farmskins?
Farmskins is owned by WiseAvant OÜ, a legally operating company registered in Estonia.
What is the name of the official FarmSkins Twitter?
The official Twitter profile for the FarmSkins brand is @Farmskins. There you will find information about updates to the site and giveaways.