DatDrop Review & Bonus Codes in 2021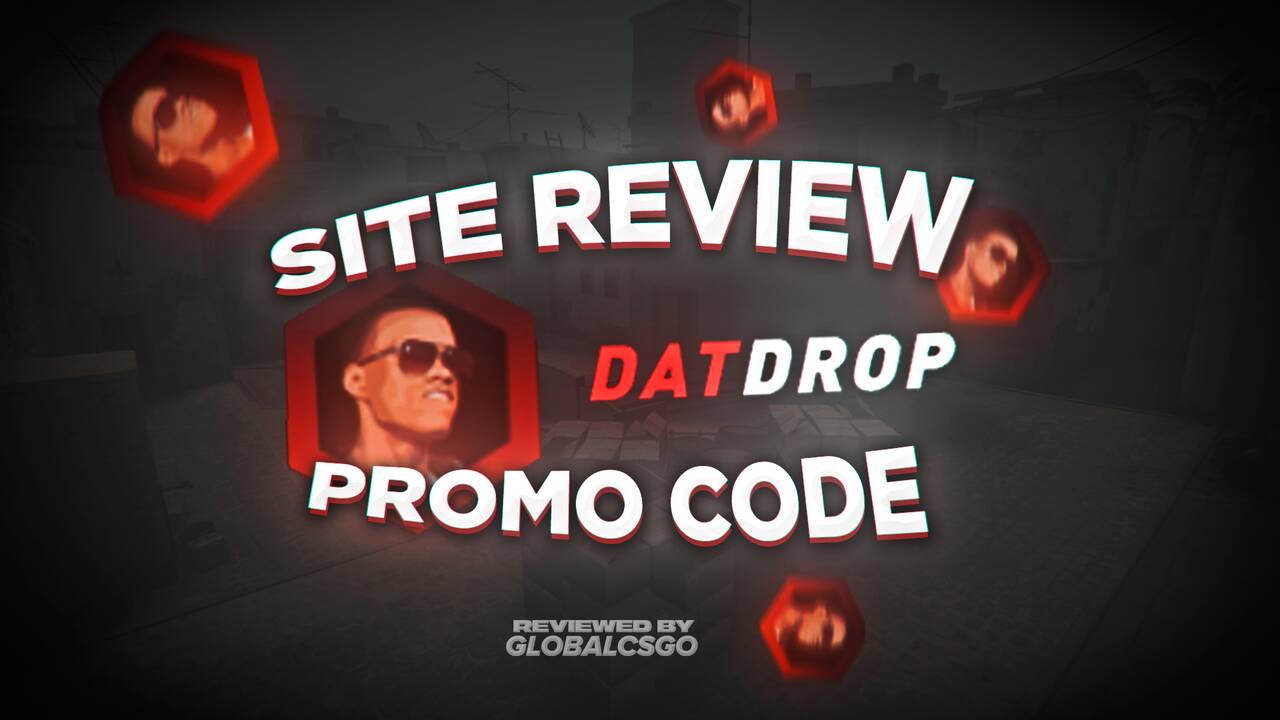 Do you know? Case opening is among the top side hobbies of regular CSGO players. DatDrop is a unique platform that transforms case opening for players. Note that it is not a new website. Instead, DatDrop.com has been around for a while. Hence, this site is fully functional, developed, and has a consistent base of players.
At the same time, due to its rising popularity, new users are also registering on it every day. With that, registering on this platform is quite easy. All you need is a steam account and you're good to go!
If you are reading about Datdrop for the first time, you would have many questions on your mind. But don't worry, because we are here to help you out.
To find out more about DatDrop.com, continue to the next sections.
Pros
A wide range of cases with prices suitable for people with every budget
Lots of free bonus cases along with giveaways
Quick withdrawals
Supports 10 different languages
Cons
The only way to contact customer support is through email
No live chat option
Users cannot withdraw skins directly
What is DatDrop?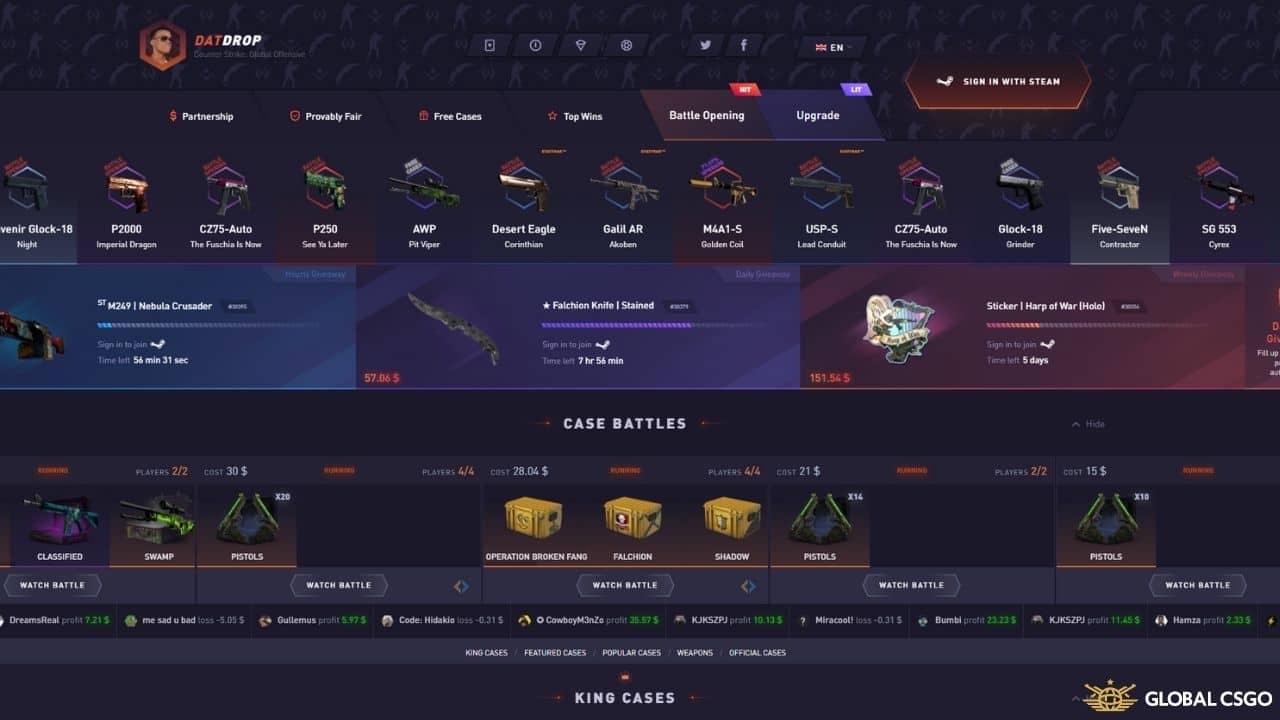 DatDrop is one of the larger CS:GO case opening sites that simulates case opening as it is known in CS:GO. In addition to the typical opening of cases and receiving a random skin, we have the opportunity to play Battle Opening and Upgrade. Games are described in detail later in our review.
DatDrop does not offer typical games such as roulette, crash or coinflip, but it is definitely a very interesting proposition for CS:GO players.
Currently on the site you will find about 80 available boxes to open, which vary greatly from one another. The cheapest one costs as low as $0.30 and includes cheap skins for P250. For about $100 we have crates to open that include a certain knife, there is also a Peril Case available that has a 1% chance of getting the legendary and very expensive AWP Dragon Lore skin. At the top of the page you will find a live feed where you can find skins that other DatDrop users have opened.
Interesting crates are those known in CS:GO. We can find here, among others, Operation Phoenix or Huntsman. The official cases have the same chances of winning skins as the original cases in CS:GO.
Is DatDrop Legit?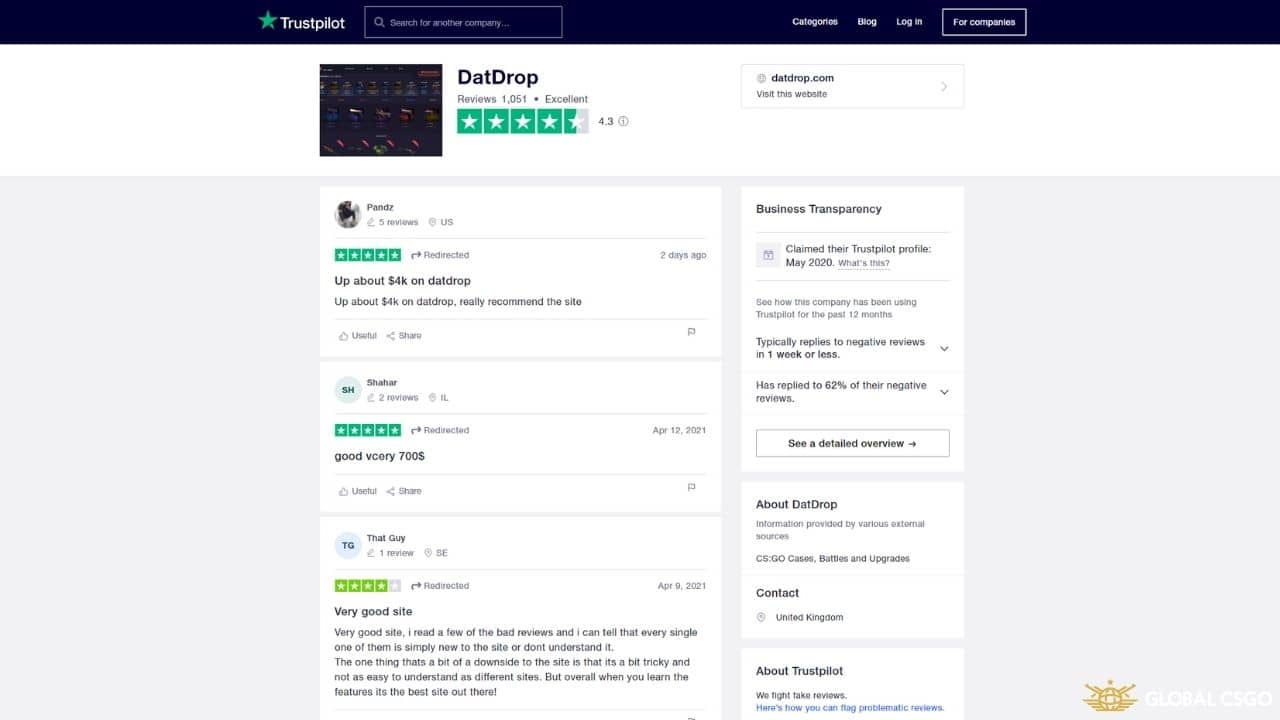 Of course, safety should be the primary concern of players. Hence, we will never suggest users to register on shady websites. In particular, avoiding filling in your credit-card information on untrustworthy websites. It is worth noting that on DatDrop you will find a subpage Provably Fair, where you can independently verify that the opening of the box was not set. The existence of this tool says that no one from the administration interferes with what falls in our case.
However, DatDrop is quite safe in this regard. As a short answer to your question, yes, Datdrop is a 100% legit website. Here, users can open a large number of cases and win amazing items. It has been around from many years now. Currently, this website has more than 1.5 million active users. As of the date of writing this review, DatDrop has a rating of 4.3 on TrustPilot (where the maximum rating is 5.0). This is a very high rating for a CS:GO site, and the administration writes back on any negative feedback and tries to clear it up.
In total, these users have opened more than 76 million cases opened. Furthermore, according to reviewers, this website has a very fair case opening algorithm. At the same time, the upgrades and battle opening games are fully fair too!
Because this website has an active community of people, we can say that it is a fully legitimate site. At the same time, many reviewers have rigorously tested their algorithm in the past. Fortunately, it looks like Datdrop is all fair game.
DatDrop Bonus Code
Use the code GLOBALCSGO to claim your bonus! The only bonus code DatDrop offers is the one that increases your deposit funds. The current bonus is +5% deposit. This means that by depositing $1 on the site you get an additional $0.05 to spend on opening cases. It is worth noting that the maximum bonus you can receive for 24 hours is $100. This is a cost-effective promotion because by depositing $10 you get the funds to open some of the cheapest boxes absolutely free.
Free Cases on DatDrop
DatDrop offers its users the option to open free cases. To open free cases, you need to earn a profile level which you increase by depositing funds on DatDrop. The rules of leveling up are quite simple – your level depends on the current balance in your wallet. The levels are:
Level 1 – 3$
Level 2 – 25$
Level 3 – 50$
Level 4 – 75$
Level 5 – 100$
All information regarding this system can be found under Free Cases. Crates are really very interesting and if you actively deposit funds on DatDrop you can open them every 24 hours. In crates on level 5 such skins as AWP Asiimov or AWP Lightning Strike are waiting for us.
Bonuses and Promotions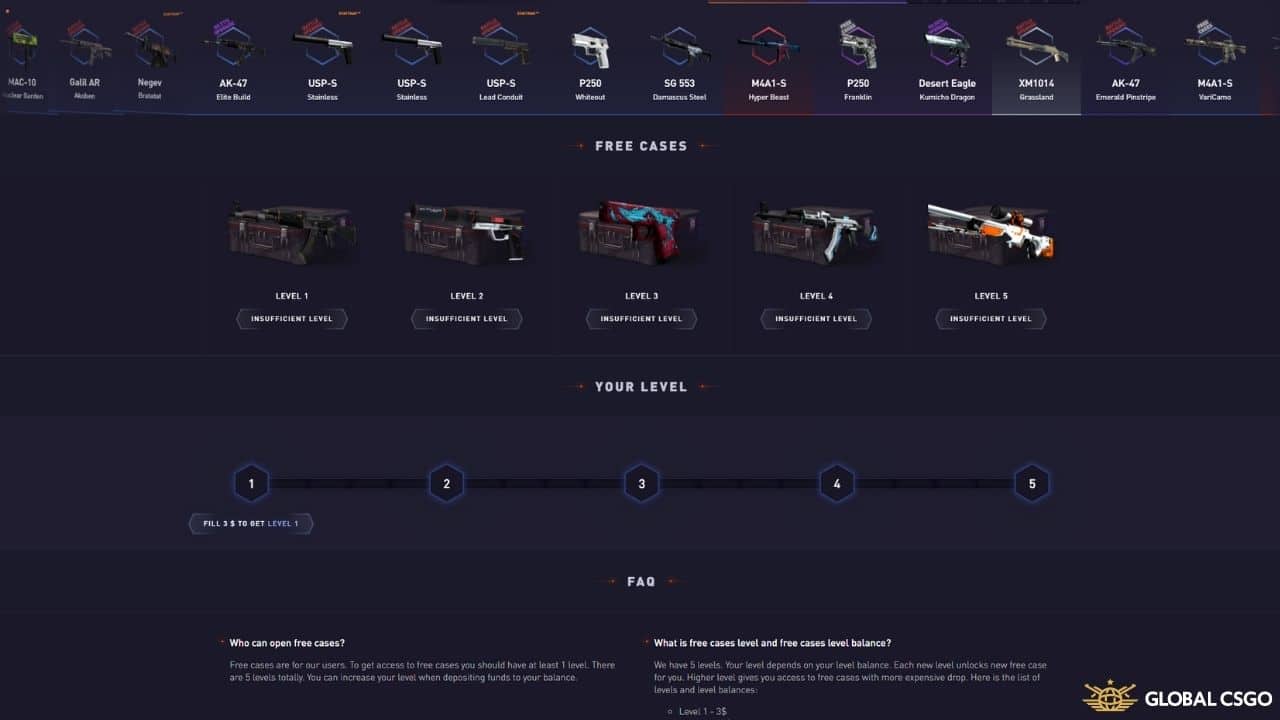 Apart from being popular for CSGO cases, Datdrop is also known to be a very generous platform.
First, Datdrop offers an amazing number of promotions and bonuses. For instance, when you first deposit funds to the website and enter a bonus code along, you will receive free money. And it is very easy to get these promotional offers.
Just head to the main page of the website, hover your cursor towards the '+' sign alongside your name and click it.
Then, select the 'use bonus code' option and enter the code: GLOBALCSGO.
If you have registered through a bonus link, then you can get up to a 5% bonus. Similarly, different bonus codes will give you different bonuses.
However, bonus codes are not the only type of codes that you can use. The website also regularly announces promotional offers on its social media. Keep a check on these offers, if you want to get amazing discounts and bonuses.
What Games are Available on DatDrop?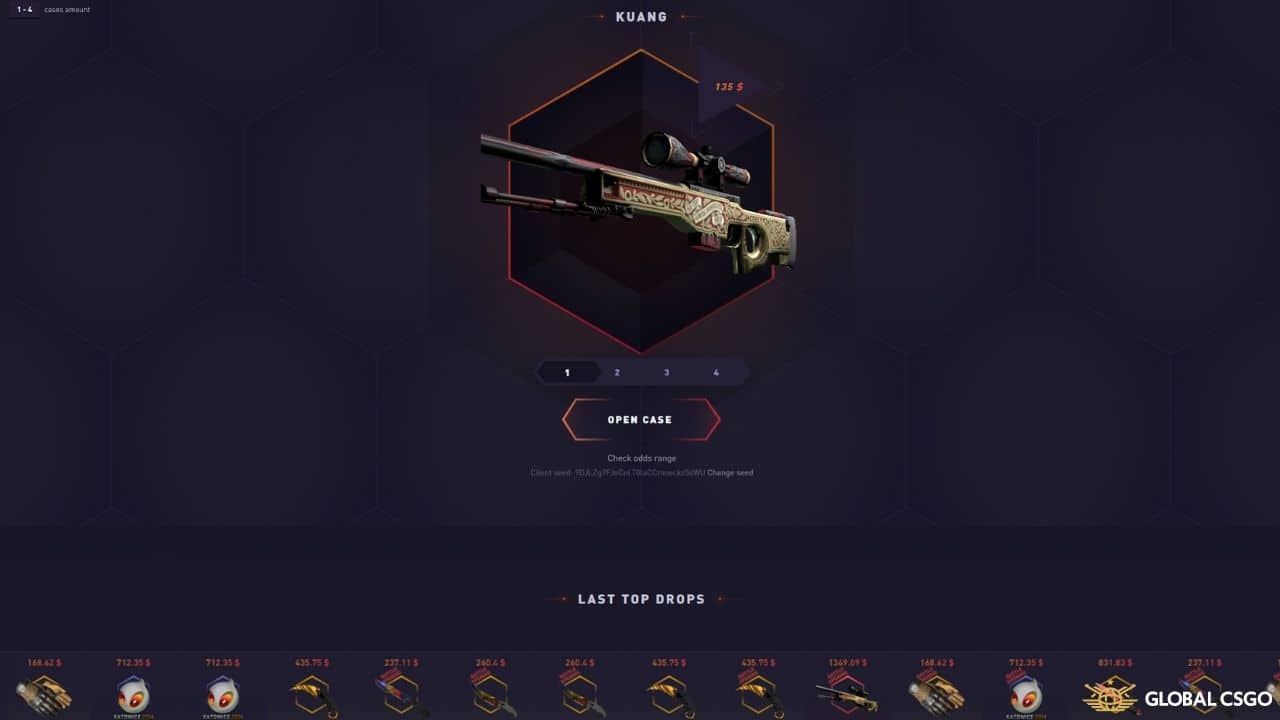 When you sign in to the dat drop platform for the first time, you will notice that there are three main activities available.
These include battle opening, case opening, and some fun upgrade games. Along with that, you may also see links to bonus games like Gems, Blackjack, Jackpot, and Coinflip. However, note that these games are not a part of the Datdrop website. So, you cannot win cases from these games. Instead, when you click on these games, they will take you to a different page. In the Top Wins tab, you will find a list of other players' top drops. As you can check it out for yourself, skins like the M9 Bayonet Crimson Web FN, which costs over $3,000, also drop on DatDrop.
The main functionality of DatDrop is to open cases just like it happens in CS:GO. We have a lot of crates available on the site, which have different prices. You can find them for a few cents as well as for tens of dollars. After selecting the crate, we receive information on what skins are in it and what chance we have to draw each of them.
Upgrade is based on the simple process of choosing one of our skins and then having the option to upgrade it by choosing one of the CS:GO skins available in the DatDrop inventory. The greater the difference in price between these skins, the less chance we have of succeeding with the upgrade. In the Upgrade interface, we can see what our chances are for the upgrade to succeed, so we have control over our chances.
Battle Opening is a really interesting game that can be found on DatDrop. We can create a round for up to 4 people, and there must be a minimum of 2 players in the game. After creating a round, we choose what crates will be opened during the game. Then after other players join, a battle takes place. The team whose crates bring more profit (better skins) wins the whole pot, including skins drawn in opponents' crates.
Deposit Methods
DatDrop doesn't have a large selection of methods for depositing funds, but it does support G2A Pay, among others, which offers multiple payment processors, but the exact list varies depending on your location. The currently available payment methods on DatDrop are:
G2A Pay – multi payment processor, by going to the G2A Pay page you will see a complete list of payment methods
GameMoney
Ethereum & Litecoin – you can quickly buy these cryptocurrencies using external sites such as switchhere or MoonPay
CS:GO Skins – through brokers: Money4Skins, WaxPeer and SkinPay
The site offers a bonus when depositing funds. The current amount of this bonus is visible in the small green circle on the subpage of the chosen payment method.
How to Withdraw from DatDrop?
DatDrop recently updated its payout system. Currently, the only way to cash out is through CS:GO skins. To process a withdrawal, you must go to your profile by clicking on your nickname in the top right corner of the page.
After going to your account inventory, you will be given a list of skins, and then you can request a withdrawal. You can check the skins you have paid out in Withdrawal History. Remember to fill in your Trade URL in your profile settings, without this you will not be able to cash out. Currently it is not possible to withdraw funds via PayPal or cryptocurrencies for example, but it is possible that this will change in the future.
Best Cases on DatDrop
In our experience, the best cases to open are those found under Popular Cases. There you will find a case such as I AM LUCKY, which costs only $0.15 and has a 0.04% chance of drawing a knife skin worth between $60 and $120. The chances are very small, but we always have a guaranteed skin for Galil or Negev there. Above the list of skins included in the box you will find Last Top Drops where you can see that some people succeed and receive a knife skin for $0.15.
How to Win on DatDrop?
Users on this site receive free cases daily. Though, the quality of these cases would depend on your level.
In total, there are 5 levels. As users deposit more money in their accounts, they go higher and higher. With that, the quality of every free case also improves.
Overall, there is no single winning formula on this site. That is because their system is extremely fair and complex. As a result of which, one simply cannot get around their algorithm to get an unfair advantage.
Is DatDrop a scam?
Definitely not! We can verify each round ourselves using the Provably Fair panel. This means that we can check if the draw of an item from the box has not been rigged. DatDrop also has a great reputation on TrustPilot and users have opened over 180 million cases in total!
Keep in mind that hackers are taking aim at users of sites like DatDrop. Recently, the site's administration announced in an announcement that increased attacks on user accounts and their inventory are underway. On the DatDrop subpage called Scam Alert, you can read detailed instructions and find official profiles of the site's administration. You will also find information on popular attack methods such as api scam. Remember to secure your account properly with the 2FA system which will effectively protect your DatDrop account from uninvited guests.
Summary
Without a doubt, Datdrop is one of the most notable names in the world of csgo skin cases. While this site has few drawbacks such as slow customer support and no options to withdraw skins, their service is still quite satisfying.
Overall, Datdrop is a fully trustworthy website that has made case opening extremely easy. In specific, the Battle opening games on this website are quite exciting. Along with that, this site also offers a wide collection of cases that may include skins/items worth hundreds of dollars.
Furthermore, the withdrawal times on this site are also quite convenient. If only this site improved its customer support standards, it could become the top CS go case opening platform.
Nevertheless, this site is 100% legitimate, with plenty of free and paid case opening opportunities for cs go players.
Our Score
Additional Site Details
---

Website Link

---

Available Games

---

Payment Methods

---
Similar sites to DatDrop

Get a Free $0.30 to Spend on Case Opening at Hellcase 🔥
The most popular case-opening site with several million users
The site has been active for 5 years
Active Live Chat
HellCase offers several types of accounts that have additional bonuses
Available Mini-games in which we can exchange skins

Use Our Promo Code And Claim FREE $0.50 to play on Key-Drop! 🔥
A site with a great reputation - over 20,000 reviews on TrustPilot
A huge selection of boxes to cases
More than 6 million users
Daily giveaways are available on the site and on Key-Drop's Twitter
The website is available in 14 languages
A deposit bonus is available for new players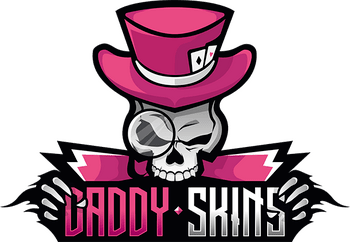 Extra 5% Bonus Deposit for FREE at DaddySkins! 🔥🔥🔥
Large selection of games: Cases, Arenas, Upgrade
You can deposit on DaddySkins using PayPal
Daily Giveaways with expensive skins
You can exchange skins with DaddySkins's bot
Datdrop FAQ
How to claim Free Bonus Code on DatDrop?
Claiming the free bonus code at Datdrop is quite easy. First, register on the platform using your steam account. Then, head to the main page and click on the '+' sign next to your account name.There, you will see an option that says 'use promo code'. Just add the code GLOBALCSGO there, and then confirm to claim it.
Who owns DatDrop?
In Terms & Condition we can see that the site is owned by Meetic Group LP, a legitimate company registered in the United Kingdom.
What is the best seed for DatDrop?
Seed unfortunately has no effect on the skin draw from the case. You can only change it for verification purposes, so you can check later if the draw was legit.