Key-Drop Review & Bonus Codes in 2021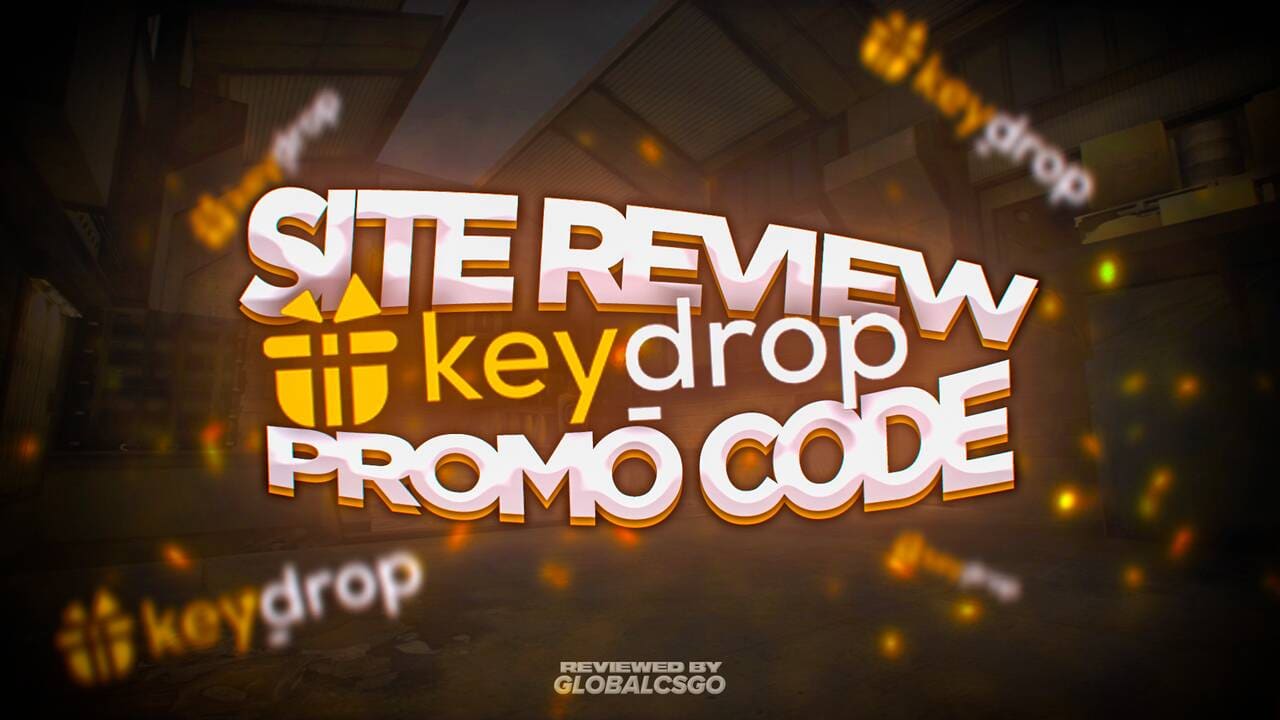 Key-Drop.com is undoubtedly one of the best and top-rated CSGO case opening websites. With a huge variety of cases and creative prizes – not only skins – they are on the game's highest level with super fresh features. It is worth mentioning that the website is available in as many as 15 languages.
With a really eye-catching design and awesome features, you can't miss the full review of Key-Drop.com, where we included the most important information, tips, and also checked that the site is legit. Additionally you will find below referral & promo codes to Key-Drop!
Pros
Website available in 15 languages
A lot of different cases
Game cases
Smooth and simple design to navigate on
Live drop system
A huge number of players online
Cons
No 24/7 customer support service
No live chat with players
No FAQ page
What is Key-Drop?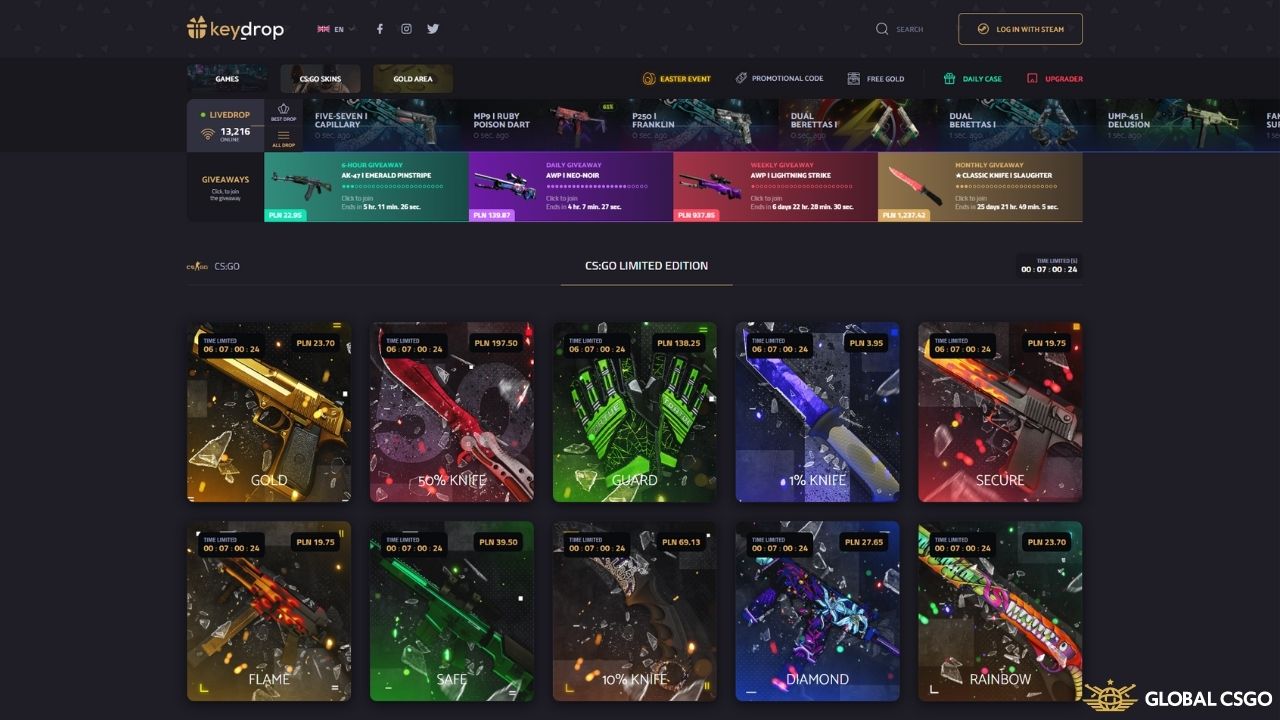 Key-Drop is a case opening site created in 2018 that allows you to open cases with random items. There are many types of crates to choose from, but mainly those related to CS:GO dominate. In addition to crates with weapons known from CS:GO, we have the opportunity to open game crates in which activation codes for various titles on the Steam platform are waiting for us.
The site hosts different giveaways for CS:GO skins every day, and you can find the current list at the top of the page under Live Feed. In addition to this, you'll find events on the main page, where most of them consist of getting various coins each time you open a case, which you can exchange for additional cases.
Once you have selected the desired case you want to open, after scrolling you will find a list of what you can find in that case (Cases Contents section). In the upper right corner of each item you will find the percentage chance of winning the skin. Key-Drop serves tens of thousands of players daily, and you can find their current winnings in the Live Feed located at the top of the page.
Key-Drop.com doesn't allow users under 18 years old.
Is Key-Drop Legit?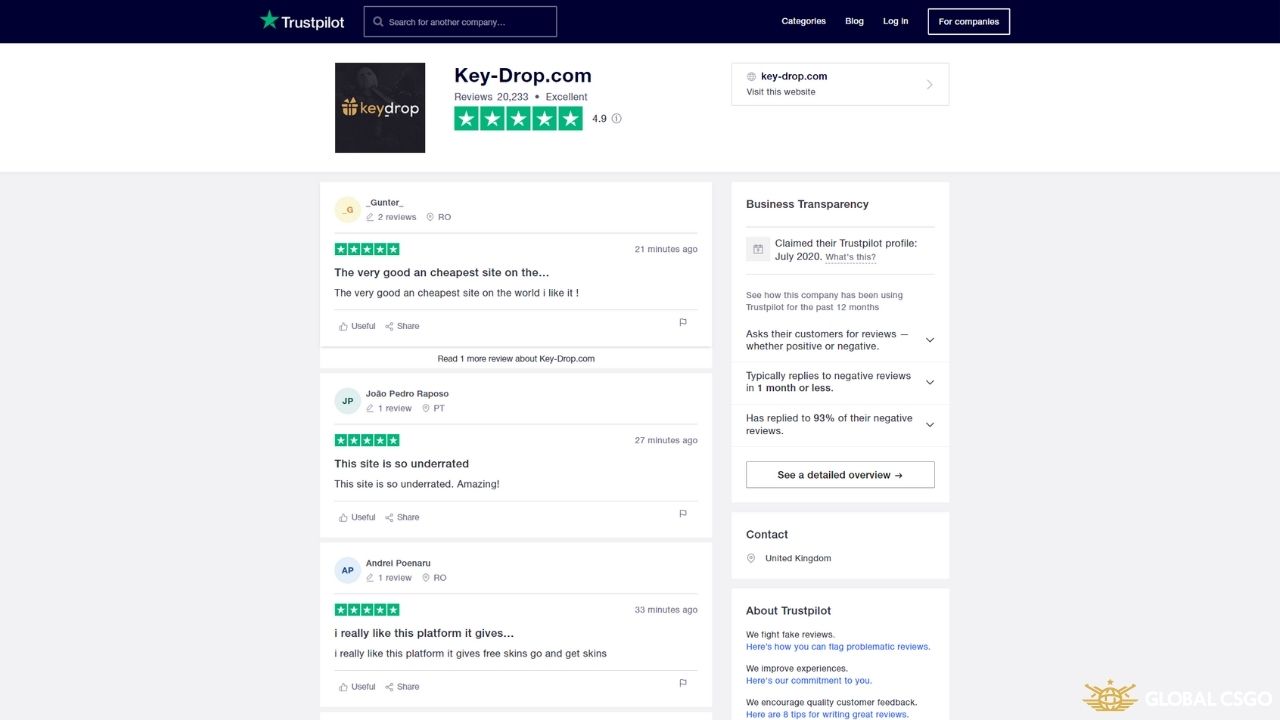 Yes, this is one of the best websites to put your money in. We can securely say that Key-Drop.com is legit and trustworthy.
The website is around since 2018 and has some crazy numbers with over 92 million cases opened, 34 million upgrades, 72k contracts, 4.8 million users, and an average of 12-18k players online, and 5 million visitors per month.
A case opening platform with these numbers can only represent trust by the community. Key-Drop also has a very high rating on TrustPilot, which is a reliable rating site. The current rating is almost maximum, because it is 4.9, where the maximum is 5.0. If there are any negative opinions, the administration tries to explain everything. We have not found any information on the Internet that Key-Drop has scammed anyone in the past.
If you have any additional doubts or if you need help, don't hesitate to contact the support team via email or reaching them on social media for more information.
How does Key-Drop work?
Key-Drop is about opening cases in which you will find CS:GO skins or activation keys for computer games. Each case is described in detail and you will find a list of available items in it, as well as a percentage chance to draw each of them. We can verify each box with provably fair, which will confirm that the draw was real and not rigged. After selecting a box you can check the Last Top Drop, which is the most expensive winnings of other users.
Key-Drop Bonuses and Promotions
Key-Drop offers a very rich system of free bonuses and free skins. The site is happy to share profits with its users. You can get free bonuses on site in 4 ways:
Bonus Code
The bonus code for Key-Drop is GLOBALCSGO. Using this code will give you a free $0.55 and 5% bonus on your deposit. This is the best way to get started on the site, as you'll get extra funds to open the box for free!
Daily Cases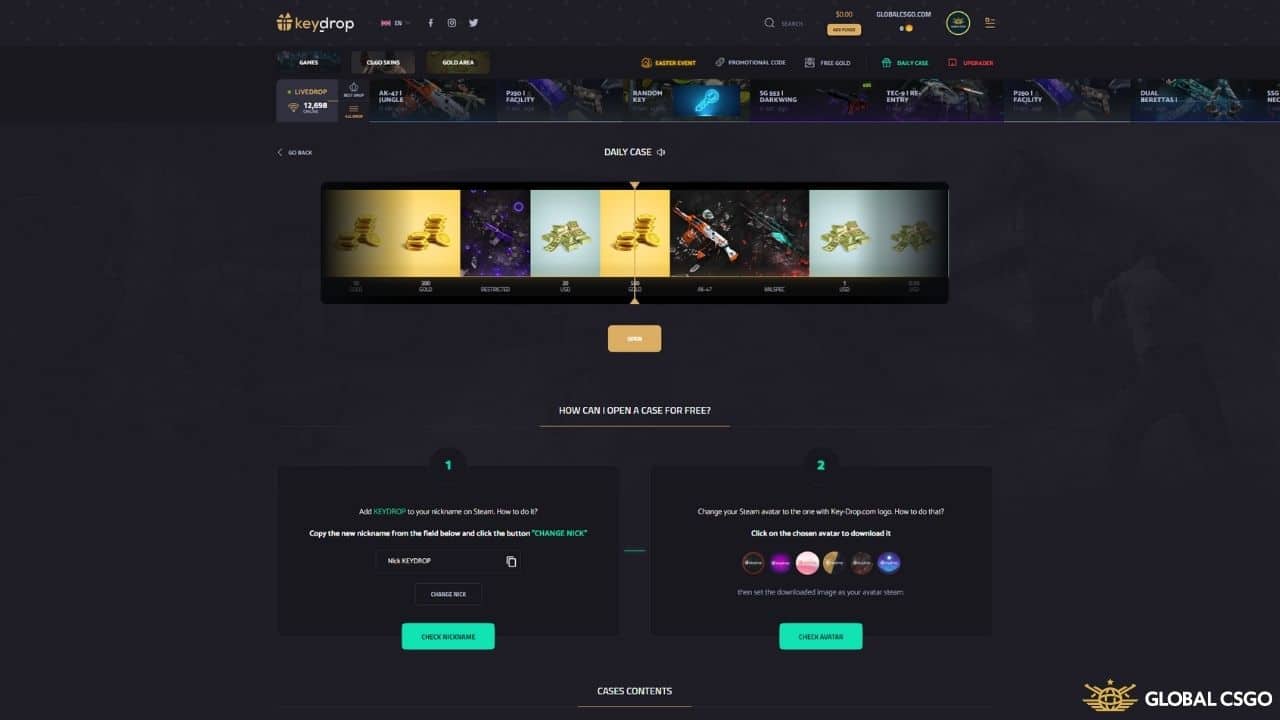 The Daily Case for Key-Drop can be found in the top menu after logging into the site. Every day you can open a free case in which you can draw various things, including free opening of the case, gold and the topping up of your account in USD.
Remember, you can open a Daily Case after meeting two conditions:
you have added KEYDROP to your username on Steam,
you have set one of the Key-Drop avatars, a list of them can be found on the Daily Case subpage
Free Gold
Free Gold on Key-Drop is something that every party should implement. On the Free Gold subpage you will find more than 20 different tasks that will earn you gold, which you can use to open certain boxes. The tasks are very simple and most of them consist of social media actions such as liking a fanpage on Facebook, joining Discord or following on Instagram and Tiktok.
Key-Drop frequently adds new tasks and also increases the reward for current ones, so keep checking this tab.
Giveaways
You have a bunch of giveaways always happening on the website to win skins.
Some are completely free, but to be able to compete on bigger ones, sometimes you must have added "X" funds in the last 24h. It's also worth keeping an eye on the brand's social media, as they often organize giveaways there as well.
Key-Drop Referral Code
Referral Code for Key-Drop is globalcsgo. Using this code, you will receive a starting bonus on the site of $0.50, which you can spend right away on cases. In addition, you get an extra 5% bonus when you deposit funds on the site! This means that when you deposit $100 you get $5 absolutely free!
How do I enter the giveaways on Key-Drop?
On Key-Drop you will find about 4 different giveaways for cheaper and more expensive skins. Often you can find knives worth more than $300, but also sometimes quite cheap skins appear there. Category giveaways are intervals: 6-hours, daily, weekly, monthly. You can find the list of giveaways at the top of the page, just under the LIVEDROP bar. To participate in a giveaway you must:
Click on the giveaway of your choice (you can sign up for each giveaway once)
Enter using Join Now button
Congratulations! You are already participating in the drawing for skins.
Games and Cases on Key-Drop.com
CSGO Skins Case Opening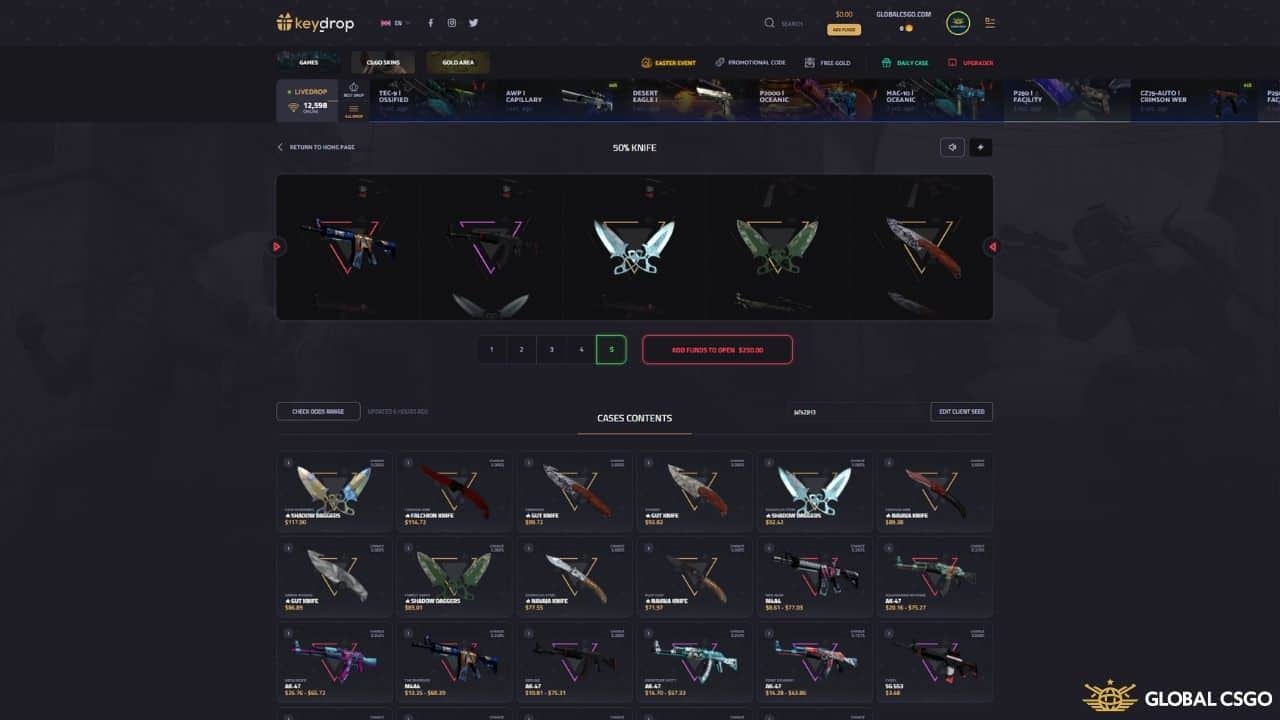 This is the traditional case opening: you select the cases you want and open them.
Key-drop.com has a lot of cases to choose from, with different themes, from magic to heroes. You can buy cases from around $0.40 to $499,99.
Games Case Opening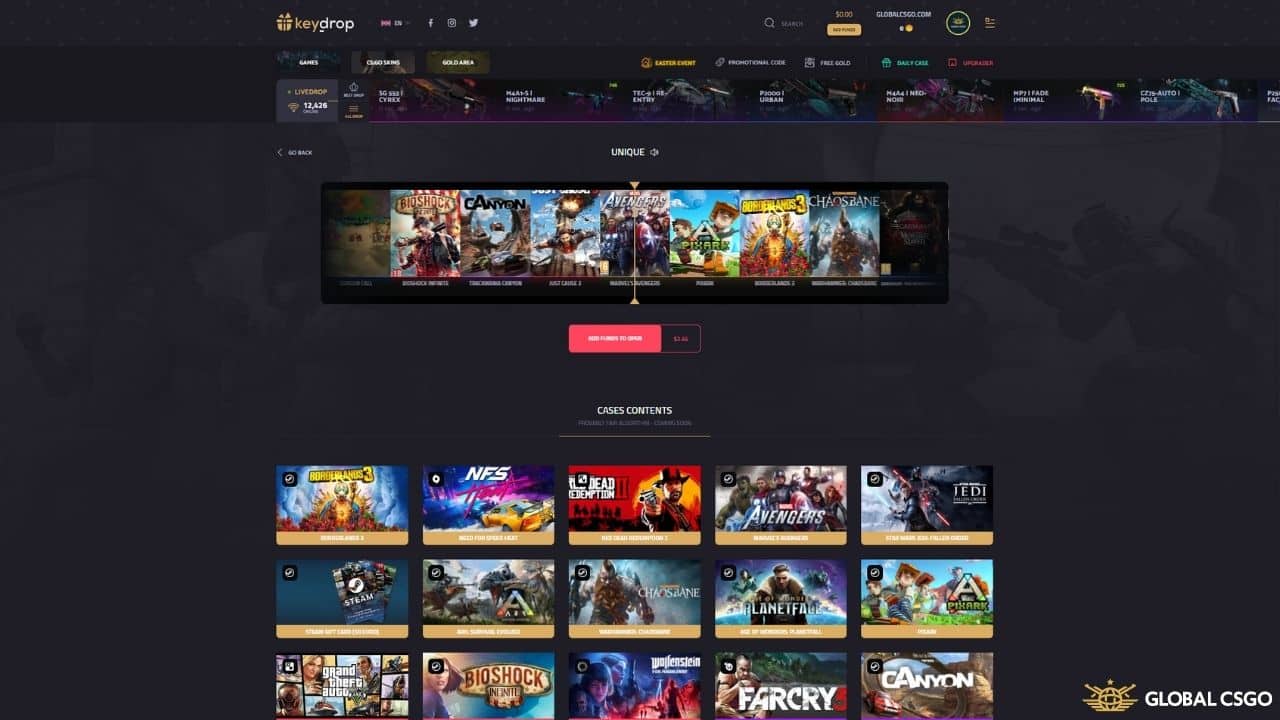 A unique feature and innovation from Key-Drop.com is the possibility to open cases with slightly different rewards than the usual. You can open cases to win other games, like FIFA or Assassin's Creed. The diversity is huge. See every case to open your favorite.
Activation keys are sent as soon as you win the game.
Upgrade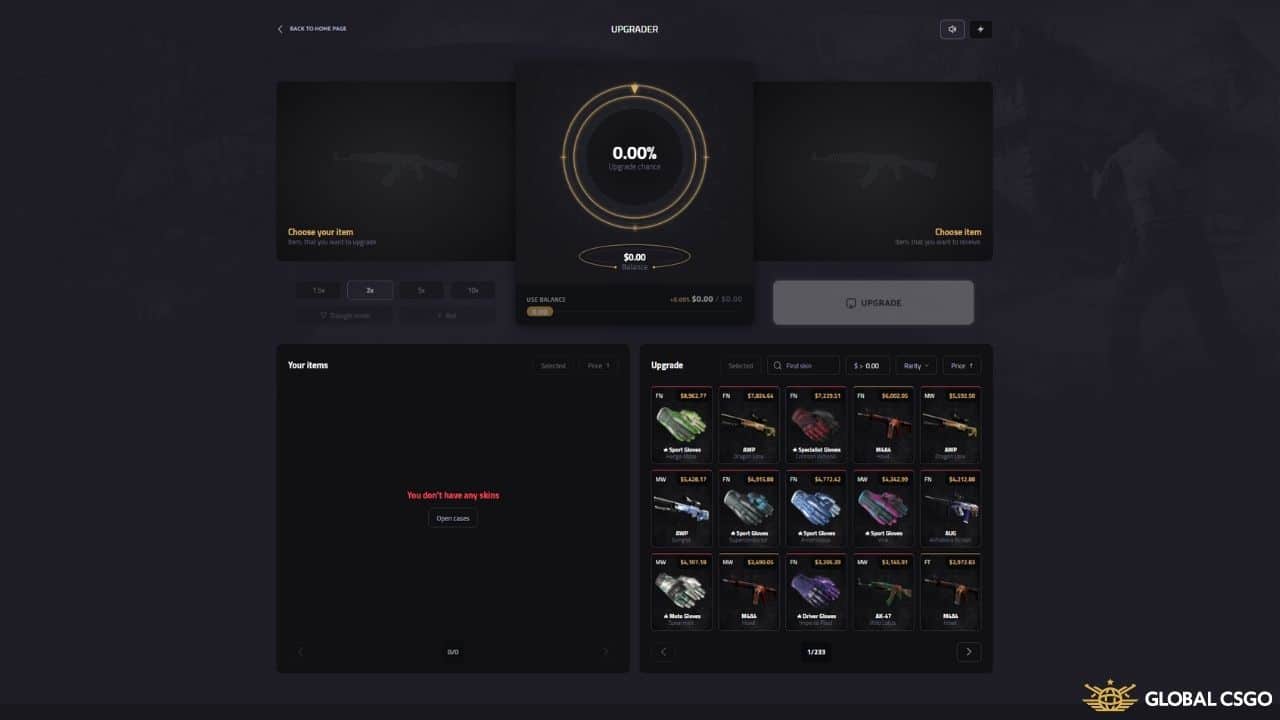 You can make an upgrade from low-value skins to high-value skins. You pick the one you want to collect if you win. The larger the difference in the cost of the two skins, the higher the chances.
You can also add a balance from your account to raise your probabilities of winning the skin and decrease the risk factor.
Contracts
A great option to waste some unwanted items. First, select 5 games of the same color to create a contract, then click "Create Contract" and get one game that is a level better than the ones you added.
What to do with gold on Key-Drop?
Gold allows you to open specially prepared chests that you will find in the Gold Area. Currently there are 8 different gold cases available to open. Gold is an extra currency on Key-Drop that you earn almost every step of the way – you can get these points when you make a deposit, in a daily case, and in free gold. In the crates for gold we can find very expensive skins. Emerald Cut contains Skeleton Knife | Slaughter, which is worth about $1000! There are 5 boxes of CS:GO skins and 3 cases containing games. In the game cases you will find such hits as FIFA or GTA
I can't withdraw, what to do?
If you are having trouble cashing out on Key-Drop (whether CS:GO skins or game activation codes), please contact customer service. To do so, use the Support button located in the footer of the page. There the site administration will help you with your problem. Also make sure that your trade url in your profile is correct and that your inventory on Steam is not private. Most of the withdrawal problems are the mistake of users who have a bad account configuration on Steam.
Key-Drop Deposit Methods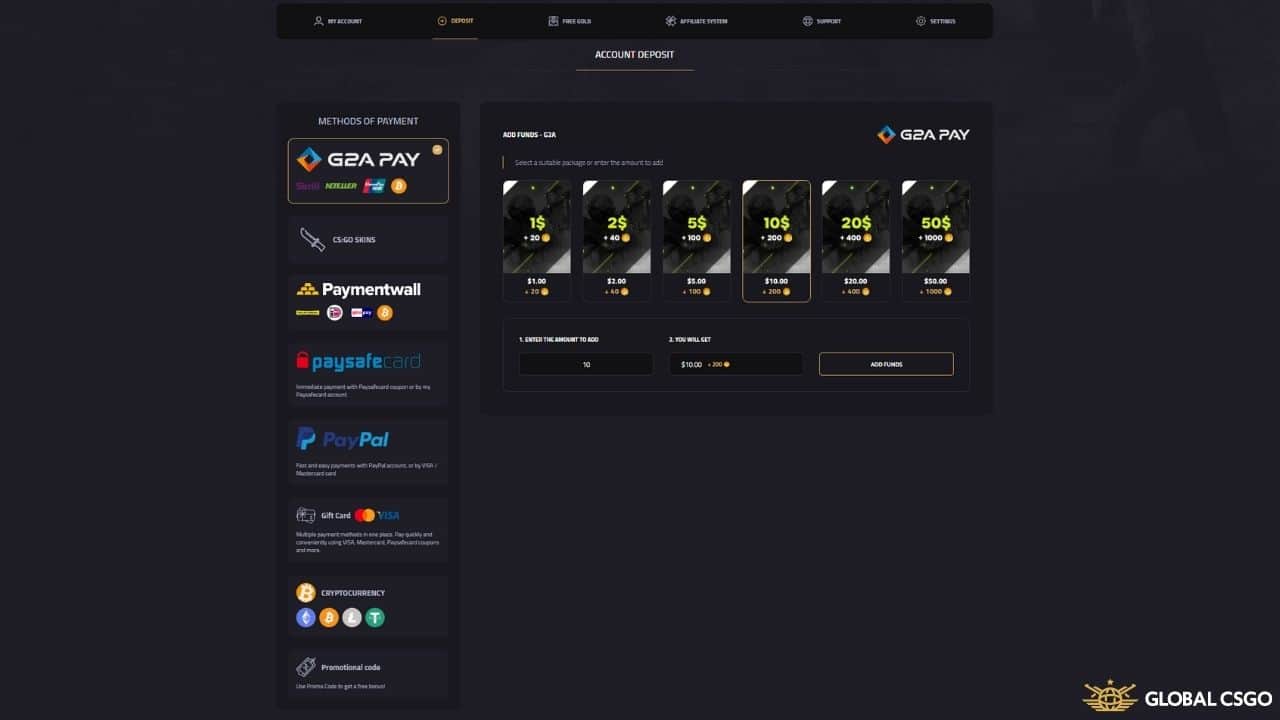 You have several options to deposit:
CSGO Skins (P2P)
Visa/Mastercard
G2A PAy
PayPal
Paysafecard
Gift Cards
Paymentwall
Cryptocurrencies: Bitcoin, Ethereum, Litecoin, and Tether
Don't forget that according to your financial institution and country, the procedures, availability, methods, duration, and terms and conditions may vary.
Remember to use the code GLOBALCSGO which will give you a bonus of 5% of the deposit value! This means that by adding $10 to your Key-Drop, you will get 50 cents completely free!
Withdrawal methods on Key-Drop
Key-Drop allows you to cash out with CS:GO skins and game activation codes for Game Cases. You will not find any other withdrawal options here, such as PayPal or cryptocurrencies. Remember to provide a valid trade URL to which the bot will send you the skins you have won. Game activation codes will be sent to you via email after opening the box.
How to Withdraw from Key-Drop?
The withdrawal process is the traditional P2P.
Open your inventory and select the skins you want to withdraw, then the depositor will send you an offer, and you must accept it.
When you win games, the activation keys are sent to you.
Is Key-Drop a scam?
Key-Drop is not a scam and is a 100% legit site! The brand has tons of active users who give maximum ratings on TrustPilot portal. More than 130 million boxes have already been opened on the site which is a very impressive number. The site boasts more than 6 million registered accounts and we can see that more than 10 thousand players are active every day. Key-Drop is a legitimate company registered in London. The site provides a Provably Fair system in which we have the ability to independently verify each open case. When depositing funds into the Key-Drop wallet you can be sure that they will be safe.
How to Win on Key-Drop?
When a game is based on luck, it's impossible to say, "do this or that, and you'll always win," it doesn't work like that. If you want to be successful with cases, you need to be persistent and understand that the outcome is not the best. However, you can try some tips for Key-Drop.com:
Establish a starting budget
Study all the cases to figure out which of them may give the best results regularly
Never put all your balance in one case. Try to go small and grow with patience
Keep your focus and understand when you should stop
Learn from your mistakes
You'll lose and win several times, make sure so above everything enjoy the experience and create a good mood for yourself. Don't lose the motivation, and if you lose in the beginning, your luck will still change.
Summary
To summarizing, Key-Drop is an awesome website to open cases. It made us impressed with a really eye-catching interface and a wide variety of cases, skins, and games. The site is 100% legit and has the highest rating on TrustPilot of any CS:GO site. The platform offers a huge selection of cases available to open and the support is very fast and helpful.
They are even worried about having a daily bonus base to grab more players.
The only thing that we would like to see improved is more interaction between players, maybe with the live chat. But overall, it's an excellent platform.
Our Score
Additional Site Details
---

Website Link

---

Available Games

---

Payment Methods

---
Similar sites to Key-Drop

Get a Free $0.30 to Spend on Case Opening at Hellcase 🔥
The most popular case-opening site with several million users
The site has been active for 5 years
Active Live Chat
HellCase offers several types of accounts that have additional bonuses
Available Mini-games in which we can exchange skins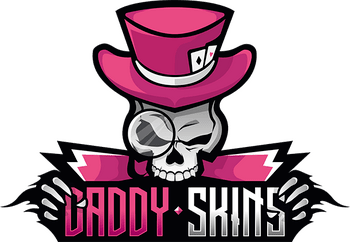 Extra 5% Bonus Deposit for FREE at DaddySkins! 🔥🔥🔥
Large selection of games: Cases, Arenas, Upgrade
You can deposit on DaddySkins using PayPal
Daily Giveaways with expensive skins
You can exchange skins with DaddySkins's bot

5% Extra Deposit on DatDrop By Using Bonus Code! 🔥🔥🔥
A trusted platform with over a million users
Instant Deposits & Withdraws
Active Live Chat
Very large number of cases available to open
Deposit Bonus Available For Any Payment Method
Free Daily Cases for site users (multiple levels available)
Key-Drop FAQ
How to claim Key Drop free bonus code?
After your registration, click on "Promotional Code" and write down "GLOBALCSGO" to get free $0,30 and an extra 5% on deposits.
What kind of cases can I open on Key Drop?
The platform allows players to open CS:GO Skins cases and Game Cases. Just as the names imply, the boxes can contain CS:GO skins and activation keys for various games.
How can I sign up on Key Drop?
The easiest and fastest way is through your Steam account. When logging in for the first time, you must state that you are over 18 years of age and accept the terms and conditions.
Who owns Key-Drop?
Key-Drop is owned by Finalta Play Technologies LLP, a company legally registered in the United Kingdom. This information can be found in the Terms & Conditions on this site.