Loot.Farm 2021 Review, Is it Legit? + Promo & Bonus Code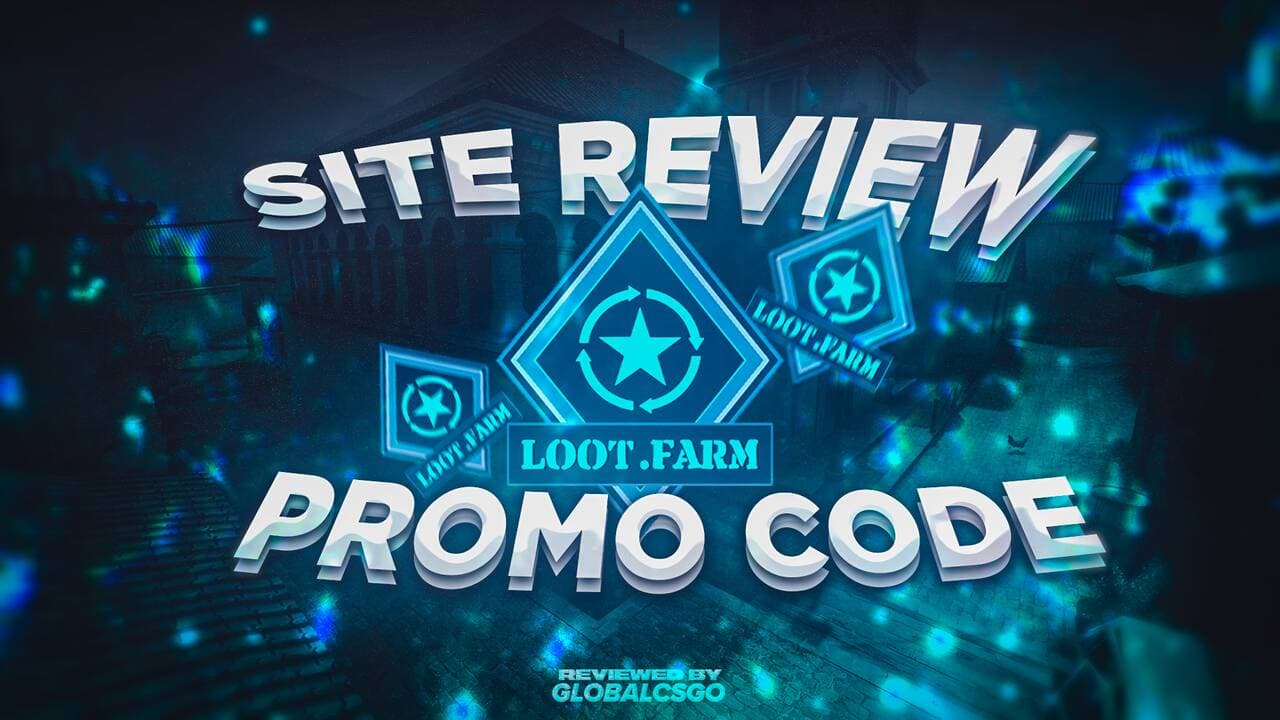 Loot.farm is a top-rater trading platform where you can trade your skins from different games. The most popular and primarily is undoubtedly CS:GO. However, the site offers the same service for Dota 2, Team Fortress 2, Rust, and Z1 Battle Royale items.
Loot.farm trade platform has a straightforward interface, totally easy to understand even for a new trader. and it's available in 7 different languages.
We explain how everything works on this review and how you can get the best out of it.
Loot Farm Trade – Is it Legit?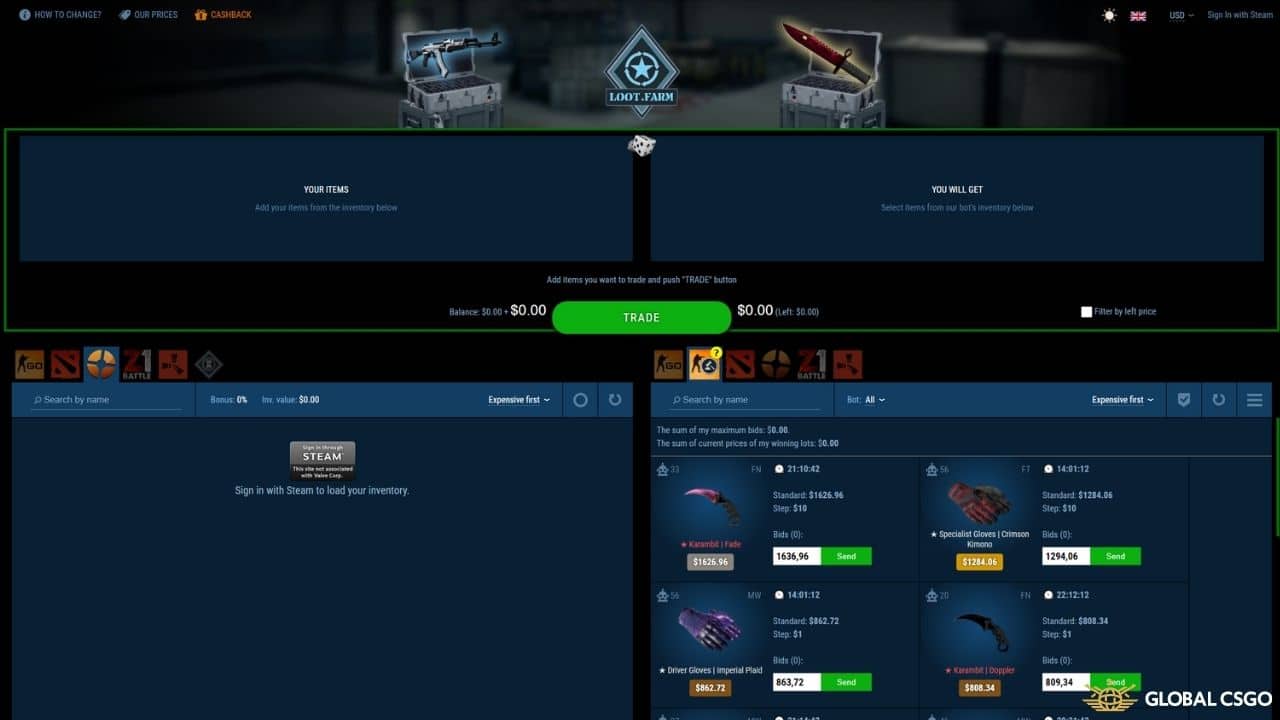 Yes, Loot.farm is a legit and secure trading platform for you to use.
Operating for some years in the community's favor, Loot.farm trade website has overall positive feedback about its features. The platform does not get high percentages from trades like other trade websites, and the inventory is pretty acceptable. Not the biggest but also not the lowest.
Loot.farm has a consistent number of visitors during the last months, around 800k per month.
You can also check some information on the website that shows credibility, such as the over 31 million trades done, more than 1.5 million satisfied users, the number of online users, and how many registered in the day.
How to Trade Items on Loot.Farm?
This is the most important part of Loot.farm trade platform. If you are a new trader, you probably have some doubts about how everything works and if it's reliable to trade your skins or not. Make sure to follow all these steps:
Sign up through your Steam account and put your inventory public
Add the correct email address and trade URL (confirm it twice)
Go to the Loot.farm main page and select the skins you want to trade from your inventory and Loot.farm inventory
Verify if the offer is correct click on "Trade"
The trade bot will send you a request on your Steam account, and you must accept
If you are trading skins with a value of $50 for $60 skins value, you must have an internal balance on your Loot.farm account to cover the difference. Otherwise, the trade will not succeed.
Loot.farm trade system is easy as it looks, and you can start playing with your favorite items.
Loot.Farm Deposit Methods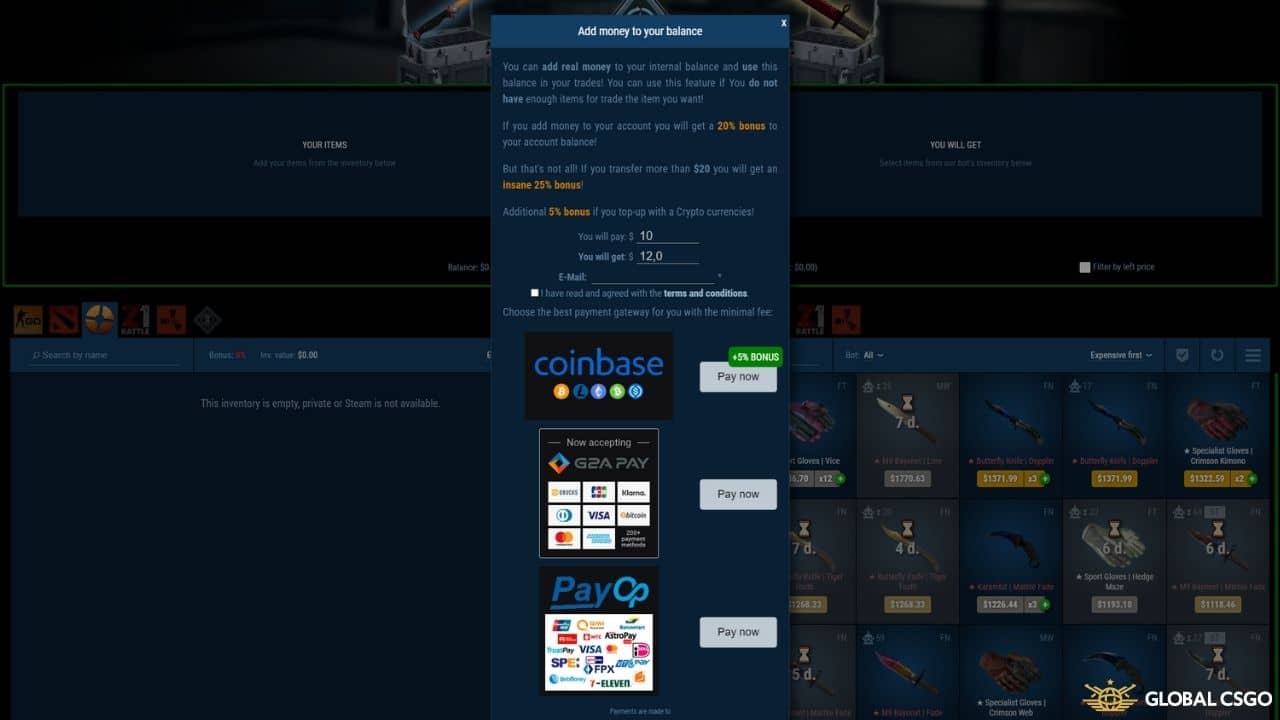 If you have to make a trade and your items are not valuable enough to complete it, you must have some internal balance to realize the trade. Here are the deposit methods available on Loot.farm:
Cryptocurrencies: Bitcoin, Ethereum, Litecoin, Bitcoin Cash, USD coin
G2A Pay
PayOp
Remember that depending on the amount, your financial institution, and country, the procedures, availability, methods, duration, and terms and conditions may vary.
Loot.Farm Bonuses
Loot.farm has excellent bonus features to provide the best for its players. You have different ways to get some rewards for using Loot.farm trade platform:
Depositing on your account
If you deposit real money to top-up your balance, you'll automatically get an extra 20%. If your deposit is over $20, you will get an additional 25%. If this isn't enough, depositing with cryptocurrencies adds an extra 5% to these values.
Add "Loot.farm" to your Steam nickname and get a 2% price bonus on your items
Random Cashback
You have a chance of getting some cash back in every trade you make on Loot.farm.
Loot.farm trade platform gives you a 10% chance to get a 1% bonus cashback from the total price of the traded items (also from the bots' items).
The second offer is a 1% chance of getting 5% bonus cashback from the traded items' total price (also from the bots' items).
Loot.Farm Customer Support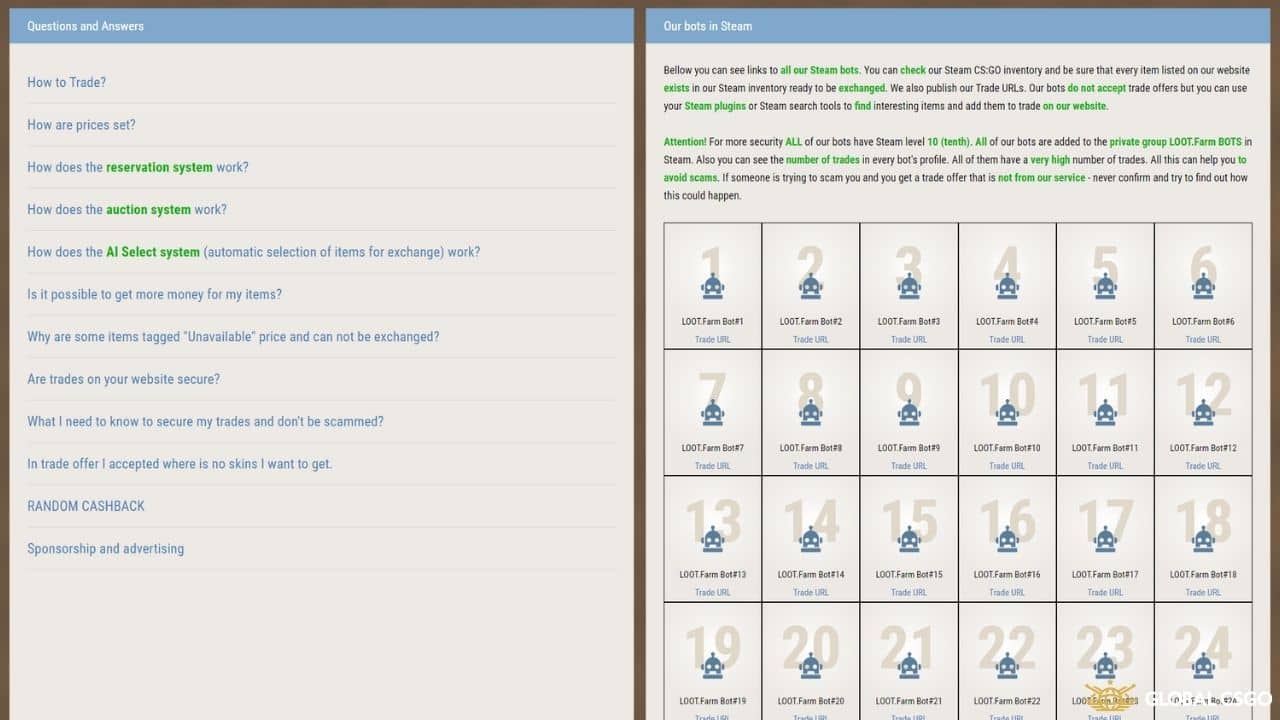 Customer support isn't through a live chat on Loot.farm. If you need help and additional information, you can reach the team by opening a ticket on the site.
Although, the FAQ page has many explanations about how everything works and is complete. If you are a new user, make sure to read it first.
Nonetheless, you can also reach the support team on social media by sending a private message. It might even be a faster way to get an answer, depending on the time of the day.
Summary
Loot.farm trade platform is a straightforward and complete website, well-organized, and an excellent place for you to give your inventory a new look.
Overall the platform is great and recommend. It would be great to see some improvements such as a live chat or some new features added.
Try out Loot.farm and share with the community your opinion about it.
Our Score
Additional Site Details
---

Website Link

---

Payment Methods

---
Similar sites to Loot.Farm

Use our link and get a bonus from DMarket!
The website is available in eleven different languages
One of the largest CS:GO Marketplace sites, nearly 2 million users
Secure and safe payouts
Multiple deposit and withdrawal methods available
Use Code:
GLOBALCSGOTrade
Get 3% More For Your Skins by Using Our Referral Code! 🔥🔥🔥
Site is available in 10 different languages
You can payout skins with PayPal
SkinCashier accepts skins from CSGO, Dota 2 and TF2
Fastest withdrawals - money in your account in seconds
Excellent rating on TrustPilot

Use our link and sell or buy CS:GO Skins at the best prices!
One of the oldest and most trusted Marketplace sites
Multiple payment methods
Available games: CS:GO, TF2, Dota 2
Use Code:
GLOBALCSGOTrade
Loot.Farm FAQ
How Does Loot.Farm Establish Skin Prices?
Loot.farm uses a unique formula. They collect information from the Steam community marketplace and use their experience in Steam trading and complex mathematical formulas to produce the best prices for each item.
Can I Buy and Sell Skins on Loot.Farm?
No, you can't. Loot.farm is only a trading platform, which means you can only trade skins and not buying or selling them.
How Can I Have Extra Security on Loot.Farm?
If you are not feeling totally safe and afraid of a scam, we highly recommend two things. First, be totally sure that you are on the right URL. Verify as many times as you need. Second, use Loot.farm google chrome extension to have extra protection and speed on your trades.
How Do I Know If I'm Trading With a Bot From Loot.Farm?
Every one of Loot.farm bots has Steam level 10. All of the bots are added to the private group Loot.farm Bots in Steam. Also, you can see the number of trades in every bot's profile. All of them have a very high number of trades. Before you accept any trade, verify all this information.
Can I Reserve Skins on Loot.Farm Trade Platform?
Currently, you get a 7-day trade hold on CS:GO, and DOTA 2 items after the trade got accepted in Steam. They show these items on bots and give you the ability to reserve them for you. You should withdraw them 72 hours after the trade hold gets lifted.