ShadowPay 2022 Review, Is it Legit? + Promo & Bonus Code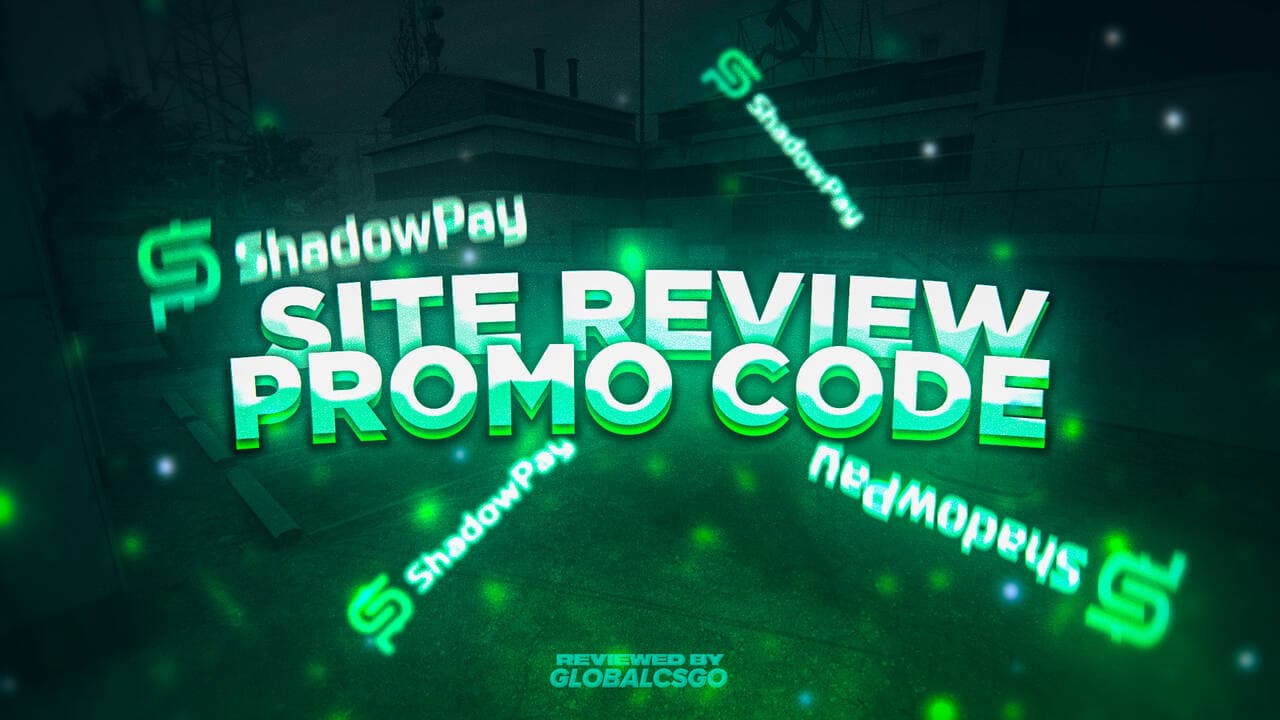 ShadowPay.com is a website that features a broad collection of Dota 2 and CSGO items available for purchase. It's one of the most popular sites that has conducted over 1.5 million trades.
What Is ShadowPay?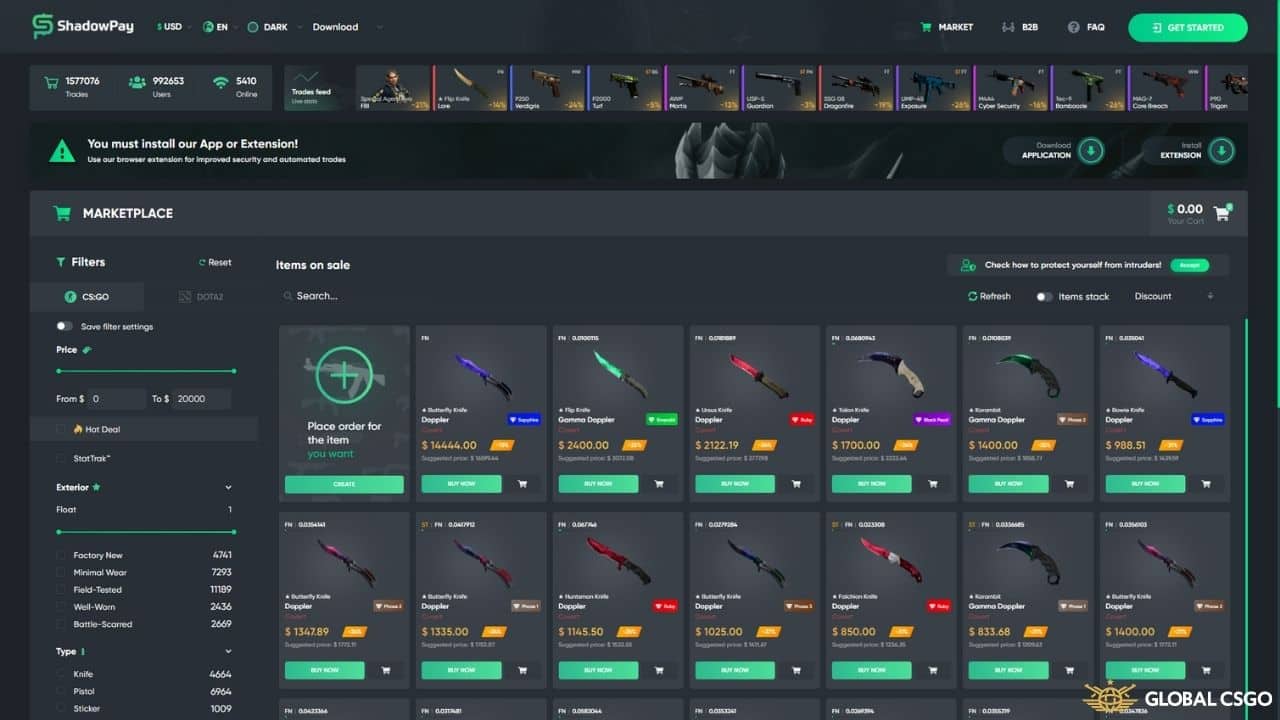 If you've ever struggled to sell skins from games like CSGO and Dota 2 due to the 7-day Steam trade hold, not finding buyers, or similar issues, then ShadowPay is the perfect solution to this problem. ShadowPay can be defined as a trading site where you simply list the skins you want to sell and wait for them to find a buyer. Once a buyer has been found, you will receive notifications letting you know to confirm the trade.
ShadowPay works on a peer-to-peer system to trade items, eliminating any holds that occurred when using the Steam marketplace. The website provides a mobile app and a Chrome browser extension to speed up the entire process whenever you want to sell skins. This review will show you everything you need to know to start selling your CSGO and Dota 2 items on ShadowPay today.
How to Sell Skins on ShadowPay?
In order to use the ShadowPay trading site, you have to register using your Steam account. It's very simple to become a member, and these are the steps you need to follow:
Go to ShadowPay.com
Click on "Get Started" at the top right corner of the website
Enter your details and sign in with Steam
Download the mobile app or install the browser extension
Select the items you want to sell
When ShadowPay.com finds a buyer, it will create a trade offer and send you a notification. You will have 5 minutes to respond. If you fail to confirm the trades, they will be canceled.
Is ShadowPay Legit?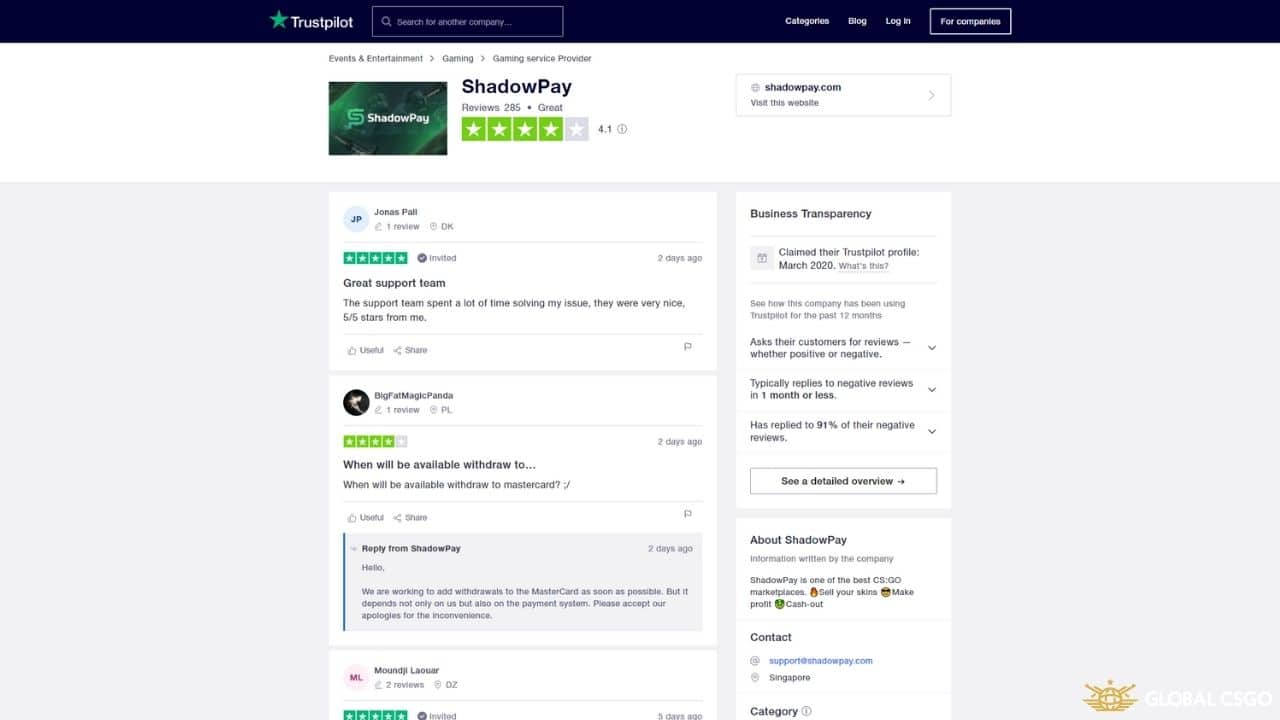 Selling and buying items online can be a risky business, especially when it comes to virtual items from games like CS GO and Dota 2. Scammers can easily rip you off on websites like this if you are not careful. Having said that, you should never give away your API to anyone, as it is the best way to get scammed on ShadowPay. If you do happen to fall victim to a scam on a website, you should immediately update your API key on the website. There are some reviews showing they have been scammed this way, so be careful with your delicate information.
The ShadowPay.com website features thousands of players online at any given moment. According to on-site analytics, they have served close to 1 million users with skin trades. The website is legit and safe to use, according to the first-hand experience of thousands of gamers who've sold and bought skins on ShadowPay.
ShadowPay.com Customer Support
ShadowPay offers extensive information regarding any problem that might occur on their website. The FAQ page by itself can fix almost any issue that you can come across. However, gamers are always free to contact their support via email.

ShadowPay Prices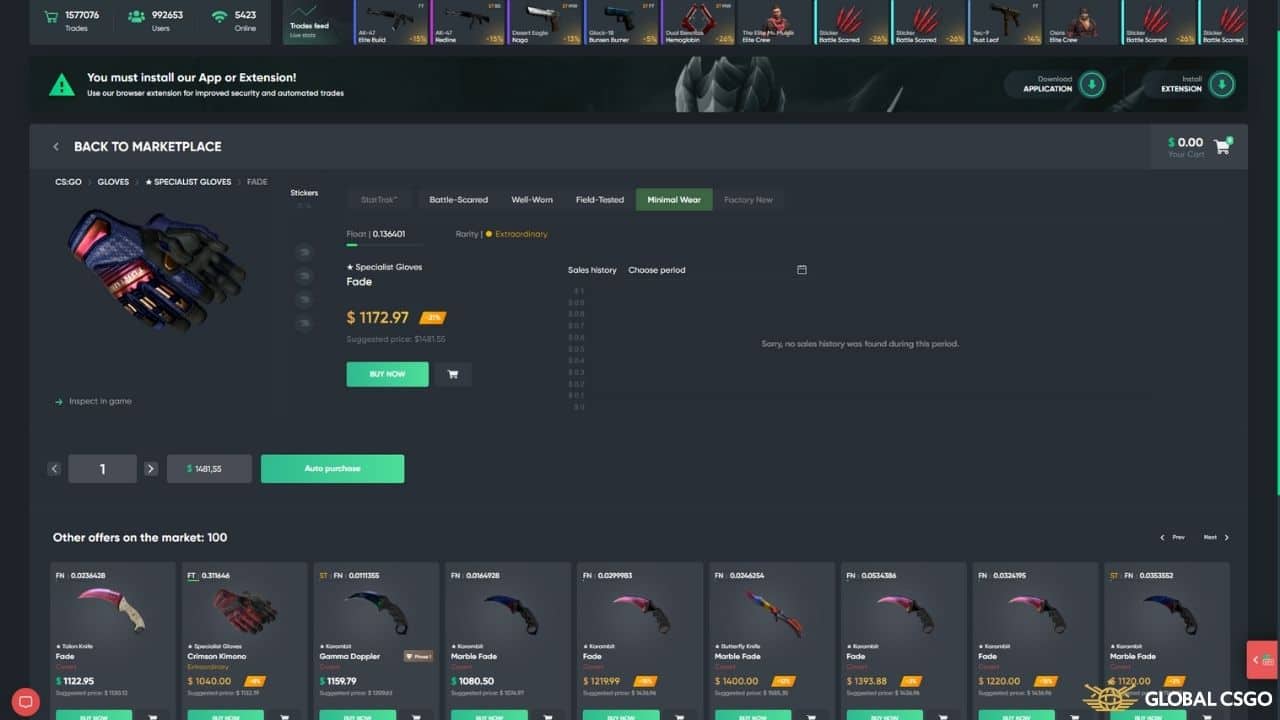 You will often find that the skin prices on ShadowPay are lower than those on the Steam market. This is because many gamers come to this website because they can withdraw their earnings, as opposed to Steam where every bit of profit they make from trading skins has to be spent on the Steam website. Having said that, ShadowPay won't accept every skin you have to offer, as only items that are worth over $0.10 will be accepted.
ShadowPay charges a commission for each transaction and trade that takes place on the website. A fee of 5% will be applied on each payout. If you sell items via trade form, ShadowPay can even take as much commission as 30%. The ShadowPay website allows you to buy and sell skins using 5 currencies, including USD and Euro as well.
ShadowPay Partner Program
Thanks to the wide collection of things to buy, ShadowPay is one of the biggest online marketplaces for CS:GO and Dota 2 skins. However, ShadowPay also features a partner program that allows you to work together and make more profits by selling on their website as well. To become a partner, simply click on "B2B" at the top right corner of the website and it will take you to a new page showing you all of the details regarding this offer. That's where you will learn about the rights you will have as a partner and the benefits that come with it.
ShadowPay Deposit & Withdrawal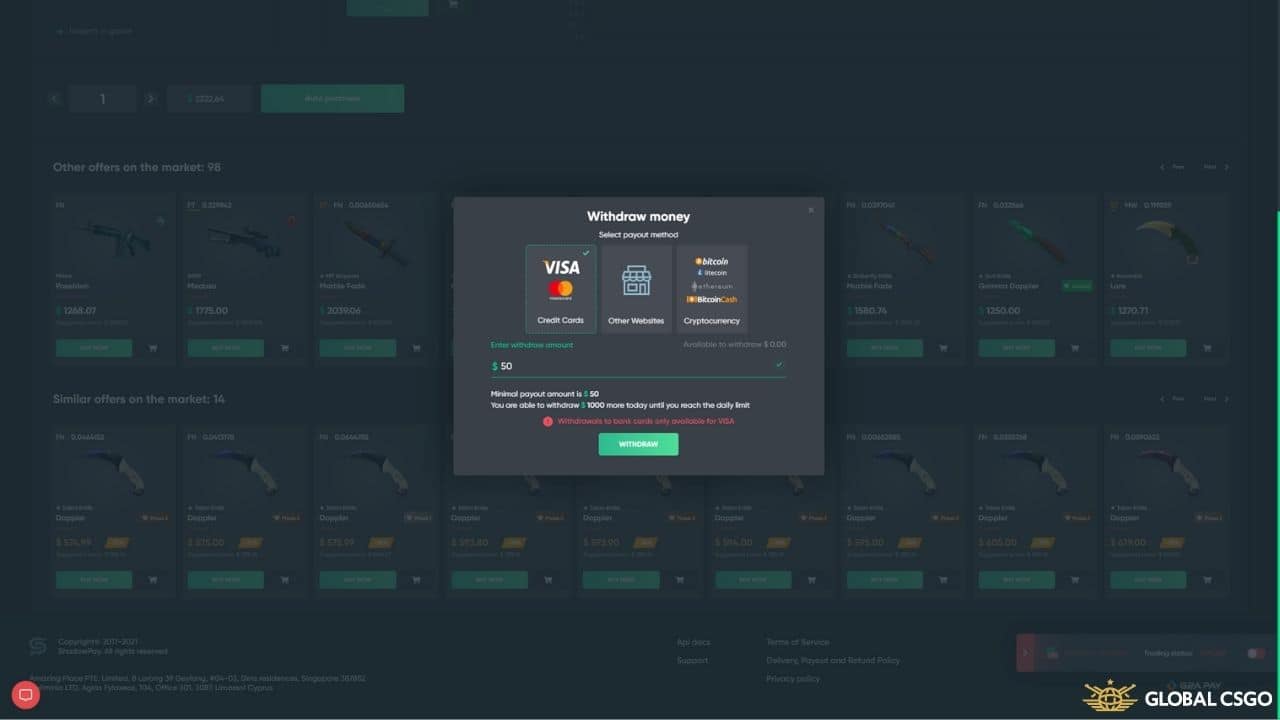 The ShadowPay website is one of the most versatile when it comes to providing a list of available payment methods for making deposits. Gamers are free to use a wide collection of payment methods including anything from skins, cryptocurrency, credit cards, G2A Pay, Neteller, Apple Pay, ecoPayz, Qiwi, and many more.
The website also features many options for making withdrawals as well. You can use almost all of the payment methods that are available for deposits. However, ShadowPay can't refund your money if you use any cryptocurrencies.
User Experience on ShadowPay Trading Site
Finding your way around ShadowPay presents no trouble at all, even for new users. It's a straightforward experience to register to the website and start selling or buying. The search engine on ShadowPay is very detailed and allows you to find anything from the wide collection of items with ease. The search panel is located on the left side of the website.
In our experience, it was very easy to use every service that ShadowPay has to offer. The buying and selling process is quick and not complicated. Each skin features all of the essential information to make an informed purchase. The browser extension makes everything a lot smoother, and the mobile app lets you sell through your mobile phone or tablet.
Overall, ShadowPay offers an amazing experience to anyone who wants to join their community. Their collection of countless deposit payment options allow you to always adapt and conduct fast transactions. And, best of all, you never have to wait long to withdraw your earnings on ShadowPay.
Our Score
Additional Site Details
---

Website Link

---

Payment Methods

---
Similar sites to ShadowPay

Free 10 DAYS of access to LootBear's $2 MLN Inventory 🔥🔥🔥
The first site that allows you to rent skins in CS:GO!
There are over $3 million worth of skins to choose from
Option to buy skins at good prices
You can top up your wallet using PayPal, Cards or Bitcoin
Use Code:
GLOBALCSGOTrade

Buy, Sell & Trade Items from CS:GO and more on DMarket 🔥🔥🔥
The website is available in eleven different languages
One of the largest CS:GO Marketplace sites, nearly 2 million users
Secure and safe payouts
Multiple deposit and withdrawal methods available
Use Code:
GLOBALCSGOTrade
Get 3% More For Your Skins by Using Our Referral Code! 🔥🔥🔥
Site is available in 10 different languages
You can payout skins with PayPal
SkinCashier accepts skins from CSGO, Dota 2 and TF2
Fastest withdrawals - money in your account in seconds
Excellent rating on TrustPilot