CS.Trade 2022 Review, Is it Legit? + Promo & Bonus Code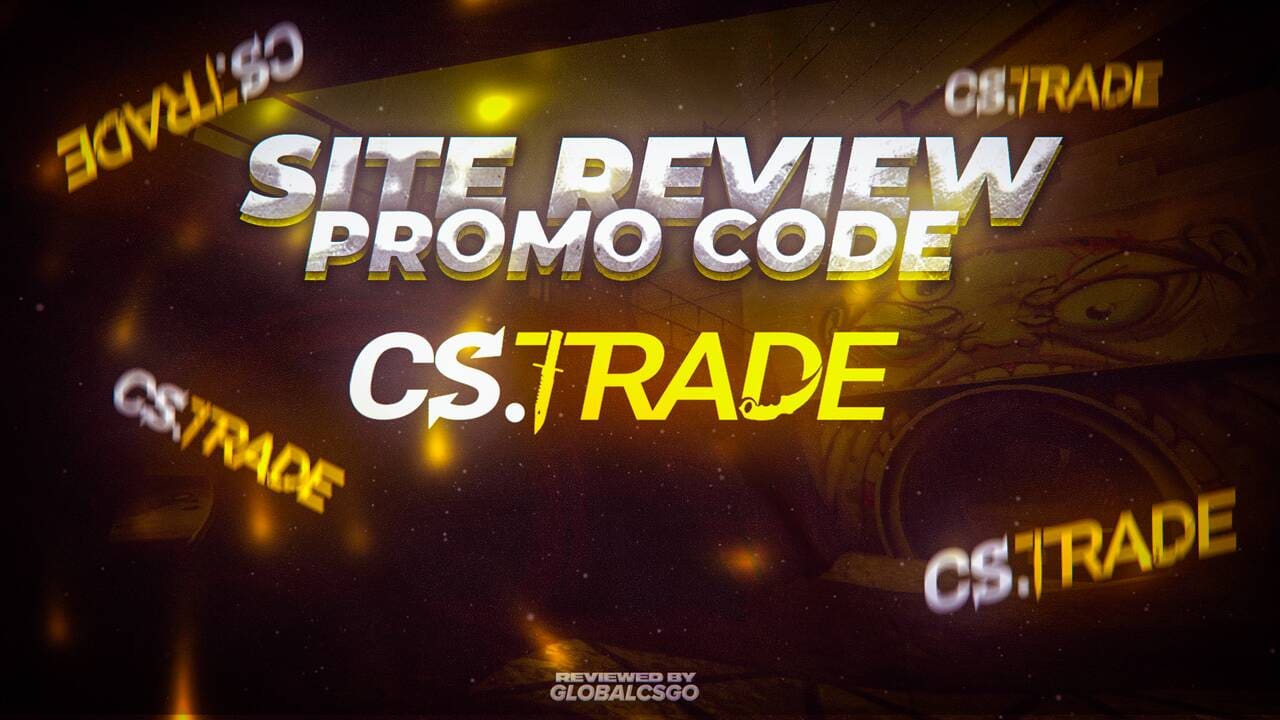 A highly popular method of getting rid of your old CSGO skins and acquiring new ones is known as CSGO trading. Both the Steam market and third-party trading sites are great ways to trade virtual game items and even make money from them as well. Valve Corporation has built an entire industry around making profitable trades with CSGO skins for weapons like the AK 47, knife skins, and anything in between.
This is a review of CS Trade, a very popular trade site that provides many benefits to all of its users. CS.Trade features one of the biggest collections of skins that no other sites can match. It's not just CSGO skins, as it offers countless others from Dota 2, RUST, Team Fortress 2, and H1Z1. When it comes to skin trade, it's important that every feature the site provides is beneficial to users. As a result, we will reveal the pros and cons of this site from our first-hand experience with the trading bots, the platform, and the support it provides for all users.
Pros
Provides Bonus for First-Time Users
Referral Program Available for More Profits
Massive Inventory of Skins from Different Games
Low-Value Skins are Accepted (under 50 cents)
Continuous Giveaways
Cons
No Real Money Payment Supported
High Base Commission on CSGO Skins
We're going to reveal everything it has to offer and all of the essentials you need to know about the website, such as fees, bonus offers, how to use their trading bot, and more.
What Is CSGO Trading?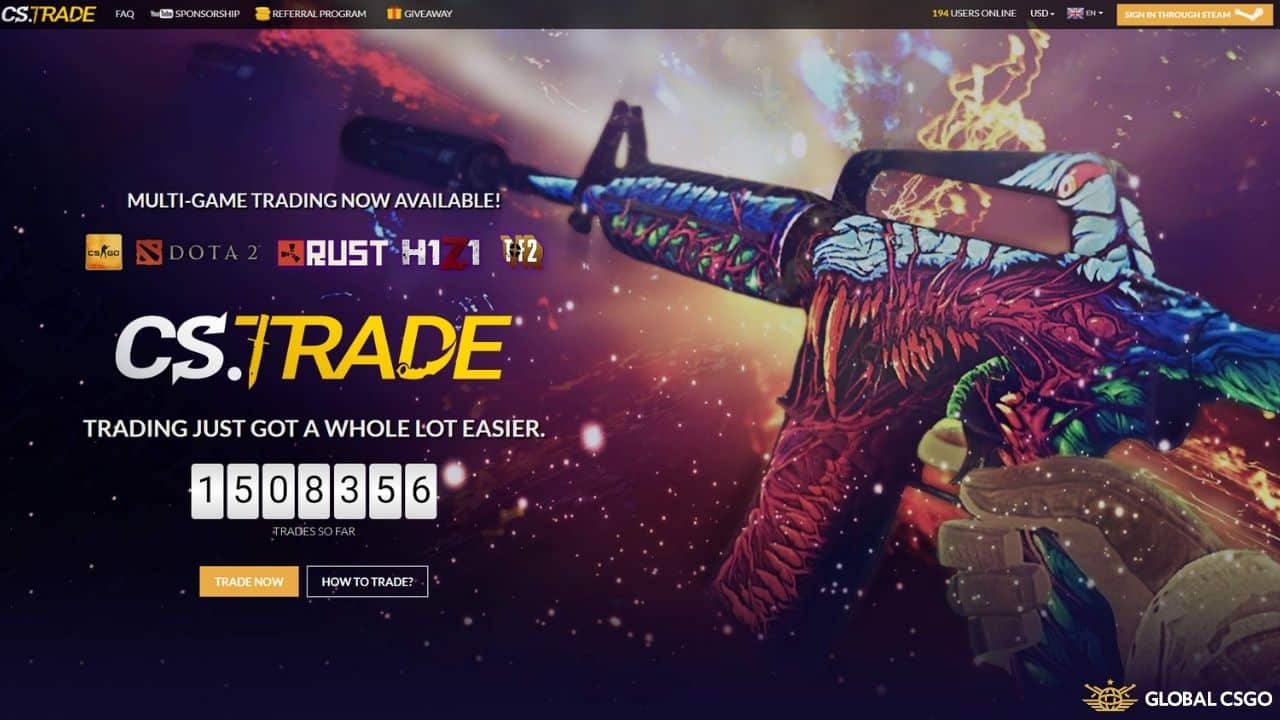 To trade CS:GO items and skins means simply exchanging your skins for others that the trading site has to offer. When it comes to CSTrade, this website features many more options than just trading with CSGO skins. There is more freedom to choose amongst items from different games which we will cover everything about here.
For now, you simply need to know that skin trade is a legit business and entertainment system that millions of players are taking advantage of to get new skins and even make a profit from them later on.
Is CS Trade Better than the Steam Market?
There a few distinct differences between trading skins on third-party websites and on Steam. If you choose to trade with other users through Steam, then the process will go much slower. You have to send individual trade offers to every person, bargain for a better price, wait for trade holds, and stress over whether you should trust them.
Third-party trading sites, on the other hand, make this process a lot faster and often safer. They display everything you need to know about all the items. This includes whether they are Factory New (FN), Battle-Scarred (BS), whether it is a StatTrak item, and everything in between.
Also, using websites like CS-Trade allows you to select the skins you want to trade from your inventory and get a custom offer based on their value. This helps skin owners get the best deal possible and instantly receive their new items in their inventory.

How to Trade CS:GO Skins?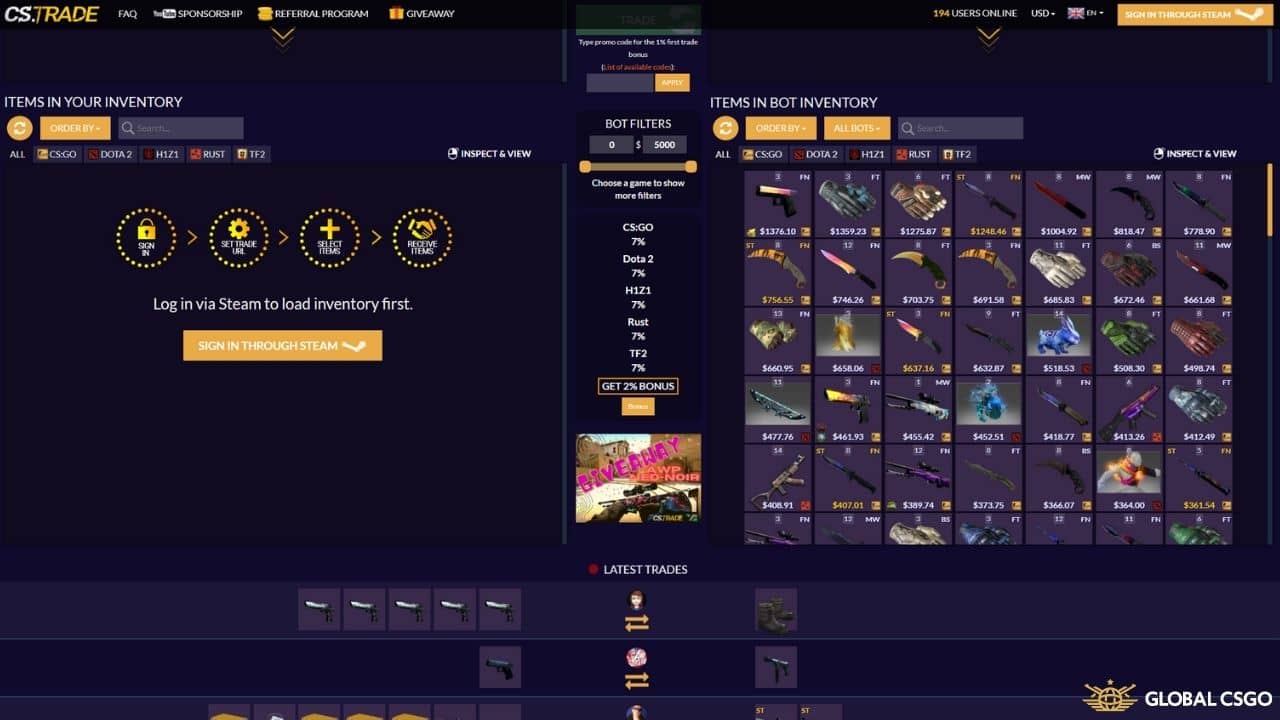 Using CSTrade for trading various skins with the bot site is a very efficient and fast way of doing this process. You don't have to send individual trade offers to other users and wait for them to respond. Instead, you simply select the items from your inventory and get a corresponding offer instantly.
Here are the steps for trading on this site:
Sign In with Steam
Insert Your Trade URL
Select the Items You Want to Trade
Choose the Items to Receive from the Trading Bot
Click on the "TRADE" button
If there is a trade difference from time to time, it will be added to your site balance to use for further trades in the future. After clicking on "TRADE", you should wait few seconds for the trade to authorize, and then you should press accept and confirm the transfer. After that, the new skins you have chosen will quickly appear in your inventory.
Is CSTrade Affiliated with Valve Corporation?
Whether one can trust a trading website or not is something everyone always worries about. CSTrade provides no reasons to believe that it isn't legit. The site has been running for several years and has conducted over 1.4 million trades so far. It's one of the best and most reliable places to trade CS:GO, Dota 2, Team Fortress 2, RUST, and many other virtual game items on.
In any case, you can always have a safeguard and choose to revoke your Steam API key. This will prevent any outside programs connected to your account to perform any actions and it will prevent others from sending you a trade offer ever. However, when the safety of your trades and skins is a concern, this site shouldn't present any problems whatsoever.
Even though CSTrade isn't affiliated with Valve Corp it still connects to Steam and is safe for your account where no risks of inventory fraud will be possible.
CSTrade Customer Support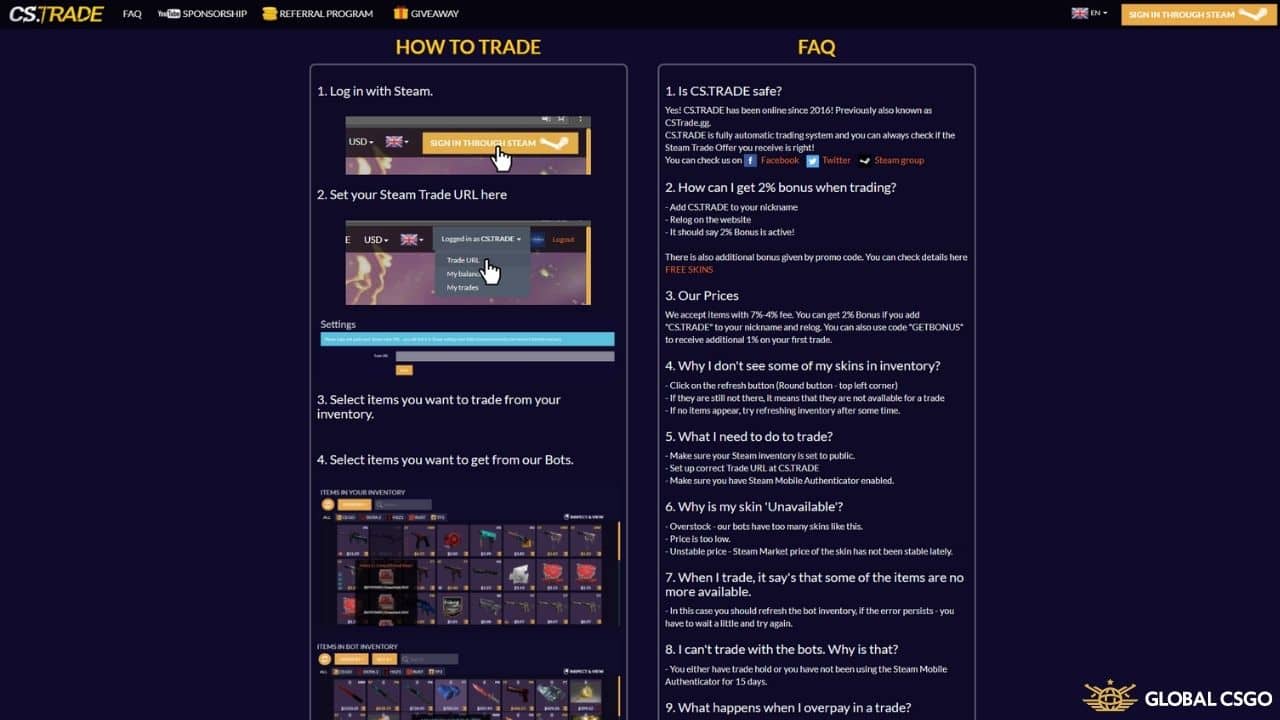 The only way to reach CSTrade's customer support is through their email ticket system. You can submit a form where you are required to enter your name, email address, Steam profile ID, and the message you want to send. Another way to resolve any problems you may encounter with trading with CSTrade's bots is by reading the FAQ page. They provide detailed instructions and information on all of the basic features of the platform.
CSTrade shows a relatively decent interest in taking care of their customers by making sure they have a great experience with the trading bot. On top of that, they also include giveaways, promo codes for free skins, and a Youtube sponsorship that many can use.
Conclusion
If you want to trade CS:GO, Dota 2, and a few other types of skins online, then consider visiting CSTrade. It features one of the most reliable trading bots out there that will make sure you receive every item that you get in a trade. The site is adored by the community and it features hundreds of players trading on their bot at any given time of the day. CSTrade has traded millions of skins and it doesn't seem to be stopping at the rate it is progressing.
Our Score
Additional Site Details
---

Website Link

---

Payment Methods

---
Similar sites to CS.Trade

Buy, Sell & Trade Items from CS:GO and more on DMarket 🔥🔥🔥
The website is available in eleven different languages
One of the largest CS:GO Marketplace sites, nearly 2 million users
Secure and safe payouts
Multiple deposit and withdrawal methods available
Use Code:
GLOBALCSGOTrade

Free 10 DAYS of access to LootBear's $2 MLN Inventory 🔥🔥🔥
The first site that allows you to rent skins in CS:GO!
There are over $3 million worth of skins to choose from
Option to buy skins at good prices
You can top up your wallet using PayPal, Cards or Bitcoin
Use Code:
GLOBALCSGOTrade

One of The Biggest CS:GO Skin Marketplaces on The Internet 🔥🔥🔥
Skinport accepts CS:GO, Dota 2, Rust & TF2 items
More than 2000 reviews on TrustPilot
Site is available in 11 different languages