DatDuck Review & Bonus Codes in 2022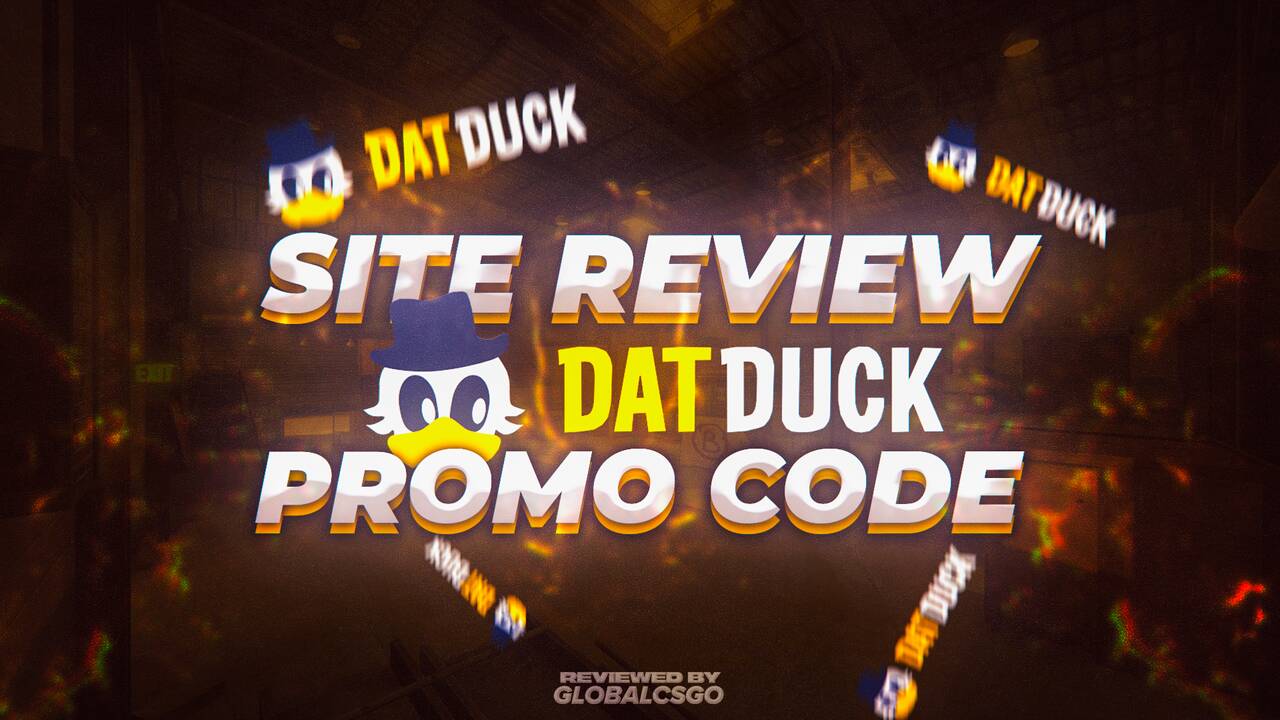 In our DatDuck review, we covered everything important about this CS:GO casino. We've checked out the available games, payment methods, and we've also compiled in one place all the available bonuses that DatDuck has to offer its new users, and we'll just reveal that the signup bonus is really very interesting! You can find out more about the site later in this review!
Pros
Friendly and easy interface
High bonus for new players on DatDuck
A very good affiliate program
Very large selection of CS:GO skins for withdrawal
Cons
A new site that has been online for 2 months
Only one game available
What is DatDuck?
DatDuck is a new CS:GO gambling site that was established in the first quarter of 2021. We didn't know this site before and we can't find information like this is supposed to be the second launch of this casino. DatDuck is a brand new brand among CS:GO gambling sites, but you have to give it a chance because everyone started at some point. At the time of writing this review the site has one game for its users.
We do not know what is the exact origin of the name of this site, but in many places on the site we can find a duck theme, among others on roulette one of the results can be a duck. The interface is available in 3 languages: English, Russian and Polish.
Is DatDuck legit?
Yes, the site is legit and cashing out CS:GO skins is seamless. We have independently verified the deposit, play and withdrawal process itself and have not encountered any problem at any stage. There is still little to write about the authenticity of this casino as it is very new, but as casino testers we have checked it out and unanimously say it is 100% legit. The site doesn't have its profile on TrustPilot yet, so we won't find any reviews about DatDuck there.
Bonuses and Promotions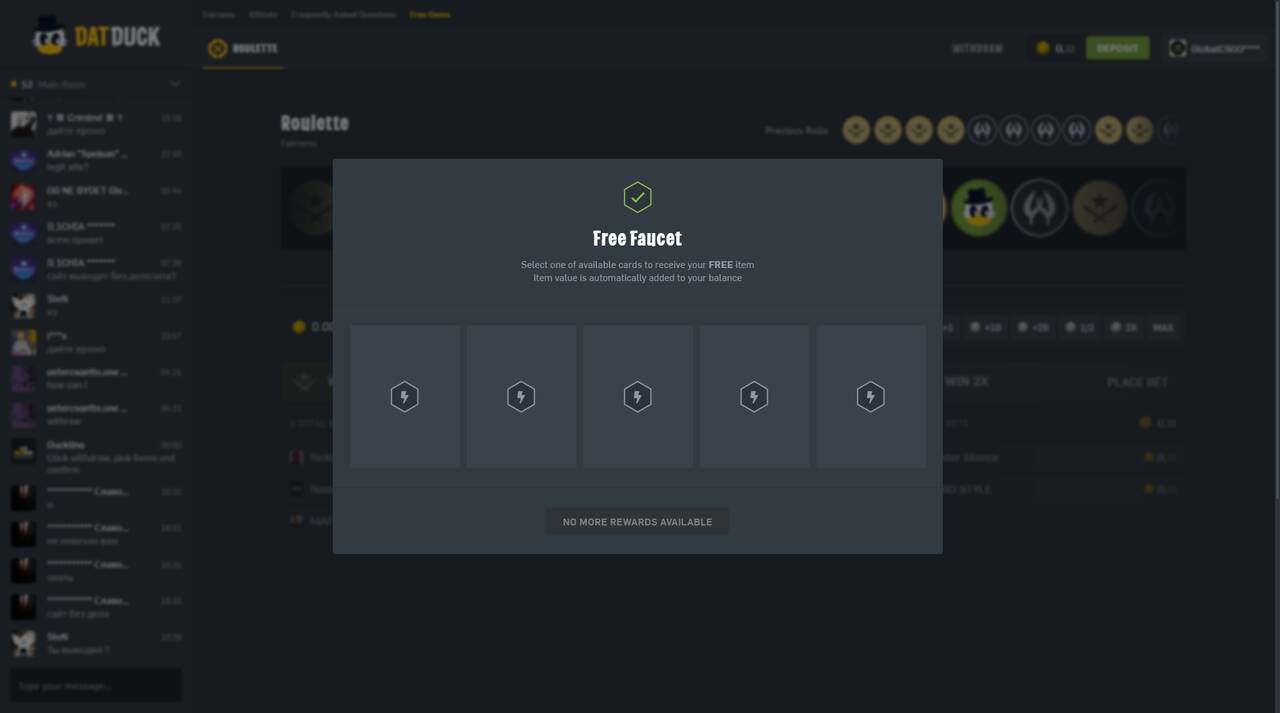 The only bonus that DatDuck offers at the time of writing this review is to use the promo code which activates a faucet for your account where you can draw CS:GO skins which are hidden under 5 cards. After activating the code, you can choose one of these cards. Please note that you will not receive the item directly into your inventory, but only your DatDuck account will be credited with the equivalent of the skin.
DatDuck Referral Code
Referral code for DatDuck is GLOBALCSGO. To activate the code on your account, after logging in to the site, select the FREE GEMS button where you will have the opportunity to draw free skins whose value will be added to your balance.
Available Games
Unfortunately, there is only one game available on DatDuck, which is described below. If there are more ways to spend time on the site, we will let you know in our review.

Roulette
Classic roulette, which works pretty much the same as on any site of this type. The player has 3 roulette options to choose from: TT, CT and the duck (DatDuck logo). If the system draws TT or CT, and you place a bet on the option drawn, you will receive your bet x2. If you get lucky and the duck is drawn, you win 14x your bet!
Deposit Methods on DatDuck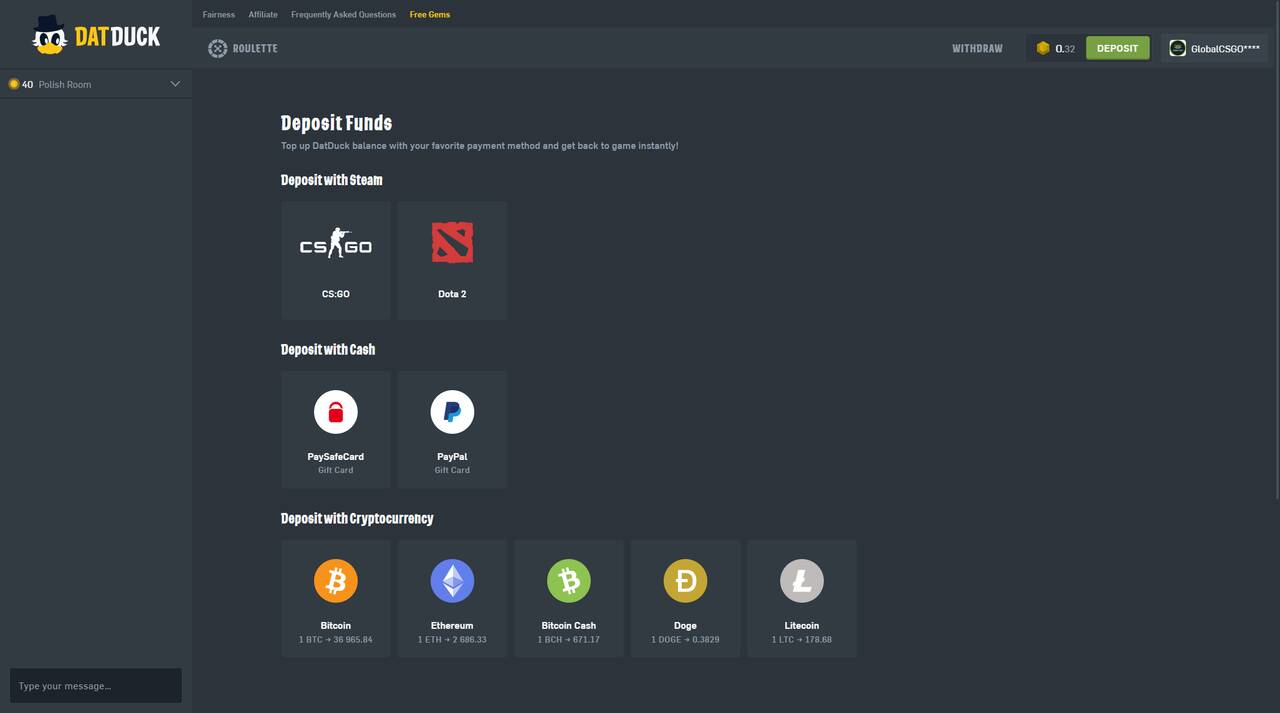 You can find the most popular deposit methods on DatDuck:
CS:GO Skins
Dota2 Skins
PaySafeCard
PayPal
Bitcoin
Ethereum
Bitcoin Cash
Doge
Litecoin
All deposits are instant, but keep in mind that available methods may vary depending on your country of residence.
How to Withdraw from DatDuck?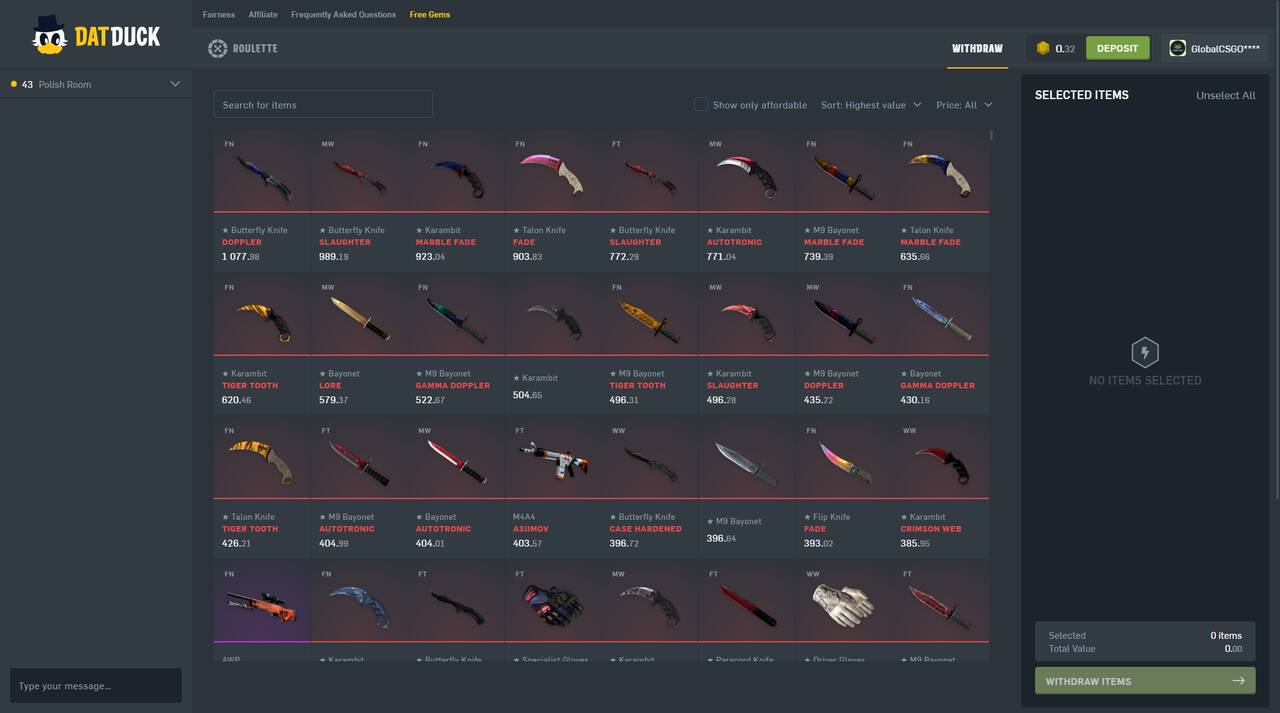 Withdrawing from DatDuck is very simple and comes down to a few clicks. Currently, the only way to withdraw your accumulated funds is through CS:GO skins, of which there are several thousand in the website's inventory. To withdraw items, simply click the Withdraw button, which is located next to your balance in the top menu. Then, select the CS:GO skins you want to withdraw and use the green WITHDRAW ITEMS button.
Items in the DatDuck inventory start at just $1.00.
Summary
DatDuck is a new CS:GO casino that has only been online for a few months, but we think it is definitely worth a look. Here you will find the most popular deposit and withdrawal methods which is convenient for users. In addition, the site features the fact that it offers its players a really high sign-up bonus.
The biggest downside of DatDuck is that there is currently only one game available, which is roulette. If new games become available, we will let you know in our review. In the meantime, we encourage you to visit this CS:GO gambling site!
Our Score
Additional Site Details
---

Website Link

---

Available Games

---

Payment Methods

---
Similar sites to DatDuck

Use Our Bonus Code and Claim $0.90 on Farmskins for FREE! 🔥
Very extensive Daily Bonus program
Instant Deposits & Withdraws
Largest number of payments available
Frequent Events (currently Gaben's Store - bonus for each case opened)
Regular Twitter giveaways for very expensive knife skins
Upgrade and Contract minigame available

Claim your free case where you can win up to $50! 🔥
Sign up bonuses for new people
Daily bonuses for a free case
You can create your own case
Very large selection of cases to open made by other players
Deposit option via PayPal

Register now and claim 15% deposit bonus
You can create your own case
15% deposit bonus with Bitcoin
More than 50 boxes available